North Dakota State breaks record with 5th straight FCS national title
North Dakota State's dynasty continued as the Bison won their 5th consecutive FCS national championship by beating Jacksonville State.
• 1 min read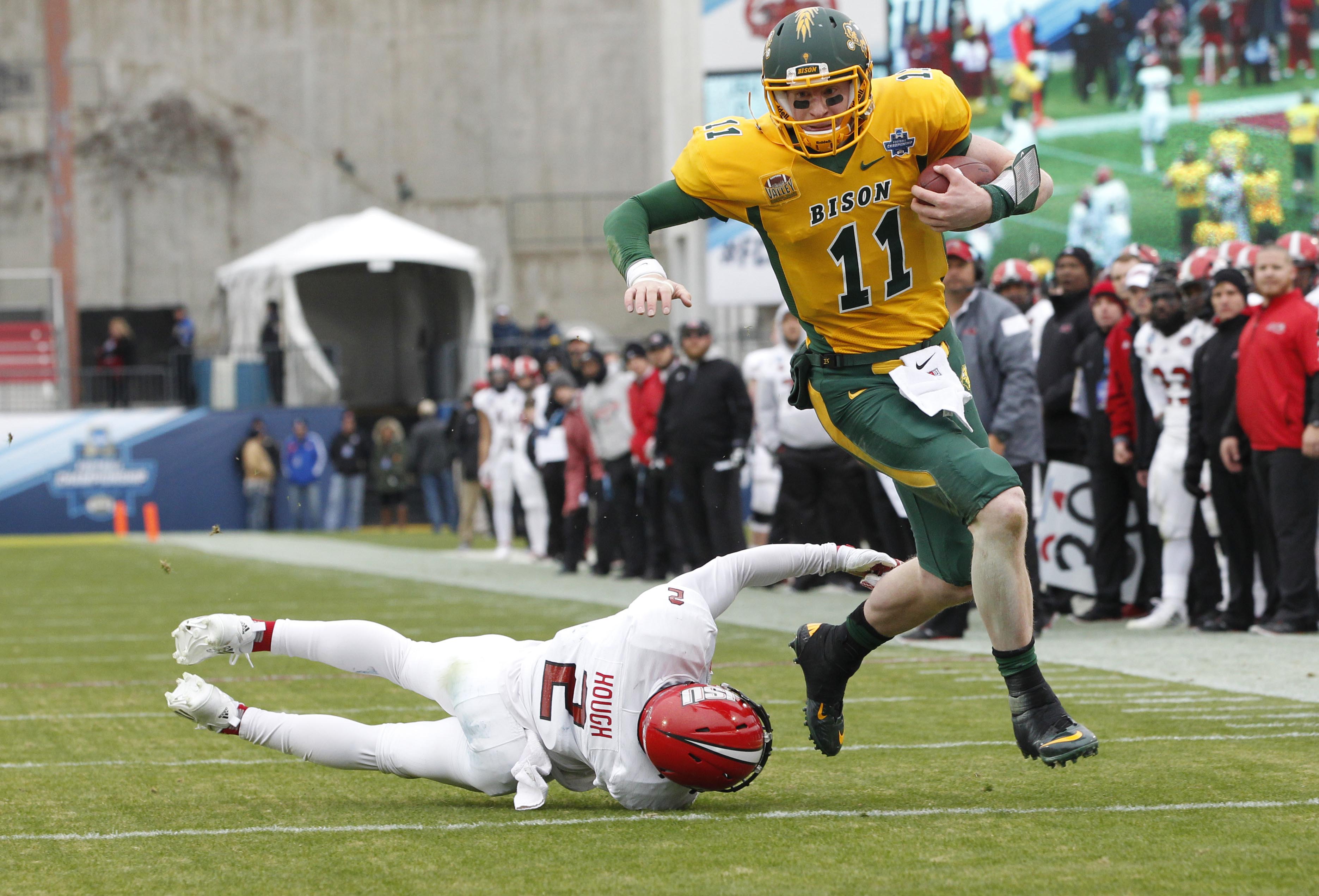 The greatest modern college football dynasty kept rolling along on Saturday as North Dakota State won its fifth consecutive FCS national championship -- a record for consecutive titles at any level of college football -- with a dominating performance against Jacksonville State. 
North Dakota State cruised to a 37-10 win over the Gamecocks in Frisco, Texas. The Bison defense locked down on the dynamic Jacksonville State offense and turned a pair of first half turnovers into touchdowns as North Dakota State jumped out to a 24-0 halftime lead. 
On offense, the Bison got a great game from star quarterback Carson Wentz, who returned after missing eight games due to a wrist injury. Wentz is one of the top quarterback prospects for the upcoming 2016 NFL Draft, ranked as the No. 4 quarterback and 36th overall in CBS Sports' prospect rankings. 
Wentz completed 16-of-30 passes for 197 yards 1 touchdown and 2 interceptions, looking solid in his first game back under center after the injury. 
Not only did Wentz spin it through the air, he showed off the wheels with 9 carries for 79 yards and two touchdowns, including a great effort this 11-yard touchdown run that put the Bison ahead 17-0. 
North Dakota State was able to dominate possession, as the Bison held the ball for over 40 minutes of the game and limited the Gamecocks to running just 51 plays -- only 22 in the first half. 
The Bison offense played a big role in controlling the clock, but the defense was able to force three-and-outs as well as a pair of turnovers -- like the terrific first half interception below -- to get the Gamecocks' offense off the field quickly. 
Jacksonville State came out in the second half with more fight, scoring on the first drive of the third quarter. Quarterback Eli Jenkins ran for 88 yards on 15 carries with 1 touchdown, most of which came on the first drive of the third quarter, but the Jacksonville State offense never found a rhythm against the Bison.
North Dakota State held the Gamecocks to 204 total yards of offense and just 4.0 yards per play. 
North Dakota State's dynasty rolls on and the Bison sit atop the all-time NCAA record book for consecutive football championships. The only question now is if they can extend that record next season. 
Show Comments
Hide Comments
Our Latest Stories
Nebraska's Michael Rose-Ivey has received criticism for kneeling during the national anthe...

Florida State got right after defeating USF but the Seminoles still expect better from the...

These are the trends to watch as the 2016 season enters its second month
Ranking the best teams in the country based on nothing but their performances in 2016

The SEC is starting to sort itself out after four weeks as the Aggies and Vols creep up on...

News that Oklahoma is changing its mind on Big 12 expansion hurts the Cougars the most