Notre Dame 'exploring' stadium facelift, expansion
Notre Dame announced Thursday that it is 'exploring' reshaping Notre Dame Stadium as a 'hub' for campus life with additions and could increase club seating.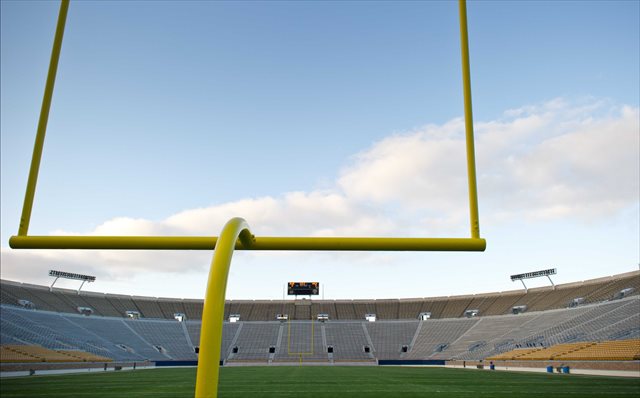 One of the most iconic stadiums in college football could be getting a facelift.
Notre Dame announced Thursday that it would be "exploring an innovative approach to campus planning" that would see Notre Dame Stadium become a campus "hub" that incorporated attached student and media centers as well as other facilities -- all while keeping "the original stadium intact ... under all circumstances."
"Inspired by the University's campus master plan, we will study the possibility of ... taking advantage of a central location for needed facilities, retain the integrity of a legendary stadium, improve the visual attractiveness of the exterior stadium wall and enhance the game-day experience for our football fans," Notre Dame president Rev. John I. Jenkins told the UND Board of Trustees at its spring meeting.
The plan would also introduce new "premium seating options" within the stadium. The Associated Press reported capacity could be increased by approximately 3,000 seats with new club level seating. (Capacity is 80,795.) Improvements would also include a new press box.
The South Bend Tribune reported the plans do not include a videoboard but could accommodate one in the future.
An artist's rendering of the potential project released by the school:
The announcement declined to speculate on potential costs for the project "until specific plans -- if any -- are put in place." Per the AP, the study is expected to take no longer than nine months.
Study or no study, it seems unlikely the Irish would go to the effort of making such an announcement if the odds of the project ultimately getting approved were long at all. If the stadium doesn't look something like the above within the next decade, consider it a mild surprise.
Image HT: Elkhart (Ind.) Truth 
Show Comments
Hide Comments
Welcome to the world, Flynt Anderson-Foster Pruitt

Baylor should value faith over football and do what's right in the wake of seven Title IX...

The conference will adopt two divisions when it becomes a 10-team league in 2018
Like his brother, Lanard Fournette will be running the ball for the Tigers

Ranking the strength of schedule for each of the 12 teams in the Pac-12 entering the seaso...

Thomas Tyner will reportedly re-start his college football career at Oregon's biggest riva...