Nunes' epic fail leads to Stanford's first loss
Washington upsets No. 8 Cardinal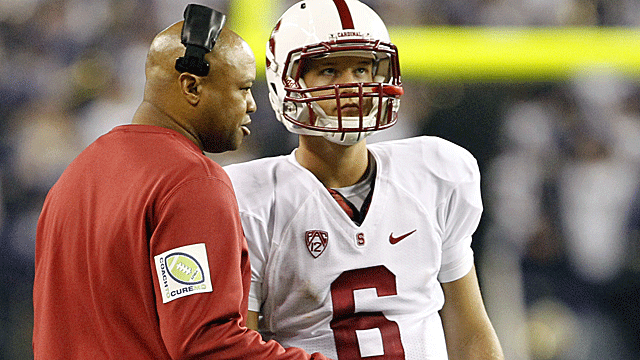 Stanford coach David Shaw says of his QB Josh Nunes, 'He can play much better.'
(Getty Images)
SEATTLE – This is what it looks like without Andrew Luck: Going from Heisman finalist to newbie on the road. Going from rocket arm to unsure. Going from team leader to, well, goat.
Ask Josh Nunes.
"That was on me," said Stanford's quarterback-after-Luck following  Stanford's 17-13 upset loss to Washington. "I feel like I let a few of the guys down tonight."
Nunes said much the same thing more than once. The junior just might be right. Twelve days after their upset of USC, the Cardinal proved themselves unworthy of being the "it" team of the moment. The Cardinal blew a 10-point third-quarter lead while not scoring an offensive touchdown for the first time since 2007.
"I thought it was not his best effort," coach David Shaw said of Nunes. "He can play much better."
How much do the Cardinal miss Luck? No. 8 Stanford went from a school-record 446 rushing yards last season against Washington to 235 total yards Thursday night. After being lauded as a competent game manager, Nunes unraveled in his first road start. He misfired on 19 of 37 passes and committed two turnovers.
Even then, Nunes had a chance to set up the winning touchdown when he missed an open Levine Toilolo and was intercepted by Desmond Trufant at the Washington 8 with 1:46 left.
"A guy who is 6-8 (Toilolo) against a guy who is 6-foot (Washington corner Desmond Trufant)," Shaw said. "He miscalculated the throw."
"This is his first road start. We knew he was going to be rattled," said Huskies defensive end Talia Crichton.
So, was Nunes rattled?
"I'd like to think so," Crichton said.
While Nunes wilted, Washington defensive coordinator Justin Wilcox had a great night. His defense -- which clogged the line daring Nunes to throw -- caused four consecutive three-and-outs in the first half. Stanford's second-half possessions ended like this: fumble, punt, punt, punt, punt, interception.
Washington won its Pac-12 opener away from home – CenturyLink Field is the temporary digs while Husky Stadium is renovated -- with a banged-up offensive line, 19 days after being shredded by LSU 41-3.
Stanford lost only its fourth game since the beginning of 2010. The Cardinal's dream of getting to the Pac-12 game is in trouble but there is further collateral damage. The loss leaves the conference with only two undefeated teams – Oregon and Oregon State.
Stanford's defense did its part in a game that featured 18 punts -- except for a couple of busts. Trailing 13-3 at the end of the third quarter, Washington coach Steve Sarkisian went for it on his own 39. The fourth-and-1 play turned into a 61-yard touchdown run by Bishop Sankey.
That cut the Stanford lead to 13-10. With less than five minutes left, Washington faced third-and-2 from Stanford's 35. Quarterback Keith Price threw a hitch pass that Kasen Williams caught near the line of scrimmage, then eluded a tackler for a 35-yard catch and run for a touchdown. That play marked the first fourth-quarter touchdown given up this season by Stanford.
Take away those two plays and the Huskies gained only 217 yards on 69 plays.
"Probably, outside of me and the guys in the lockerroom, no one gave us a chance to win," Sarkisian said.
Count some of the 55,000 in attendance who were booing their Huskies when Trent Murphy's pick six made it 13-3. The Stanford linebacker who once took on an 800-pound steer back home in Phoenix, stepped in front of a Price swing pass and raced 40 yards.
"We never killed the crowd on the road," Murphy said.
Some of those doubters were rushing the field when Price's hard count caused Stanford defensive end Ben Gardner to jump offsides with 100 seconds left.
So much for the nation's leading rush defense (41.7 yards allowed per game by Stanford). So much for the shine coming off that USC win. So much for Nunes being a capable replacement for Luck. Let the questions roll.
"No," Shaw began, uttering the words for the first time as Stanford's head coach, "we're not going to change quarterbacks."
It's not great, but it isn't necessarily bad, either

From bio pics to comedies and documentaries, here are the college football movies you can't...

Suspended junior Grant Perry pleaded guilty to resisting arrest
Pepsi will limit its usage of blue -- outside of its logo -- on Utah's campus for Holy War...

Will Sunderland allegedly stole and tried to sell video game systems

National powerhouse Alabama joins the throng of schools trying to lure five-star QB Justin...