October injuries pile up in SEC East, just not for Missouri
Georgia is feeling it. Florida has its share. It seems everybody in the SEC East is dealing with 'October Surprise' injuries except for unbeaten Missouri.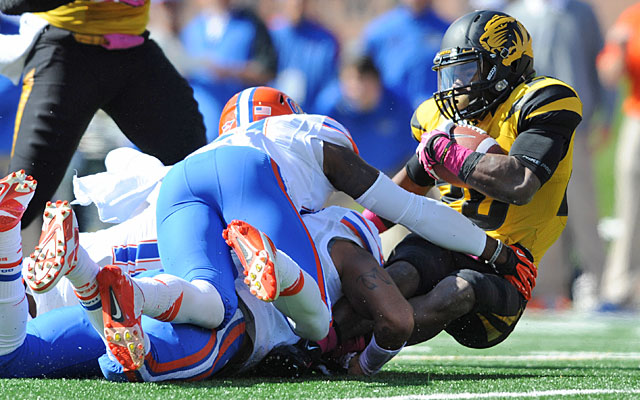 COLUMBIA, Mo. -- Mitch Morse was one of the survivors last year at Missouri. During a depressing 5-7 season, it seemed like half the team was injured, out or on a milk carton somewhere.
Have you seen this Tiger? Call ...
That was exactly the case for the offensive line, where half of the top 10 in the rotation were dinged at one point or another.
"It was not only unfortunate, it was detrimental to our mentality," said Morse, now a 305-pound junior tackle who also plugged a hole at center last season.
"Instead of focusing on the game plan, focusing on how we get together, this technique, that technique, it was definitely weird. Every week was a whole new roller coaster."
Morse and his teammates should be in a consulting role this season. As banged up as they were last year, injuries are the central reason why the Tigers are one of 10 undefeated teams in the nation. Actually, the lack of injuries.
Sure, Mizzou misses quarterback James Franklin, out with a sprained shoulder. The Tigers are still unbeaten partially because they have been able to take advantage of injury misfortune. Specifically, injury problems for Georgia and Florida the past two weeks. No asterisks, though, should be applied. The undefeated Tigers of this year are as real as the paper Tigers of 2012.
"I don't wish injuries on anybody because your team changes," Mizzou coach Gary Pinkel said. "Bottom line, at the end of the day when 2012 was over nobody cares."
Actually, as this October nears its end, a lot of folks care. In the new book The System, authors Armen Keteyian and Jeff Benedict quantified what it means to make it through this month healthy. Their self-commissioned research showed if teams can survive what they called the "October Surprise" they have a much better chance of avoiding season-ending injuries.
Their numbers showed 35 percent of all season-ending injuries occurred in October. Only 20 percent of such injuries came after that month.
Of course, you might say. The season peaks in October. Everyone is playing. Conference play is in full swing. Injuries should pile up. This is significant research because coaches seemingly spend half their time hiding the medical truth. While the ACC as a league reports injuries to media -- similar to the NFL -- several major-college coaches do not, if for no other reason than to withhold information from the opponent.
The Benedict/Keteyian research also showed in 2012 that Missouri's conference, the SEC, suffered the most season-ending injuries (46), followed by the Pac-12 (44).
"We were actually observing some of it first hand," said Benedict, who was on the sidelines for several games while working on the book. "Frankly it was kind of startling to see how many guys were getting carted off the field in front of our eyes.
"When you're on the sidelines you not only see it, you hear it. There's something about these players taking hits. ... That's probably why it left such a lasting impression."
This season's rash of injuries is partially responsible for the upending of the SEC East. Florida and Georgia have both lost three times before Halloween. South Carolina just got upset by Tennessee. Steve Spurrier most likely will be missing quarterback Connor Shaw this week at Missouri.
Football injuries are more frequent than those in almost every other college sport and dominate most every category -- those requiring surgery, play and practice time lost, etc. Concussions may be the No. 1 concern in the sport. Big Ten commissioner Jim Delany pushed player safety in July.
Consider these current "October Surprises":
• Alabama safety Vinnie Sunseri -- a CBSSports.com midseason All-American -- suffered a season-ending knee injury Saturday against Arkansas.
• Notre Dame quarterback Tommy Rees is day-to-day with a neck injury suffered against Southern California.
• Aggie Nation held its breath when Heisman Trophy winner Johnny Manziel hurt his shoulder Saturday against Auburn.
That's just a slice of the national injury report this week.
"It's just attrition, you're beat up," said noted trainer and consultant Rod Walters, who worked 17 years at South Carolina. "It's October, when you get to the meat of your schedule."
Pinkel modified practice after Mizzou's disastrous 2012. He cut down on two-a-days and shortened practices.
"We did a real thorough analysis," he said. "We cut back on conditioning in August. There is a tendency to have less injuries when you're fresh. Secondly, I think there is a psychological effect that, 'The coaches care for us. They want to keep us healthy.'"
It is a national trend. The Pac-12 followed the Ivy League in limiting full contact practices. It's simple math, if not the logical result -- less time hitting means fewer injuries.
Player health can merely be a function of fortune, or lack of it. No one can explain why Georgia, at one point, was missing seven starters or why South Carolina lost Shaw. Texas quarterback David Ash is well into his second month of being out from the lingering effects of a concussion.
"Your body just can't take it," Walters said. "Bigger, faster players are stronger. There's just more force out there."
Oklahoma trainer Scott Anderson remembers the 2009 season, when the Sooners lost a rash of players to injury, including future NFL first-round draft choices Jermaine Gresham and Sam Bradford.
"I had a better team in the training room that what Bob [Stoops] put on the field," Anderson said. "It's just dumb luck. There wasn't any real rhyme or reason to it all."
Mizzou tailback Henry Josey wasn't thinking much of anything when he went down Saturday against Florida. The junior had seen his career flash before him once at the end of 2011. Before shredding his knee that year, he was leading the Big 12 and was fifth nationally in rushing.
Josey endured three surgeries. It took him until this season to get back on the field. Suddenly, Josey found himself down on the turf again. Memorial Stadium was hushed. Teammates stared down at him.
"I was a little scared," Josey said. "[I was thinking] a lot of cuss words. I'm not going to say what I said."
In recounting the scare earlier this week, he was philosophical. What else can you be when your world has collapsed once? On Saturday, Josey popped up, uninjured, and soon broke off a 50-yard run against the Gators. He was back. He was also changed.
"There was a mental part of me that was broken when I got hurt," Josey said. "Me being where I am now, I don't think anything can break me."
Show Comments
Hide Comments
Moss, a tight end, announced his decision to transfer from NC State this spring

A police report states that the future UGA offensive lineman choked his girlfriend

Clint Lewis, who has Down Syndrome, has been with the program for 22 years
Hurd left Tennessee during the 2016 season

But it worked, and that's what matters

TV viewing and live stream information for the 2017 Alabama spring game