Oklahoma 'very confident' Green-Beckham will be eligible immediately
Oklahoma is feeling good about the chances that Dorial Green-Beckham will be eligible to play in 2014.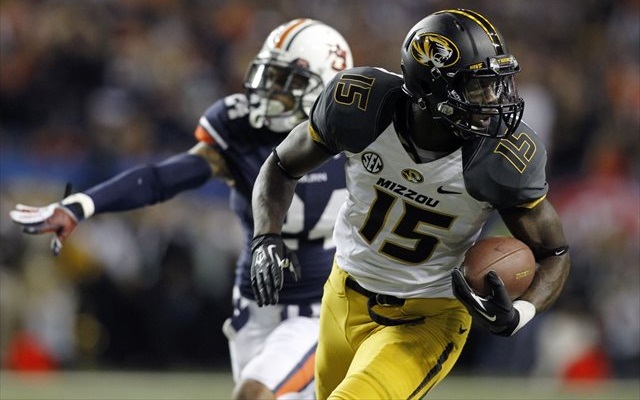 There's a good chance that you'll see Dorial Green-Beckham on the field with the Oklahoma Sooners this season, at least, that's what Oklahoma thinks.
According to a report in The Oklahoman, the school is "very confident" that DGB will be approved for immediate eligibility thanks to an NCAA waiver. The school hasn't even filed the appeal yet but plans to do so after receiving some additional documentation from Missouri. The report also says that Oklahoma plans on appealing using the appropriately dubbed "run-off" waiver.
The run-off waiver was created by the NCAA for instances in which a player was removed from their former program for reasons beyond the player's control.
The basis of Oklahoma's appeal will be that Green-Beckham was never actually charged for the incident that led to his release from Missouri. Green-Beckham allegedly broke into an apartment and shoved a woman down some stairs.
Of course, just because Oklahoma is confident that Green-Beckham will receive a waiver doesn't mean he's actually going to. Plenty of schools have filed plenty of waivers feeling good about their chances and been turned down. 
What could work in Oklahoma's favor, however, is that it could get support from Green-Beckham's old school. A source told CBSSports.com's Jeremy Fowler that Oklahoma expects Missouri will issue written support of the request for Green-Beckham's eligibility.
Should Green-Beckham be granted eligibility in 2014, it'd be a big boost to the Oklahoma offense, as he finished the 2013 season with 59 receptions for 883 yards and 12 touchdowns.
Show Comments
Hide Comments
USC enters as the favorite, but are the Trojans the best bet?

Jim Harbaugh's Michigan staff will be at FAU on June 5

These five coaches will be hot names on the market after the 2017 season
The Big 12 could be wide open in 2017 ... we mean it this time

Rhule's stance on sexual violence is much-needed for a program that's been submerged in co...

The former Oregon coach was most recently the coach of the San Francisco 49ers