Oregon's Helfrich talks transition, Mariota and Thomas
One of the more interesting story lines for the 2013 season will be how well the Oregon Ducks do in the transition to new head coach Mark Helfrich. I recently sat down for the former Oregon OC to discuss, among other things, his transition to his new role; the development of budding star QB Marcus Mariota and which young players have emerged there during the spring.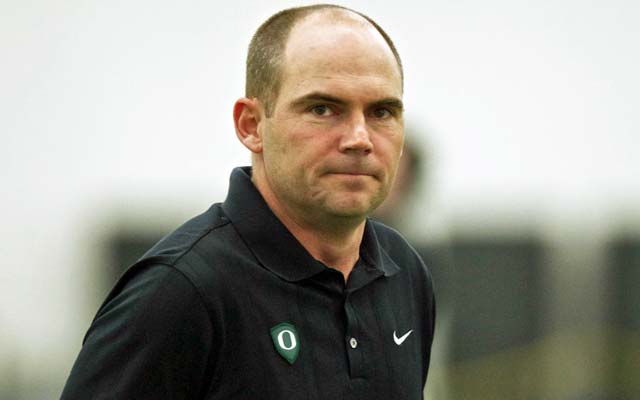 In January, Mark Helfrich was promoted from offensive coordinator to Oregon's head coach after Chip Kelly left for the NFL. Helfrich, son of a former Duck offensive lineman, may not have been a well-known name nationally, but inside the Oregon program, he was one of the unheralded stars of UO's continued rise to powerhouse status. After spring ball, I caught up with the new head coach to discuss, among other things, his transition to his new role; the development of budding star QB Marcus Mariota and which young players are emerging there.

Q: How has the adjustment gone, moving from offensive coordinator to head coach, taking over the program from Chip Kelly?

Helfrich: Having the coaches back from the last couple of years has been huge. So many of those guys have been there forever and they've done a great job of doing their deal, knowing the culture, and passing it on to the two coaches that are new, so we can keep advancing everything.

Q: What is the biggest adjustment that you didn't have a great sense of about being a head coach until you're actually in the chair?

Helfrich: Just that there are so many more people that you're in charge of, whether it's decision-making on stuff like wall paint colors or dealing with all the different personalities and trying to manage everybody in the best way possible.
Again, one thing that we are very fortunate about is so many people have been there for such a long period of time. Our strength coach (Jim Radcliffe) has been there forever. Our academic support people have been there for a long time. They all get what we're trying to do from a culture standpoint, which is huge.

Q: How much different is Scott (Frost)'s role now in how you two will working together on the offense? Is he calling plays? Will you?

Helfrich: In the spring he did everything. In the past, I did everything in the spring. We were kind of experimenting with that and he did a great job in the spring. I'm going to be involved in the offense. That's my passion. We've worked very well together in the past, and I anticipate that going forward. As for the gameday, we'll cross that bridge later.

Q: Last year, with how Chip called the offense, how much input did you have during games with the offense going so fast?

Helfrich: A ton. Our game-planning was a collaborative effort. On gameday, it was just a shouting match because so many things were happening so fast.
Everybody knows what we're trying to do. (Running backs coach) Gary Campbell has been there for 30 years. (Offensive line coach) Steve Greatwood has been there for over 25 years. (Wide receivers coach) Matt Lubick is the new kid on the block.
We really don't care who gets the credit. That's part of it too. Whether it's your idea or somebody else's idea, it doesn't matter. It's our idea.

Q: People are speculating that you'll probably throw the ball more than Chip did. What do you envision your stamp will be on things here?

Helfrich: I think we were always 50-50 by design, but we were very fortunate to be in some games where we weren't going to throw it 30 times in the second half with some of the score situations. [The Ducks had six games where they started the second half by leading by four touchdowns or more.]
All that stuff plays itself. Our tailbacks have been very talented the past couple of years. We'd be foolish not to get them the ball in the easiest way possible. We'll see.

Q: In what ways did Marcus (Mariota) improve this spring?

Helfrich: Marcus had a great spring. The biggest thing for a guy like that is the desire. He's a competitive guy. He has tremendous ability. He's very intelligent and has that desire to be great and when you put that together, it's exciting.
He's improved a ton, and the most drastic apparent difference in him is with his temperament. He's not a vocal guy by nature. He's a very humble kid--almost to a fault. Being outward and being assertive is something that is not natural to him and he did a much better job of that. When he talks, people listen. He got better within the system. He's more confident. He's more polished. He has such great vision and timing. He has all the things you're looking for.

Q: Who were some of your more pleasant surprises this spring?

Helfrich: (TE) Pharaoh Brown had a great spring. We have a lot of young talent at tight end, and we've been waiting for some guys to step up and he had a very productive, consistent spring. He was in that mode of a guy who played a freshman, but didn't get to catch a ton of balls. Like a lot of guys, he was an All-American his whole life, but gets to their freshman year in college and realizes, 'Hey, wait a minute. I'm not the best?' Those guys usually go one of two ways this spring, and he went the good way. He got a lot better. His effort was great. I'm very excited to see him develop. Another kid was (wideout) Bralon Addison. He had kind of an off-and-on season last year, but he has really gotten a lot better. He learned how to practice, how to work, and how to overcome adversity.

Defensively, Joe Walker is a linebacker we signed out of junior college last year, who had a really good spring. Between Dion Jordan, Michael Clay and Kiko Alonso, we lost a lot of production. (Linebacker) Boseko Lokombo also had a real good spring. (Defensive end) Tony Washington stepped up as a leader, as did (CB) Ifo (Ekpre-Olomu), who is probably our best natural leader.

Q: Is Joe Walker skill-wise similar to Kiko and Clay?

Helfrich: He's different. He's kind of a hustler, an undersized guy who just plays so hard. When we get all of those guys back that missed various parts of spring, he's going to provide a ton of competition and he'll do a great job on special teams for sure.

Q: What did you see from De'Anthony (Thomas) this spring?

Helfrich: He had a good spring. He got a little bit banged up there at the end. They held him out of the spring game. He's another guy that is really becoming a polished player, whether it's protections or route running or aiming points, angles, footwork--all the things that can make him even better.


Show Comments
Hide Comments
Kirk Merritt claims 'jock itch' was the reason he exposed himself to two tutors

The former coach weighed in on the new NCAA recruiting rules

Wiggins has played more than 30 games in the ACC and SEC during his career
Our panel of experts drafted the best sports video games that have ever been created

The players allegedly conspired to steal belongings from another student's dorm room

Harbaugh handed the Pope a Wolverines helmet and special shoes