Pac-12 remains open to playoffs, but Scott wants conference champion requirement
While the SEC and other conferences have made clear their stance on a future college football playoff structure, the Pac-12 enters their annual summer meetings with an open mind and lack of consensus with regard to any stance they will take in the evolution of the postseason.
SAN DIEGO -- While the
SEC
and other conferences
have made clear their stance on a future college football playoff structure
, the
Pac-12
enters their annual summer meetings with an open mind and lack of consensus with regard to any stance they will take in the evolution of the postseason.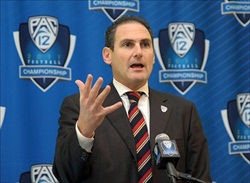 "I have a pretty good (feel for our presidents' views on the issue), but I think this will be the meeting when we'll ask (them) for a definitive position and refine and narrow the different options," commissioner
Larry Scott
said. "They've all been thinking about it. I think I know (their position), but it might be different coming out of the weekend. It's something we've been talking about a lot."
"I'm very open and all ears to everything,"
Washington
AD Scott Woodward added. "I think we need to continue to progress and get it right. I would put myself in the more forward-progressing camp."
Scott
has taken heat the past week after suggesting that a plus-one
title game following the bowls is still an option despite nearly all of the other conferences agreeing to some form of a four-team playoff. While the commissioner has heard some of the reaction to his comments, he hasn't spoken at length to his colleagues about how realistic a plus-one is down the road.
"I know it's on the table for certain people. It may not be for other people" he said.
One thing Scott did not back down from was an insistence that a playoff include conference champions only in a four-team scenario.
"That's been as important as the format. Having evaluated all of the options, I'm for earning it on the field by winning something," Scott said. "I think what the fans want, in the call for a playoff in the first place, is to see it earned on the field. As I've studied it and talked to various people, if you look at the pro sports playoffs you have to win the division. You win the division, you know you're in. Aside from that, you're in a wildcard situation.
"For me, that's analogous to this. You should have to win your division as a prerequisite to being in, and maybe there's a mechanism for an at-large team."
Especially given the lack of major non-conference games in the sport, Scott noted, winning the conference would create a more equitable playoff. While some -- the SEC in particular -- have campaigned against the requirement, the Pac-12 appears to be thinking much more along the lines of the
NFL
or
MLB
when it comes to the postseason.
"We don't have to re-invent the wheel here. If we're moving toward a playoff, we should follow what the pro leagues have done," said Scott. "Some years the Yankees may have a much better record than a divisional winner that gets into a playoff over them. You have to win something, and that's a concept that's accepted by fans and, given the way
college football
is structured, fair."
It should be noted that national champion
Alabama
failed to win their division, much less the conference. One reason the Pac-12 has taken such a hard line on the requirement is because the league plays nine conference games and has historically had a relatively tough non-conference slate every year. While the scheduling strategy will not change going forward, it's clear there's some push among member schools to include something that evens the playing field against conferences that load up on weaker non-conference opponents.
"We got some feedback from our coaches in May, and I know the primary concern there was about the strength of schedule that we play and the nine game conference schedule," Pac-12 deputy commissioner Kevin Weiberg said. "Whatever happens with the postseason structure should in some way reflect the strength of schedules that teams play."
Another key consideration that the Pac-12 has kept tabs on at just about every discussion is maintaining their relationship with the
Rose Bowl
.
"The Rose Bowl is obviously very concerned about the welfare of the Rose Bowl and rightfully so," UCLA AD Dan Guerrero said. "We've always been great partners with them, and we'll certainly listen to every option that's out there. They are clearly a consideration moving forward."
The conference is expected to reach some formal consensus by Sunday regarding a playoff, when the Pac-12 presidents are scheduled to meet.
According to
Stanford AD and future Big 12 commissioner
Bob Bowlsby
, the powers running the BCS could announce the final structure by June 26.
"Obviously, it's all going to be very controversial," Guerrero said. "It's very clear that there are disparate opinions throughout the country and, somewhere along the line, there needs to be some compromise. We'll see if we can find common ground."
Given the talk coming out of San Diego, Destin, Kansas City, Chicago and other places across the country,
that might be easier said than done
.
Show Comments
Hide Comments
Moss, a tight end, announced his decision to transfer from NC State this spring

A police report states that the future UGA offensive lineman choked his girlfriend

Clint Lewis, who has Down Syndrome, has been with the program for 22 years
Hurd left Tennessee during the 2016 season

But it worked, and that's what matters

TV viewing and live stream information for the 2017 Alabama spring game