Pennsylvania AG report: Sandusky investigation delays not political
Pennsylvania attorney general Kathleen Kane released a report on the state's investigation of Jerry Sandusky, one that claims it was unnecessarily delayed but not affected by politics.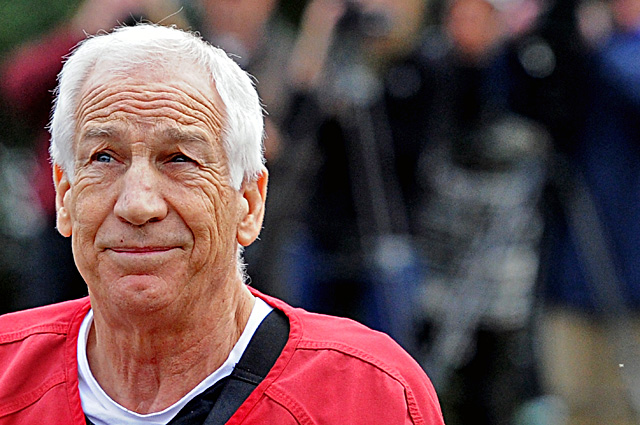 More college football: Jon Solomon | Dennis Dodd | Jeremy Fowler | Latest news
The Pennsylvania attorney general's office released the results of its review of the Jerry Sandusky investigation Monday, per the Associated Press.
The report found that law enforcement and prosecutors had unnecessarily extended the case with "crucial missteps and inexplicable delays," but that those errors had not been politically motivated. 
Authorities first received complaints regarding Sandusky, the former Penn State defensive coordinator, in late 2008. He was arrested in 2011, nearly three years after the initial complaints, then convicted on 45 criminal counts of sexual abuse of 10 boys over 15 years in summer 2012.
Attorney General Kathleen Kane promised the review during her campaign for the office in 2012, suggesting that then-attorney general and now-Pennsylvania governor Tim Corbett slowed the investigation into Sandusky over political motivations. Kane is a Democrat, and Corbett a Republican currently seeking another term in the governor's office.
Corbett denied Kane's accusation, pointing to the necessary thoroughness of the investigation and its eventual success in earning a conviction.
The report -- overseen by a former federal prosecutor and current law school professor hired by Kane -- blamed the delays on Sandusky's arrest and charges on "communication problems," according to the AP.
Sandusky is currently serving his 30-to-60-year sentence in Pennsylvania's Greene State Prison.
Show Comments
Hide Comments
These five coaches will be hot names on the market after the 2017 season

The Big 12 could be wide open in 2017 ... we mean it this time

Rhule's stance on sexual violence is much-needed for a program that's been submerged in co...
The former Oregon coach was most recently the coach of the San Francisco 49ers

Gales suffered a neck injury against Georgia in 2015

The television schedule announcements are rolling in for Week 1 in college football