PHOTO: Are those Florida State players playing 'Hangman?'
Florida State players appear to be playing Hangman on a white board during the Seminoles 59-3 rout of Syracuse on Saturday.
• 1 min read
For the second week in a row, Florida State sent the starters to the bench in the second half as the Seminoles cruised to a 59-3 win against an ACC Atlantic Division opponent. Syracuse was held scoreless until finally mounting a scoring drive late in the fourth quarter; a credit to this tenacious Florida State defense.
Allow me to turn your attention to Florida State cornerback P.J. Williams and safety Terrence Brooks who apparently found some entertainment playing a game of "Hangman" on the white board during the blowout. This photo was dug up by Florida State fans, and SB Nation's Tomahawk Nation community is already trying to figure out what the word in question at the time. 
@TomahawkNation better quality pic.twitter.com/j0DuZwtHmw

— Jared Schrader (@jaredluke1234) November 17, 2013
And now, we zoom in. ENHANCE: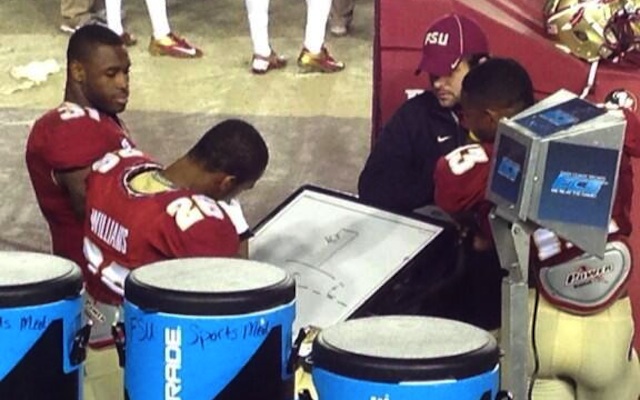 Talking season continues with the Big Ten, and Dennis Dodd sets your expectations

Corral is Florida highest-rated QB commit since Jeff Driskel

The Buckeyes are big favorites to win the Big Ten's East division as well as the conference...
A look at the where the Nittany Lions stand five years later through the eyes of four unique...

Freeze resigned as Ole Miss coach, and the insider team at OMSpirit.com breaks down the im...

Freeze left a fastball over the plate and The Oxford Eagle took advantage of it