PHOTO: N.C. State's 'This is Our State' midfield logo looks like ECU's
N.C. State designed a new midfield logo for their rivalry game against North Carolina on Saturday.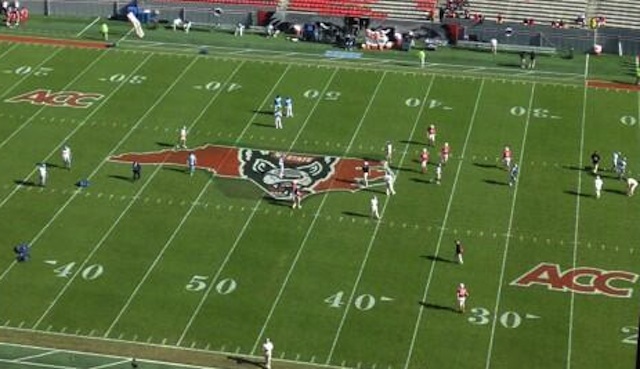 Rumors swirled and photos leaked through the week, but on Saturday North Carolina State 's new midfield logo made its debut.
By putting the wolf in the state of North Carolina, the school is building on their "This Is Our State" campaign with the rival Tar Heels in town. But the logo has resulted in visceral reactions from East Carolina fans, not North Carolina fans.
Take a look at East Carolina's special midfield logo, debuted in Dowdy-Ficken Stadium in 2009.
"The people making the decision have seen East Carolina's, yes," N.C. State athletic department spokewoman Annabelle Myers told the News and Observer. "That concept was not new to N.C. State. It's just not been done in the middle of the field."
The good news for the Pirates is that they have a date in Carter-Finley Stadium later this year. With the North Carolina, East Carolina, and Duke left on the schedule, N.C. State will have the opportunity to back up their claims of state dominance -- or at least overcome the loss to Wake Forest in early October.
Show Comments
Hide Comments
Josh Walker is suspended indefinitely and has left College Station

Cougars' safety Shalom Luani is charged with a felony for breaking a man's nose

Brian Kelly will play both Malik Zaire and DeShone Kizer against Texas in the opener
We dust off our DOS Oregon Trail game to predict the one true champion of the Big 12

From best offensive player to most entertaining person, these are our thoughts on the Big...

Taking a closer look at the Big 12 ahead of a 2016 season that could be a tipping point for...