PHOTOS/VIDEOS: Johnny Manziel visits San Diego Padres
Johnny Manziel's visited Petco Park, where he hit a batting practice home run -- or did he? -- and threw out the first pitch.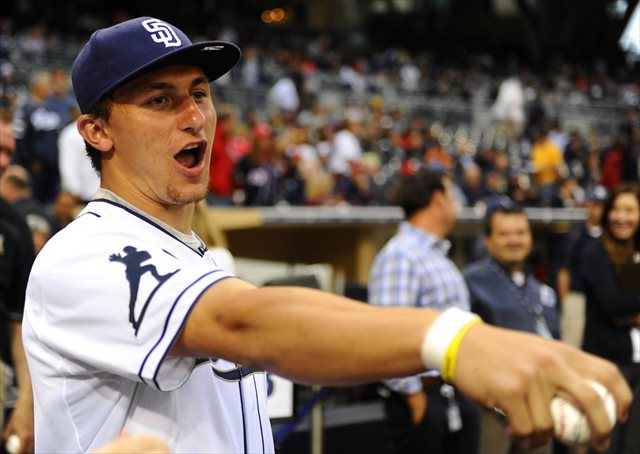 Is any American athlete currenly living the high life the way Johnny "Football" Manziel is living the high life?
Manziel's ongoing offseason Magical Mystery Tour pulled into San Diego Thursday for a stop at the Padres' Petco Park. The following things happened:
1. He received a specially made Padres jersey emblazoned with a Heisman Trophy patch (via UniWatch):
2. He took batting practice and nearly went yard, showing that his high school baseball skills haven't deteriorated too badly. The moment was captured by quarterbacking guru and current Manziel tutor George Whitfield (who claimed Manziel had gotten the ball out of the park) and shared via Twitter:
The almost-homer was also documented by CBSSports.com's own Scott Miller, who notes Manziel also met Nationals star Bryce Harper:
First swing, the bat flew out of his hands and helicoptered into the netting on the side of the batting cage.

He eventually settled down and nearly drilled a pitch out of the park. It crashed into the left-field wall.

Not bad for a guy who hadn't swung a bat in "four, four-and-a-half years."

Mostly, though, this is a serious week of hard work with Whitfield as Manziel prepares for his sophomore season at Texas A&M.

"Try to perfect the art of throwing a football," Manziel said. "Even though it can't be done."

The art perfected, he meant.

As for Harper, these two have one thing in common.

"He's going to go all out," Manziel said admiringly. "You're never not going to see him go all out.

"That's something that sticks to me. I play with my heart, too."
3. He threw out the first pitch. But when you're Johnny Manziel, you don't just throw out a first pitch at a Major League ballpark, do you? Of course not -- you turn it into a re-creation of the most famous play of your career, the fumble-turned-touchdown against Alabama (via SBNation):
4. Might as well stop by the broadcast booth while you're around, right? (Via Adam Savage)
This is all just a few days after Manziel played Pebble Beach. (And, because he's Johnny Football, reportedly shot a 79.) It's good to be a lot of athletes. But man-oh-man is it good to be Johnny Manziel these days*.
*Except for, you know, the part where Nick Saban has admitted he's already actively plotting your demise. In mid-May.
Show Comments
Hide Comments
Our Latest Stories
USF senior Hassan Childs was injured in a shooting on Saturday night

Harris chose the Tar Heels over Texas and other options

Jim Harbaugh is concerned about the funding for the Legal Services Corporation
Jarrett Stidham may be getting most of the reps, but that doesn't mean he'll start this fa...

Spanier was found guilty on one count of child endangerment

These five coaches need to win games in 2017