Playoffs can 'reclaim' New Year's Day for college football (and save the Rose Bowl)
A humble suggestion: Stage the semifinals of a four-team playoff on Jan. 1, and make the Granddaddy of Them All a permanent host.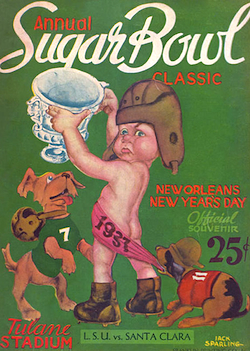 Traditionalists are not taking to their typewriters to pound out strongly worded letters to the editor in favor of the pending playoff in college football. But they can take solace in this much: If conference commissioners get their way, New Year's Day may rise again.
Interim Big 12 commissioner Chuck Neinas told reporters that the playoff format is going to "reclaim New Year's Eve and New Year's Day for college football," which may be interpreted both as a rebuke to NHL commissioner Gary Bettman's claim that Jan. 1 now belongs to hockey – in America? – and a not-so-subtle hint that semifinal games will be staged in the traditional time slot for heavy-hitting bowl games. Commissioners have already agreed to sell university presidents on a format that shares the semifinals among the four BCS bowls (Fiesta, Orange, Rose and Sugar) on a rotating basis and bids out the championship game to a neutral site less than two weeks later, a la the Final Four and Super Bowl. All as expected.
If college football hasn't exactly ceded its annual showcase to the Canadian hordes, the emphasis on the winner-take-all, 1 vs. 2 showdown in the championship game has drained New Year's Day of much of its once formidable vitality: Aside from USC's insurgent victory in the 2004 Rose Bowl, the annual Jan. 1 smorgasbord hasn't featured a game with any sort of national championship implications – insurgent or otherwise – since 1998, when the newly formed BCS began spreading the major bowls thin across the first week of January.
The addition of the BCS Championship Game in 2006-07 has resulted in increasingly pathetic ratings, culminating last year in record lows for both the title game and the Series as a whole. A pair of semifinals and the forthcoming "Champions Bowl" pitting quality also-rans from the Big 12 and SEC will breathe considerable life into an old, fading tradition.
And now, a humble suggestion from the author: They should designate the Rose Bowl as a permanent semifinal.
There is some political utility to this idea, considering the stewards of the Rose, the Pac-12 and (especially) the Big Ten, have always been the most reluctant to submit to a playoff that forces them to sever ties with the game or potentially diminishes its prestige. Designating the Rose as a permanent semifinal game guarantees a prominent place in the new format every year. And there's nothing wrong with a little courtesy to the "Granddaddy of Them All," anyway.
As eyeballs are still overwhelmingly dominated by television, though, it's primarily a matter of logistics. Unlike the other major bowls, the Rose is in a fixed time slot: It's going to kick off at 4:30 p.m. ET on Jan. 1 every year, whether the game is designated as a semifinal or not. Nobody wants to mess with the Rose Bowl. Assuming one of the semifinal games will be fixed in primetime on Jan. 1, that leaves three options for scheduling the other semi in the years that the Rose is just the Rose:
a) Stage both semifinals against one another in primetime;
b) Stage one of the semifinals against the Rose Bowl in the afternoon slot;
c) Stage one of the semifinals on another day, most likely New Year's Eve.
Option a) is not happening under any circumstances; like NFL playoff games, the potential audience for a college football semifinal is much too valuable to even consider splitting it by pitting those games head-to-head. Option b) is awkward at best, and very likely a deal-breaker from the Big Ten and Pac-12's perspective. Option c) is a gamble that defies tradition and could easily backfire if audiences decide they care more about going out on New Year's Eve than watching a football game that's never been there before. (Sorry, Peach/Chick-Fil-A Bowl, but a national semifinal has slightly higher expectations, ratings-wise.)
If the Rose Bowl is a permanent semifinal, there are no conflicts: Both semifinal games are on New Year's Day – the day traditionally set aside for Americans to gorge on college football – in complementary afternoon/primetime time slots. No other conferences are cut out of anything because their access to the playoff/revenues is not affected in the slightest. (As for the other major bowls that would lose a hosting opportunity every four year, who cares what they think? Stop gouging schools on ticket and hotel costs while claiming "nonprofit" status and maybe we can talk.) It works.
Yes, the Big Ten and Pac-12 would have to give up their precious tie-ins to Pasadena, which both sides continue to cling to like grim death. But however reluctantly, they've also repeatedly relented to preserve the Granddaddy's lofty status. They slowly loosened their grip for the sake of the BCS, and are already in the process of loosening it a little more in the transition to a playoff. In return, the Rose will retain its traditional time slot and guaranteed national relevance on an annual basis; it will be the only major bowl that everyone automatically associates with championship implications, every year. If they really love the Rose Bowl, they should set it free.
- - -
1937 Sugar Bowl program via Santa Clara Magazine.
Show Comments
Hide Comments
Moss, a tight end, announced his decision to transfer from NC State this spring

A police report states that the future UGA offensive lineman choked his girlfriend

Clint Lewis, who has Down Syndrome, has been with the program for 22 years
Hurd left Tennessee during the 2016 season

But it worked, and that's what matters

TV viewing and live stream information for the 2017 Alabama spring game