#PMARSHONAU: Auburn memories - Nix to Sanders (twice)
In 1993 and 1994, Patrick Nix and Frank Sanders teamed up to make plays that won't be forgotten. Includes videos.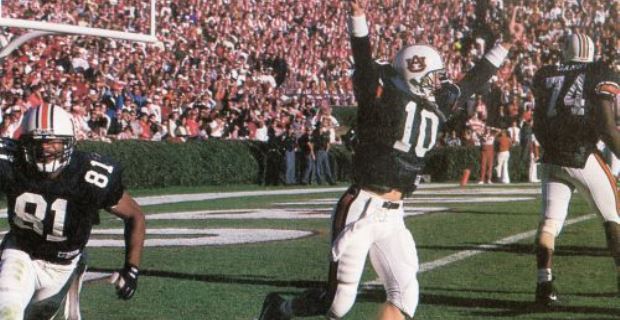 Fourth in a spring break wee series of columns on some of the great moments in Auburn sports history.
On football Saturdays less than a year apart, sophomore quarterback Patrick Nix and wide receiver Frank Sanders made plays that will live in Auburn football glory.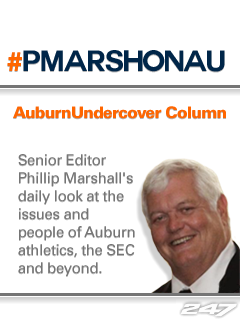 At Jordan-Hare Stadium on Nov. 20, 1993, Nix had no reason to expect to play against Alabama in the Iron Bowl. Stan White was a four-year starter playing his final game. It would be on his shoulders to show the way for Auburn to complete a stunning 11-0 record in Terry Bowden's first season as head coach.
But fate intervened.
White went down with a knee injury midway through the third quarter. It was fourth-and-15 at the Alabama 35 when Nix was told to go into the game. Alabama led 14-5.
The call was surprising. There would be no field goal try, no punt. With no warmups, Nix was told to throw deep for Sanders.
If Nix was surprised, he didn't show it. He launched the ball toward Sanders, speeding toward the end zone. Sanders, coming back for the ball, grabbed it and dived across the goal line. The game turned right then and three.
A 26-yard Scott Etheridge field goal and a 70-yard James Bostic sprint finished off Auburn a 22-14 victory.
For Nix, the son of an Alabama high school coach and lifelong Auburn fan, it was a moment of which he'd dreamed since he was a little boy.
"When I was in the fourth grade in Haleyville, the Friday before the Auburn-Alabama game everybody wore the colors of one school or the other," Nix said years later. "We were probably outnumbered 10-1. I fought anyway. That was when Coach Bryant was at Alabama and Auburn was always the underdog. We were looked down on. I did what I did for all those kids in the fourth grade getting abused."
On Oct. 15, 1994, Auburn still had not lost a game under Bowden, winning 17 straight. Nix was the starting quarterback. Florida was ranked No. 1 in the country and was favored by close to three touchdowns.
Auburn players had grown accustomed to winning. And they went to Gainesville expecting to win again. Auburn broke out fast, but Danny Wuerffel replaced Terry Dean at quarterback and Florida rallied. Finally, with 5:51 left, the Gators took a 31-29 lead. When Auburn was forced to punt, it seemed the winning streak would end.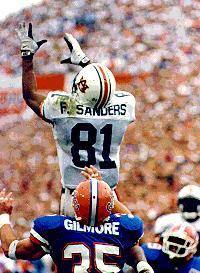 But with 1:20 left in the game, facing third-and-15, Florida coach Steve Spurrier called for a pass. It was a decision he would regret. Brian Robinson intercepted it and returned it to the Auburn 45.  The Tigers had one more chance.
After Sanders dropped a third-down pass that would have made a first down, Nix hit Tomas Bailey for 14 yards on fourth-and-10. He hit Willie Gosha for 20 yards to the Florida 8.
As Auburn lined up to run the net play, Nix knew it was going to be a touchdown as soon as he saw the Florida defensive alignment.
"I'll never forget looking at Frank and Frank looking at me," Nix said. "It was like 'I can't believe this. The game is over. We're going to win.' I saw him go up, but I never saw him catch the ball. They blitzed, and there were a lot of people around. As soon as I saw him go up, I knew it was over. It was Frank. He was going to catch the ball."
And Nix-to-Sanders, Parts I and Parts II, became part of Auburn football lore.
Today, Nix, like his father, is a high school football coach. His son, Bo, is a future college quarterback. Sanders became an NFL star and lives now where he played. He's a businessman in Phoenix.
And Nix-to-Sanders, Parts I and Parts II, are forever part of Auburn football lore.
Show Comments
Hide Comments
The conference will adopt two divisions when it becomes a 10-team league in 2018

Like his brother, Lanard Fournette will be running the ball for the Tigers

Ranking the strength of schedule for each of the 12 teams in the Pac-12 entering the seaso...
Thomas Tyner will reportedly re-start his college football career at Oregon's biggest riva...

Collin Johnson needs to do this in a game or all of this was for nothing

The Bulldogs are upping the game in the ever-changing facilities arms race