PODCAST: 2012 SEC Preview with Jerry Hinnen
Jerry Hinnen and Chip Patterson separate the contenders from the pretenders in the SEC, and what teams can do to improve their stock.
• 1 min read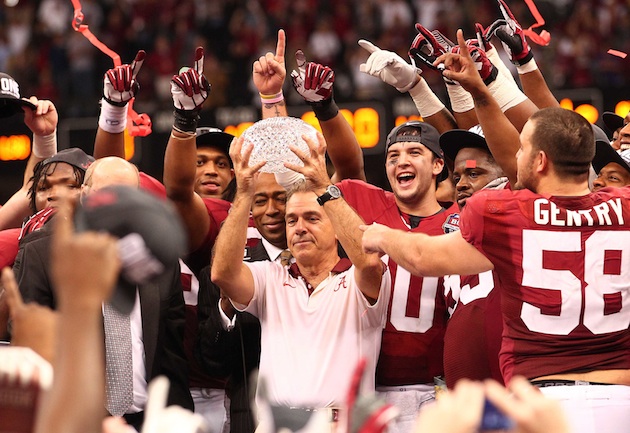 Our conference preview podcast series continues with the SEC.

With the SEC claiming the last six BCS national championships, more attention than ever has been paid to the competition in the conference. Jerry Hinnen joins me on the podcast to preview the season ahead in the Southeastern Conference. We break down each division to separate the "Contenders" from the "Pretenders," with a special Stealers Wheel spot carved out for a team that "Stuck in the Middle."

SEC West Contenders
Alabama
LSU
Arkansas

SEC West "Stuck In The Middle"
Auburn

SEC West Pretenders
Texas A&M
Mississippi State
Ole Miss

SEC East Contenders
Georgia
South Carolina
Florida

SEC East "Stuck In The Middle"
Tennessee

SEC East Pretenders
Vanderbilt
Missouri
Kentucky

Tune in to hear us break down why each team deserves to be where they are, and how they can improve or hurt their chances of playing for the SEC Championship in December. Also, Jerry pics Alabama outside linebacker Adrian Hubbard as his under-the-radar player to watch and we discuss how a LSU's ability to bounce back from the national championship game and Mathieu's dismissal is the most intriguing storyline heading into the season.

Got questions you want answered on a future podcast? Send them to podcast@cbsinteractive.com. Feedback - both love and hate - is encouraged as well.

You can listen to the podcast in the player below, or click here to use the pop-out player and keep browsing. If you want to take the CBSSports.com College Football Podcast on the go, you can click here to download the MP3 or get this and all episodes for FREE from the iTunes Store.


Keep up with the latest college football news from around the country. From the opening kick of the year all the way through the offseason, CBSSports.com has you covered with thisdaily newsletter. View apreview.

Get CBSSports.com College Football updates on Facebook
Show Comments
Hide Comments
Have fun with this, SEC defenders

Making plays on the over/under for all 12 teams in the Pac-12

Mike Gundy and the Cowboys know there's one monster they have to contend with in their own...
The initiative has been put forth to offset the burden of declining freshman enrollment

How will the Big 12 shape up in 2017? Let's take a team-by-team look

Kush went 176-54-1 in 22 seasons at Arizona State