Power Poll: Tide will play smash mouth all the way to No. 1
Dennis Dodd's preseason power poll likes Alabama (doesn't quite trust Jameis). Is there a surprise? Look no further than Marshall.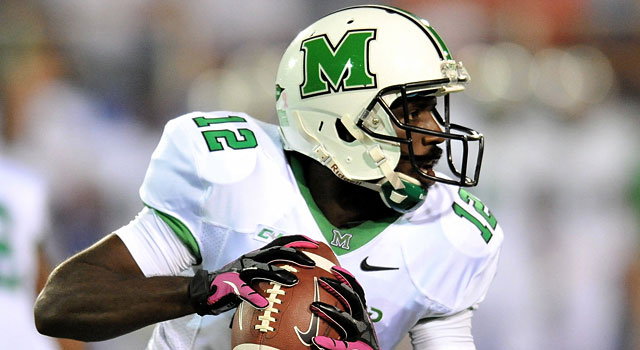 The best/worst thing about preseason polls is the preseason.
Readers love to digest them. The news of the day tends to render them less relevant by the hour. Unless -- like the first Power Poll of the season -- we take everything into account in (somewhat) real time.
(CBSSports.com is on that ultra-modern World Wide Interweb.)
Thanks to the fluid nature of the news, yes, we are taking into account the situations at Oklahoma and Notre Dame. We are waiting for the next claw to drop at Florida State.
We've taken into account that it may not matter if Jacob Coker isn't AJ McCarron (or even John Parker Wilson). We're surmising if Marshall wins them it almost has to be a top 10 team.
Grab a bib, get some lemon butter and dig in on the season's first Power Poll. But for gosh sakes, please pay on your way out.

1. Alabama Crimson Tide : Worst case scenario: Jacob Coker is merely a caretaker. (Please don't say game manager.) St. Nick then leans on the defense, lines up and plays smash mouth with T.J. Yeldon and Kenyan Drake and mixes in a short passing game (Amari Cooper!) Wait, isn't that's what is going to happen anyway?

2. Florida State Seminoles : What are the Noles doing at No. 2? This is a case of CTJ = Can't Trust Jameis. Not that he isn't a fantastic talent, not that FSU doesn't have the most depth in the country, not that the Seminoles can't repeat in a playoff, but I can't pick 'em No. 1 in the preseason. Given history, I can't quite trust Jameis to keep on the straight and narrow for one more semester.

3. Michigan State Spartans : We'll know soon enough about the Spartans in Week 2. They travel to Oregon where it will be Brawn vs. Blur. Hey, the only thing at stake will be the Big Ten's current shaky -- but improving -- rep. Other than that, the schedule is friendly.

4. Oregon Ducks : Fully healthy, Marcus Mariota should have a Heisman-worthy season. You saw what happened when that knee wasn't 100 percent. Fantasy alert: Keep an eye on tailback Byron Marshall.

5. South Carolina Gamecocks : A "dark horse" to win it all. Not just the SEC East or the SEC. I mean win it all. Spur Dog has a veteran quarterback (Dylan Thompson), an all-SEC tailback (Mike Davis) and a defense free from the distractions of answering, "What about Jadeveon?"

6. Ohio State Buckeyes : Lose two in a row in Columbus and, yeah, they tend to get a little nervous. Just don't forget the first 24 in a row by Urban. The Big Ten East should be decided Nov. 8 in East Lansing.

7. Auburn Tigers : Nick Marshall may be the best player in the SEC. Gus Malzahn is going to ask him to be more of a passer. Nothing wrong with that with Sammie Coates and C.J. Uzomah to rely on. Just don't look for miracles this season.

8. Marshall Thundering Herd : In the history of the BCS, the highest-rated undefeated non-BCS school finished in the top 10 six of seven times. The only exception: No. 12 Marshall in 1999. Rakeem Cato might be the best quarterback in the Group of Five. The schedule is beyond manageable. If the Herd don't win them all, they deserve to plummet. If they do, they're a top 10 team.

9. UCLA Bruins : Jim Mora Jr. and Brett Hundley have taken over LA. Next step is win an improving Pac-12. The best thing is we'll get a likely Pac-12 championship game preview Oct. 11 (Ducks-Bruins).

10. Oklahoma Sooners : The best team in the Big 12 is suddenly flawed, perhaps distracted. While the Sooners wait for a ruling on receiver Dorial Green-Beckham, leading tackler Frank Shannon has been suspended for the year. Super freshman tailback Joe Mixon is awaiting his future after being charged with a misdemeanor. It adds up to 10-2 season, which is bad news for the Big 12 in the first year of the playoff.

11. LSU Tigers : New quarterback. Six new starters on defense. To the world, that adds up to third place in the SEC West. The Tigers figure they can shock the world if they win at Auburn and Florida and -- oh yeah -- they get Bama at home on Nov. 8.

12. Georgia Bulldogs : Todd Gurley should contend for the Heisman. Linebacker Rakim Wilson should contend for the Bednarik. The Dawgs should contend for the SEC East. We'll know gobs more Sept. 13 when Georgia travels to South Carolina.

13. Stanford Cardinal : It's time to realize David Shaw is in charge of the best run by the Cardinal, perhaps ever. Kevin Hogan is one of 10 returning quarterback starters in the Pac-12. Breaking in a new offensive line shouldn't be a problem. All five projected starters are from the awesome '12 recruiting class.

14. Baylor Bears : Commitment to excellence? Bryce Petty wants to cut down on his interceptions. There were only three in 403 throws. A Big 12 repeat hinges on a Nov. 8 trip to Oklahoma.

15. Wisconsin Badgers : Tailback Melvin Gordon wants to be the best tailback in the country. That's laudable except the position continues to be marginalized in college and the pros. Fortunately for Gordon, they're still going to pound it at Wisconsin.

16. Kansas State Wildcats : Two of Bill Snyder's best players are former walk-ons -- center B.J. Finney, defensive end Ryan Mueller. Don't be surprised if the best evaluator of talent in the country surprises us all again.

17. Clemson Tigers : Dabo Swinney has done a fine job recruiting, coaching and winning. For Clemson and the ACC to improve don't the Tigers have to start winning conference titles? It won't happen this year with Cole Stoudt replacing Tajh Boyd and a trip to FSU in Game 3.

18. Notre Dame Fighting Irish : What's the big surprise with the suspensions? We've known for a while ND has a lot in common with the average state-school football factory. Academic fraud isn't going to put Brian Kelly on the hot seat, following up a national championship berth with seven wins two years later will.

19. Texas Longhorns : Charlie Strong has come down hard with discipline and dismissals. Part of it is shaping a roster he inherited. Part of it is instilling a sense of purpose. If David Ash is above average, the Horns will surprise.

20. Southern California Trojans : The Trojans are sneaky good. An accomplished Cody Kessler has reliable Nelson Agholor and supremely motivated George Farmer to throw to. Overall depth -- a symptom of probation -- remains an issue.

21. Arizona State Sun Devils : This has the look of a breakthrough season for the Sun Devils. Coach Todd Graham has won 18 in his first two years. That included a Pac-12 South title last year. It all hinges on a defense that lost nine starters.

22. Nebraska Cornhuskers : Bo has loosened up. If anything, tailback Ameer Abdullah and defensive end Randy Gregory have toughened up. The Huskers have the look of a division winner. That will be decided after trips to Michigan State and Wisconsin. Gaux Pelini?

23. Iowa Hawkeyes : Nice bounce-back year by Kirk Ferentz (4-8 to 8-5). Whether the ascent continues depends on brutal November (Northwestern, Wisconsin, Nebraska at home, Minnesota on the road). There are weapons starting with receiver/returner Kevonte Martin-Manley.

24. Cincinnati Bearcats : The Gunner Kiel era -- wait, career -- finally begins. It's only been more than 1,000 days since the once-five-star prospect played a game. If Marshall does falter, Tommy Tuberville could grab that golden ticket to a New Year's Six bowl.

25. Boise State Broncos : Former Broncos offensive coordinator Bryan Harsin inherits a lot from Chris Petersen. But there is a lot to live up to -- 92 wins in eight seasons, a couple of BCS bowl wins. The question is whether CP maxed out at Boise or if Harsin continues to coach a powerhouse. Watch tailback Jay Ajayi. Who knew he rushed for almost 1,500 yards and 18 touchdowns last season.
Show Comments
Hide Comments
Kirk Merritt claims 'jock itch' was the reason he exposed himself to two tutors

The former coach weighed in on the new NCAA recruiting rules

Wiggins has played more than 30 games in the ACC and SEC during his career
Our panel of experts drafted the best sports video games that have ever been created

The players allegedly conspired to steal belongings from another student's dorm room

Harbaugh handed the Pope a Wolverines helmet and special shoes