QB Jalen Whitlow transferring out of Kentucky
Rising junior quarterback Jalen Whitlow has decided to transfer out of Kentucky, the school announced Wednesday.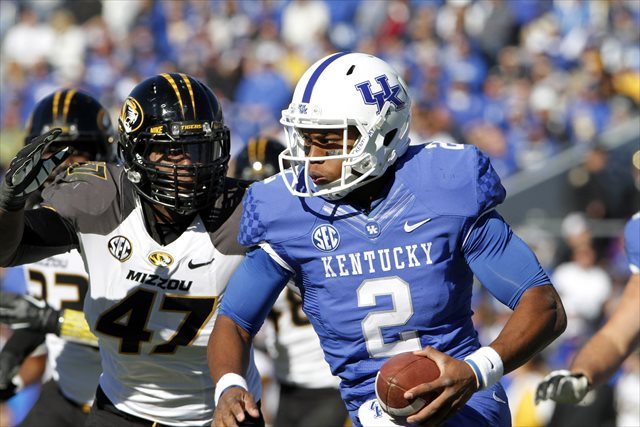 More QB transfers: Texas A&M's Joeckel | USC's Wittek | Duke's Connette
Quarterback Jalen Whitlow has decided he'll have to play quarterback somewhere other than the University of Kentucky.
Whitlow and the Wildcats announced the Montgomery, Alabama native's decision in a statement Wednesday. A rising junior, Whitlow started seven games as a freshman in 2012 and eight in Mark Stoops' first season in 2013.
"I appreciate the University of Kentucky and what the coaching staff and administration have done for me," Whitlow said. "I also thank the community and the fan support I have received here.  I wish the coaches and my teammates the best of luck."
"We respect Jalen and his decision as we want the best for him," Stoops said. "I thank Jalen for his contributions to the team during his time at Kentucky. I want everyone to understand how hard he has worked and the effort he has given since our staff has been here."
Despite Whitlow's experience, he had struggled to separate himself from either sophomore Patrick Towles or freshman Drew Barker in the Wildcats' spring practice. The team's original 2013 starter, Maxwell Smith, is also expected to be a strong contender for the starting job after he recovers from injury.
Still, the loss of Whitlow won't be an insignificant one for the Wildcats. Whitlow flashed glimmers of dual-threat potential in both seasons in Lexington, completing 61.6 percent of his passes for 1,035 yards (6.5 yards per-attempt) and adding 457 rushing yards in 2013. He would have entered 2013 as Kentucky's most experienced quarterback.
But the bottom line is that Whitlow didn't appear to be as snug a fit for Stoops' and coordinator Neal Brown's Air Raid-inspired offense as Smith, and was unable to stop the Wildcats from finishing 90th in FBS yards-per-play last season, or a miserable 113th in 2012.
Whitlow still has two seasons of eligiblity remaining, and can redshirt during his mandatory transfer year.
Show Comments
Hide Comments
Gales suffered a neck injury against Georgia in 2015

The television schedule announcements are rolling in for Week 1 in college football

Florida State's favored to win the ACC but that doesn't make it the best play
Fedora has gone 40-25 in five seasons with the Tar Heels

We ranked each of the 14 ACC teams by its strength of schedule in 2017

The three players attempted to rob a fellow student but claimed it was a prank gone wrong