Quick Hits: Boise State 7, BYU 6
It wasn't pretty but Boise State escaped with a win against BYU on the blue turf thanks to a suffocating defense that came up with the big plays on Thursday night.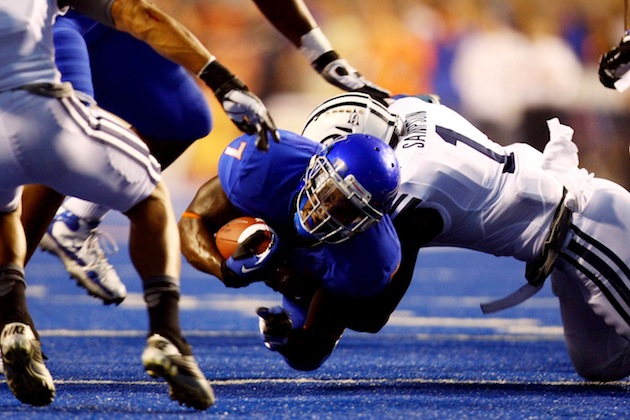 Boise State running back D.J. Harper was a workhorse against a tough BYU defense on Thursday night. (US Presswire)
BOISE STATE WON: It was a knockout, drag out defensive battle between two teams that normally have enough playmakers on offense to put on a show. This game was great if you were down in the trenches but the number of turnovers and lack of plays through the air made an ugly game even, well, uglier. It wasn't pretty but Chris Petersen will be happy to to add another win on the left side to the home record even if he won't be smiling when watching the film on Friday.
WHY BOISE STATE WON: With Kellen Moore, Doug Martin and the Broncos' defensive line from last season gone to the NFL, this team figured to look a little different with so many productive starters to replace. Still, it is definitely unusual seeing a normally high-flying Boise State rely on their defense for a win, as the offense failed to score a touchdown for the second game this year. Defensive tackle Mike Atkinson ended up with the game-winning score on a leaping interception that he ran back for a touchdown (yes, a fat guy touchdown) and the entire unit forced five BYU turnovers to help move the program to 2-1 on the season.
WHEN BOISE STATE WON: BYU finally got something going late in the 4th quarter and had momentum in the red zone after converting a 4th-and-3 on a quick slant pass. Quarterback Taysom Hill managed to cap a 95-yard drive off with a hard-nosed touchdown run from four yards out but instead of going for the tie, coach Bronco Mendenhall opted to keep the offense out on the field. Hill's pass on the two-point conversion fell to the Blue Turf incomplete and then the Boise State offense kept the ball away long enough to escape with a win.
WHAT BOISE STATE WON: There wasn't a ton of love between the two programs coming into this match up with both Mendenhall and Petersen saying they would be in favor of cutting short the 12-year series between the two. It wasn't a pretty game but with such a young team trying to find its groove, the Broncos should be happy to add a win over a solid team like BYU to their resume that doesn't have many quality opponents on it. 
WHAT BYU LOST: Coming off an emotional, tough loss at rival Utah last week, the Cougars figured to have their hands full against a team that hardly ever loses at home. The defense looked solid for the most part but the questions about the offense will be the hot topic in Provo after starting quarterback Riley Nelson looked awful in throwing three interceptions and completing just four passes. Losing two straight is bad for BYU but doing so while creating a quarterback controversy might be even worse.
THAT WAS CRAZY: There are only so many FAT GUY TOUCHDOWNS in the game of college football and we got one on Thursday thanks to Atkinson, who showed soft hands and a nose for the end zone to grab the only score of the game for Boise State. (via SBNation)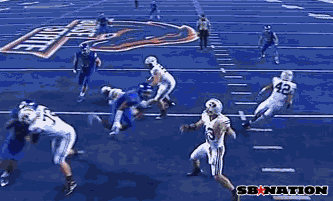 Show Comments
Hide Comments
Kirk Merritt claims 'jock itch' was the reason he exposed himself to two tutors

The former coach weighed in on the new NCAA recruiting rules

Wiggins has played more than 30 games in the ACC and SEC during his career
Our panel of experts drafted the best sports video games that have ever been created

The players allegedly conspired to steal belongings from another student's dorm room

Harbaugh handed the Pope a Wolverines helmet and special shoes