Quick Hits: Kansas State 42, Texas 24
Instant analysis of the Wildcats' comeback, BCS-clinching win over the Longhorns.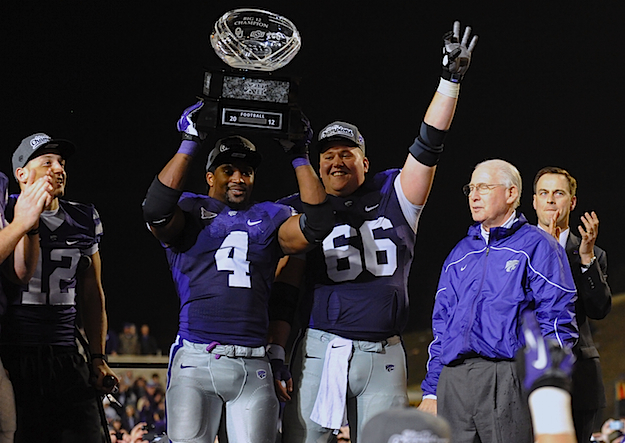 Linebacker Arthur Brown (4) and center B.J. Finney were key cogs in the run to coach Bill Snyder's second Big 12 championship. (US Presswire)
KANSAS STATE WON. Trailing by three points midway through the third quarter, K-State turned the burgeoning upset into a rout, ripping off four consecutive touchdowns en route to its fifth consecutive victory over Mack Brown's Longhorns. Two weeks removed from the 52-24 thrashing that knocked them from the BCS driver's seat, the Wildcats are the Big 12 champions for the second time under Bill Snyder, and will be back in a big-money bowl in January for the first time since the end of Snyder's first stint in Manhattan nearly a decade ago.
HOW KANSAS STATE WON. The K-State offense was sluggish in the first half, only managing to find the end zone after an interception return to the UT 1-yard line by Nigel Malone. (Bizarrely, Malone dropped the ball on an apparent pick-six just before crossing the goal line.) The only sustained drive, a 13-play, 82-yard march that took more than six minutes off the clock in the first and second quarters, ended when quarterback Collin Klein was picked off in the end zone. In the second half, though, it was all Wildcats: K-State scored touchdowns on five of its six offensive possessions after halftime, highlighted by two scores – a two-yard run by John Hubert to cap a 67-yard drive, followed by a quick, 55-yard strike from Klein to Tyler Lockett– in a span of less than two minutes.
As for Klein, he didn't exactly outdo himself on the stat sheet in pursuit of a late surge in the Heisman race, accounting for 287 total yards (184 passing, 103 rushing) with three touchdowns and an interception. But he was efficient, as usual, and with the window wide open for an upset in the second half, he slammed it shut.
WHEN KANSAS STATE WON. The long touchdown pass to Lockett was a haymaker, extending the Wildcats' lead to 11 points less than a minute into the fourth quarter. But the Longhorns didn't begin to look really weak in the knees until the end of their ensuing offensive possession, a 10-play, 52-yard drive that milked 4:32 from the clock but resulted in no points when a 40-yard field goal attempt sailed wide. After a stand by the UT defense, the Horns were doomed by another special teams gaffe when Quandre Diggs muffed a punt around his own 40-yard line, setting up K-State with a short field for the clinching touchdown.
WHAT KANSAS STATE WON. The Wildcats' eleventh win ties a school record for wins in a season and delivers K-State its first conference championship – and BCS bowl bid – since 2003. From here, they'll be moving on to the Fiesta Bowl, most likely against Oregon. Just as importantly, the championship brings KSU full circle, matching the peak of Syder's first go-round as head coach in just the fourth year of his second.
WHAT TEXAS LOST. The Longhorns were already eliminated from the Big 12 and BCS hunts courtesy of their Thanksgiving stumble against TCU, but with consecutive defeats to close the season, they end on an all-too-familiar down note that recalls the disappointments of 2010 and 2011. Twice this season, following a 4-0 start and again following a four-game win streak in October and November, Texas has been brought to earth by back-to-back losses, begging the same old question at the end of 2012: How much progress has this team really made?
Show Comments
Hide Comments
There are all sorts of drafts out there and these are my favorites

It's time to say goodbye to so many great players

What colleges and conferences had the most first-round picks in the 2017 NFL Draft?
Myles Garrett and Leonard Fournette were top-rated prospects coming out of high school

Ohio State and Washington will play in Seattle in 2024 and Columbus in 2025

Kirk Merritt claims 'jock itch' was the reason he exposed himself to two tutors