Quick Hits: No. 5 Georgia 38, Auburn 0
Georgia had no problems at all clinching the SEC East title against dreadful Auburn.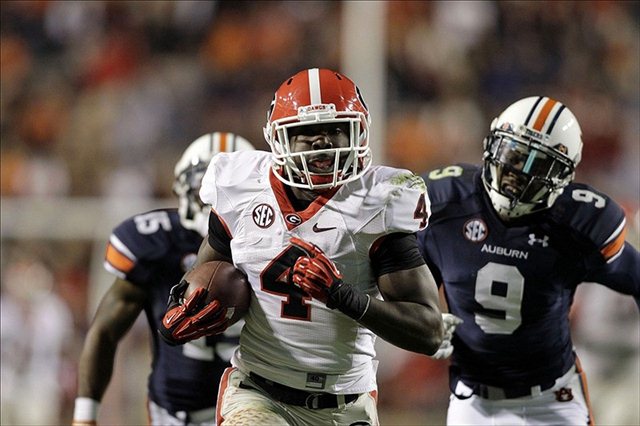 Keith Marshall had plenty of room to run on the Plains. (US Presswire)
GEORGIA WON. It was supposed to be uneventful, and it was: the Bulldogs scored three times in the first 20 minutes to open up a 21-0 lead that against toothless Auburn may as well have been 764.5-0. But Aaron Murray made the Auburn defense look just as hapless, shredding former Georgia defensive coordinator Brian VanGorder's unit for 208 yards and three touchdowns on just 24 passes. Both halves of "Gurshall" went over 100 yards, with Todd Gurley going for 116 yards, Keith Marshall 105, and both scoring a touchdown.
The prize: Georgia's second straight trip to Atlanta for the SEC Championship Game.
WHY GEORGIA WON. The reasons here, really, are too numerous to count when discussing the 2012 Auburn Tigers. So we'll shorten it to a head-to-head unit-by-unit comparison. Here is a list of the units of Georgia's which outperformed their Auburn counterparts:
QuarterbacksRunning backsOffensive lineReceivers Defensive lineLinebackersSecondary
Here is a list of the units of Auburn's which outperformed Georgia's:
[File not found]
And here is a list of units which were more-or-less a draw:
Special teams
That pretty much explains things. (The only other thing we'll add: to compete, Auburn needed a host of big mistakes from the Bulldogs. Instead Murray didn't throw an interception -- Auburn has just one this entire season, dead last among all FBS teams -- and Georgia never fumbled.)
WHEN GEORGIA WON. True statement: when Chris Conley caught a 6-yard touchdown pass from Murray with 10:45 left in the first quarter, Georgia had all the points they would need for a victory for the entire game.
WHAT GEORGIA WON. The SEC East title, as we mentioned. But this is a fun bonus: the Bulldogs have now tied the all-time series in the Deep South's Oldest Rivalry at 54-54-3.
WHAT AUBURN LOST. A ninth game by 17 points or more in two seasons and its eighth overall in 2012. Good luck pulling off the miracle win over Alabama that's almost certainly necessary to save your job, Gene Chizik. 
The Buckeyes are big favorites to win the Big Ten's East division as well as the conference...

A look at the where the Nittany Lions stand five years later through the eyes of four unique...

Freeze resigned as Ole Miss coach, and the insider team at OMSpirit.com breaks down the im...
Freeze left a fastball over the plate and The Oxford Eagle took advantage of it

Tim Tebow joined the show right after a baseball game to chat about football and more

Tebow joined the 247Sports College Football Podcast this week to discuss a variety of topi...