Quick Hits: No. 7 Kansas State 56, Kansas 16
Instant analysis of the Wildcats' in-state win over the Jayhawks.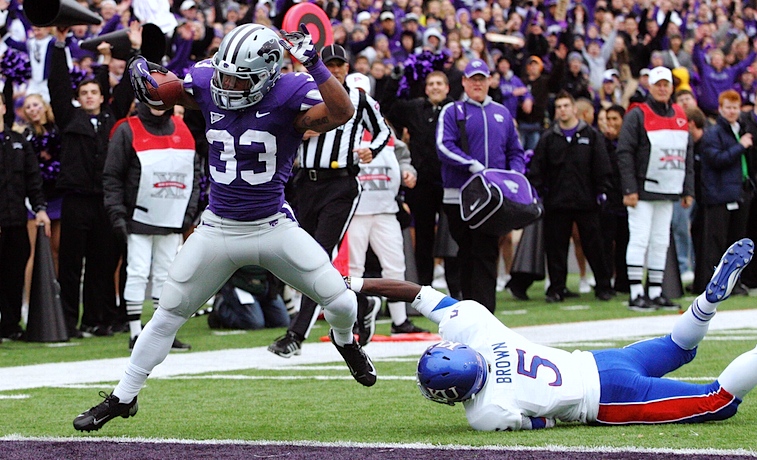 KANSAS STATE WON: After falling behind 14-7 early in the second quarter, the Wildcats proceeded to outscore their in-state rivals 49-2 the rest of the way en route to another lopsided rout. The 40-point margin marked the third consecutive season K-State has dispatched the Jayhawks by at least five touchdowns.
WHY KANSAS STATE WON: Kansas patiently strung together two long, methodical touchdown marches on its first two offensive possessions, then commenced the meltdown: The Jayhawks' next nine possessions resulted in five turnovers, three punts and a missed field goal. Kansas State finished with a significant edge in total offense, 475 yards to 388, despite running just 51 plays in only 23 minutes of possession.
Predictably against a defense that came into the game ranked dead last in the Big 12 against the run, the Wildcats did most of their damage on the ground, rolling up 346 yards and six touchdowns on a staggering 9.4 yards per carry. All six scores came courtesy of the usual suspects, tailback John Hubert (10 carries for 101 yards, 4 TDs) and Collin Klein (10 carries for 116 yards, 2 TDs), who also added two touchdown passes without an interception.
WHEN KANSAS STATE WON: Up just 21-14 after two quarters, the Wildcats opened the floodgates in the second half, with the help of a barrage of Kansas turnovers. In the third quarter alone, K-State scored four touchdowns on drives that began in Jayhawks territory -- and needed just 10 plays to do it.
WHAT KANSAS STATE WON: There is a rivalry trophy at stake in this game, the Governor's Cup, which will remain in the Wildcats' possession for the fourth year in a row. (Bill Snyder has won the Cup 17 times in 21 seasons as K-State's head coach, including an 11-year winning streak from 1993-2003.) Of interest outside of the state, Kansas State moves to 5-0 (2-0 in the Big 12) and will remain in the top 10 of both major polls for the third consecutive week.
WHAT KANSAS LOST: Besides the losing streak within the series, the Jayhawks have now dropped 14 in a row in conference play dating back to 2010, 11 of them by at least 14 points.
THAT WAS CRAZY: On its third offensive possession, Kansas successfully faked a punt and a field goal, using the conversions to manufacture a 15-play, 73-yard touchdown drive that put the Jayhawks up 14-7 early in the second quarter. Unfortunately, they wouldn't find the end zone again.
Talking season continues with the Big Ten, and Dennis Dodd sets your expectations

Corral is Florida highest-rated QB commit since Jeff Driskel

The Buckeyes are big favorites to win the Big Ten's East division as well as the conference...
A look at the where the Nittany Lions stand five years later through the eyes of four unique...

Freeze resigned as Ole Miss coach, and the insider team at OMSpirit.com breaks down the im...

Freeze left a fastball over the plate and The Oxford Eagle took advantage of it