Quick Hits: ULM 34, No. 8 Arkansas 31 (OT)
Kolton Browning carves apart the same old Arkansas defense for the 2012 season's biggest upset yet.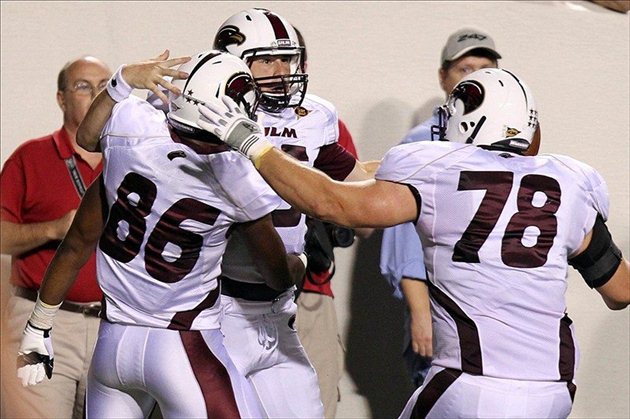 Even

Kolton Browning

(center) can't believe he just upset Arkansas. (US Presswire)
ULM WON. In the biggest upset of the 2012 college football season so far, the Sun Belt's Louisiana-Monroe took down No. 8 Arkansas in overtime. And even more surprising than that is that the Warhawks' victory was no fluke: ULM outgained the Razorbacks 557-376, committed just one turnover to Arkansas's 2, and finished the game on a 27-3 run in which the rebuilt Hog defense seemed powerless to stop the ULM spread and quarterback Kolton Browning (42-of-68, 412 yards, 3 touchdowns). Then again, the second half might have played out much differently if Tyler Wilson had been able to see the field; the All-SEC senior quarterback left the game after the first half with an apparent head injury. 
WHY ULM WON. Because after years of defensive disrepair, Arkansas still can't get a stop when it matters. Up 28-7 midway through the third quarter, all the Hogs had to do to get a win was keep an offense that ranked 98th in the FBS in yards-per-play in 2011 from scoring three touchdowns in 28 minutes or so. All they had to was stop any one of three 4th-and-10-or-longer plays on drives that would end with Warhawk second-half touchdowns; Browning made a play all three times. Up 31-28 in overtime, with ULM going on 4th-and-1, they were once again one play from escaping; instead Browning broke contain and scored.
Ever since the hire Bobby Petrino (and in some ways, even before that) the Razorbacks have been known as a team that wants to score a ton of points and play just enough defense to win. There was lip service paid to becoming something more than that when former Ohio State assistant Paul Haynes was hired this offseason as the Hogs' new defensive coordinator. 557 yards and all those fourth-down conversions later, it's clear the Hogs are still a long, long way away from being championship-caliber on that side of the ball.
(To be fair to the Hogs, they were shaken up late in the game when starting defensive back Tevin Mitchel collided helmets with a teammate and stayed down on the field. He was eventually carted off on a stretcher with his head stabilized and taken to a local hospital. If there's any good news for Arkansas from this awful night, it's that Mitchel has been responsive, and per John L. Smith, should be OK.)
WHEN ULM WON. As soon as Browning cut back right after starting left on the 4th-and-1 in overtime. There was nothing but green space in front of him, and the game was done as soon as he broke past the helpless Arkansas linebackers. 
WHAT ULM WON. Headlines across the college football world, for one, and -- having won as a 30-point underdog -- a second entry on the shortlist of biggest upsets in recent college football memory. (The Warhawks also won as heavy, heavy underdogs at Alabama in 2007.) But maybe even more importantly, the win is a surprising entry in the W column on the Warhawks' neverending quest to finally make the postseason--ULM has never been.
WHAT ARKANSAS LOST. Any illusions about being a national or SEC or SEC divisional contender ... their top-10 ranking and possibly their national ranking, period ... faith in John L. Smith to right the ship in the wake of Bobby Petrino's firing ... the aura around the program, created by Petrino, that the Hogs were a legitimate on-the-come player on the national scale. On the basis of Saturday, the Petrino salad days are already well behind them, just two games after his departure.
The senior tailback for the Georgia Bulldogs is as strong as ever

New odds to make the College Football Playoff have been released by Bovada.LV

The former Penn State kicker served as the Nittany Lions' kickoff specialist
Delany will reportedly receive $20 million in 'future bonus payments' from the Big Ten

Tom Allen welled up when speaking about Hugh Freeze and his resignation at Ole Miss

Oatis is a very large child prodigy