Race for the No. 1 recruiting class: Can anyone, Bama included, catch LSU?
In the home stretch of the 2016 recruiting season, schools are putting the finishing touches on their classes. Who comes in as the top dog with three weeks to go?
We're in the home stretch of the 2016 recruiting season, and the race for the nation's top-ranked recruiting class will certainly heat up over the next three weeks leading up to National Signing Day on Feb. 3. Here is how the race for No. 1 is shaping up.
Pole Position
LSU Tigers: The Tigers' class already tops the 247Sports Composite team rankings as 14 of the 20 commits hold four-star status with seven of those prospects ranking inside the top 100 of the 247Sports Composite player rankings and several more top 100 recruits remaining on the board. Les Miles and his staff could cruise right to a No. 1 finish.
Five-star defensive back Saivion Smith, the No. 2 ranked cornerback, is the jewel of the class; the Tigers may finish with the best haul "DBU" has ever seen. Fellow top 50 commit Eric Monroe, the country's No. 2 safety, is also committed to the Tigers. Two more four-star defensive backs are on board in Andraez Williams and Cameron Lewis. Cornerbacks Trayvon Mullen and Kristian Fulton, respectively ranked No. 3 and 4 in the nation, are considered LSU leans at this point. LSU is considered the favorite for five-star defensive tackle Rashard Lawrence and top-100 offensive tackle Willie Allen.
LSU has hit on every need in this class outside of quarterback. The Tigers are trying to address that, pushing for top-100 quarterback Dwayne Haskins, among others. Signal-caller has really been the one position to hold this Tigers program back from competing for championships annually, so depending on who signs in 2016 in addition to the development of Purdue transfer Danny Etling and returning starter Brandon Harris, it could be more of the same on Saturdays in Baton Rouge regardless of how highly-billed this class is.
Biggest Challengers
If LSU closes the way things project at this point, the Tigers will be tough to reel in. However, there are always twists and turns in January, leaving the door open for a few others to rise to No. 1.
Michigan: Jim Harbaugh and his staff's first full year on the trail has gone as expected with the Wolverines sitting on 23 commits and the nation's No. 2 class. Fourteen hold four-star statuses, led by quarterback Brandon Peters, the nation's top-ranked running back in Kareem Walker and offensive linemen Ben Bredeson and Michael Onwenu. The one thing Michigan is still missing in this class -- and really the one thing a talented Wolverines team is missing heading into next year -- is a pass rusher.
The answer is the nation's top-ranked recruit, according to 247Sports, in Paramus (N.J.) Catholic defensive lineman Rashan Gary, who is ready to help any program on day one. Michigan is considered the favorite at this point with Ole Miss posing the biggest threat. If Harbaugh and company can close with Gary along with top-100 recruits in defensive backs David Long, Lavert Hill and Jordan Fuller, they'll push LSU for No. 1. In addition to those four, Michigan leads for a few other big names.
Alabama: The Crimson Tide currently have 17 commits, making up the nation's No. 8 class. But the five-time, reigning recruiting champions look like they have barely begun with what's still in play. The defending national champions are the 247Sports Crystal Ball favorite to land five-star linebackers Ben Davis and Lyndell Wilson. The list of top 100 recruits after these two is lengthy regarding who's still in play for the Tide, including athlete Mecole Hardman Jr., defensive end Terrell Hall, receiver Demetris Robertson, cornerback Shyheim Carter, receiver A.J. Brown and the No. 1 JUCO player in the land, Jonathan Kongbo.
Nick Saban and his staff are expecting big recruiting weekends the next three weeks and there won't be a program more exciting to follow on the trail than the Crimson Tide as they climb the recruiting rankings.  A prediction for this class is no lower than No. 3 when it's all said and done.
Still in Play
Ohio State: The Buckeyes check in at No. 3 right now with top-100 quarterback Dwayne Haskins and top-100 athlete Jordan Fuller, two recruits I feel good about regarding OSU. Finishing No. 1 is probably a stretch but remaining in the top three come NSD is certainly possible. Urban Meyer's class is led by two five-star defensive linemen in Nick Bosa (the younger brother of NFL-bound Joey Bosa) and Jonathon Cooper.
Florida State: The Seminoles are putting the finishing touches on a class that ranks No. 4 heading into the final stretch. The nation's No. 1 cornerback, Levonta Taylor, is the headliner and quarterback Malik Henry could end up being the most notable pledge. The Seminoles have four top-100 commits with several more on the board including cornerback Trayvon Mullen, wide receiver Nate Craig-Myers, offensive tackle Landon Dickerson and defensive ends Terrell Hall and Brian Burns.
Georgia: There is some elite talent in this Bulldogs class, led by five-star quarterback Jacob Eason, who is enrolled early and expected to be the starter next fall. Tight end Isaac Nauta and offensive tackle Ben Cleveland are two more five-stars headed to Athens. The Bulldogs have 16 commits, five in the top 100, and check in at No. 5 in the team rankings. Three more five-stars could join by signing day, including defensive tackle Derrick Brown, athlete Mecole Hardman Jr. and receiver Demetrius Robertson. There are several more top 100 recruits in the mix as new coach Kirby Smart and his staff should have a lot of fun wrapping up 2016.
Ole Miss: The Rebels are signing the nation's No. 1 quarterback, Shea Patterson, and the nation's No. 1 offensive tackle, Gregory Little. Though 2013 was a special class for Ole Miss, 2016 could finish with even more praise, especially if coach Hugh Freeze can lure defensive tackle Rashan Gary to Oxford. Top-50 defensive end Jeffrey Simmons, the No. 1 recruit in Mississippi, is also seriously considering the Rebels. Top-50 safety Deontay Anderson has been considered an Ole Miss lean the entire process. There is no shortage of blue-chippers thinking about Mississippi down the stretch.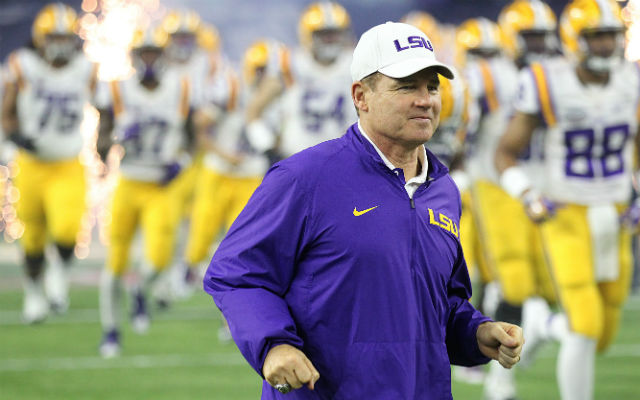 Show Comments
Hide Comments
Our Latest Stories
Auburn beat LSU 18-13, but the final seconds were seemingly one mess after another

Colorado receiver Bryce Bobo made a ridiculous one-handed touchdown catch against Oregon

Not a fine moment for this lady during the SEC showdown
The Vols came back from an 18-point halftime deficit to beat Florida for the first time in...

The Tar Heels embarked on a 17-play drive, featuring three 4th downs, and scored with 2 seconds...

Brandon Powell was ejected for throwing a punch, but the video shows he did no such thing