Report: Big Ten did expansion 'homework' on Oklahoma, others
The Omaha World-Herald cites sources saying that the Big Ten did 'prior homework' on possible invitations for Oklahoma, Kansas and Vanderbilt.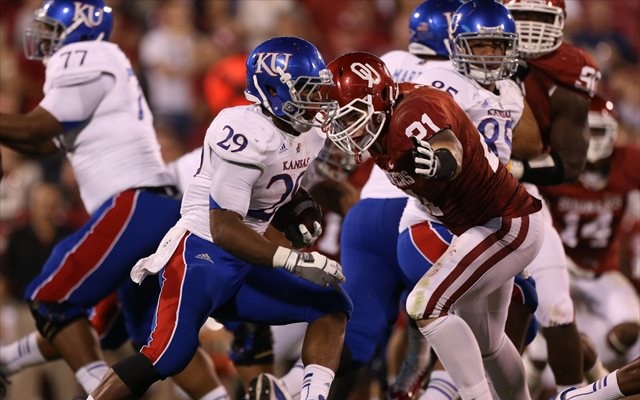 How much actual fire has been behind it remains a matter of conjecture, but there's been no shortage of message board-and-Twitter speculation smoke since the additions of Maryland and Rutgers that the Big Ten isn't content at 14 members.
It doesn't look like the air is going to clear right away, either, even after the ACC's Monday announcement of a grant of rights that should keep the league schools most often mentioned in that message board chatter as potential Big Ten targets (i.e., Georgia Tech, North Carolina, etc.) snugly in the ACC fold, whether there was any actual Big Ten interest or not. But according to Omaha World-Herald columnist Lee Barfknecht, the Big Ten has been in the preliminary stages of potential expansion -- and wasn't just looking at the ACC.
After citing sources "from conference offices and major-college athletic departments" skeptical that the grant of rights would actually be enough to keep schools committed to jumping from one conference to another in place, Barfknecht casually drops the following tidbit:
As a sidenote, two sources have told The World-Herald that the Big Ten has done prior "homework" on Oklahoma, Kansas and Vanderbilt among other schools who might some day be expansion targets. The Big 12 grant-of-rights deal didn't stop a look-see for OU and KU.
First of all: Vanderbilt? Maybe the Big Ten really is serious about its academic standing. (And major metropolitan markets, of course.)
But whether Jim Delany and Company were actually ever serious about extending an invitation to the Sooners, Jayhawks, or Commodores is up for debate. "Homework" could mean extensive research and even some friendly off-the-record phone conversations with highly-placed school officials; it could mean these were just three schools on a wide-ranging spreadsheet listing basic enrollment, academic or athletic data for any number of hypothetical candidates.
In any case, the odds of the Big Ten actually inviting -- and welcoming in -- any of those three schools seem longer than the distance between Indianapolis and Norman. Vanderbilt might theoretically be in the mix only because the SEC is now the only major conference without a grant of rights and doesn't even have an exit fee in place; the reason for that is that any school would be insane to leave the league just as its potential cash-cow TV network is put into place, and Vandy is no exception.
Oklahoma and Kansas might seem somewhat more feasible if they could wriggle out of the Big 12's grant of rights, and would get their old rivalry with Nebraska back. But that's one positive in a sea of negatives -- including the loss of multiple rivalries, including the Red River Rivalry and Kansas-Kansas State -- and it's not even clear if receiving 1/16th of a Big Ten payout would be more lucrative than 1/10th of the Big 12's.
The bottom line: If the Big Ten expands, it's likely looking for easier targets, but with no profitable easier targets out there, it's not likely the Big Ten expands. The idea of Sooners-Buckeyes in football or Jayhawks-Hoosiers in basketball (or, uh, Commodores-Boilermakers in football?) might have some novelty to it, but the World-Herald report is highly likely to be as close as any of them come to being reality.
The senior tailback for the Georgia Bulldogs is as strong as ever

New odds to make the College Football Playoff have been released by Bovada.LV

The former Penn State kicker served as the Nittany Lions' kickoff specialist
Delany will reportedly receive $20 million in 'future bonus payments' from the Big Ten

Tom Allen welled up when speaking about Hugh Freeze and his resignation at Ole Miss

Oatis is a very large child prodigy