Report: Boise State's Big East move will not increase travel costs dramatically
Brian Murphy, of the Idaho Statesman, broke down the estimated travel costs for the Big East and how they compare to current budget.
• 2 min read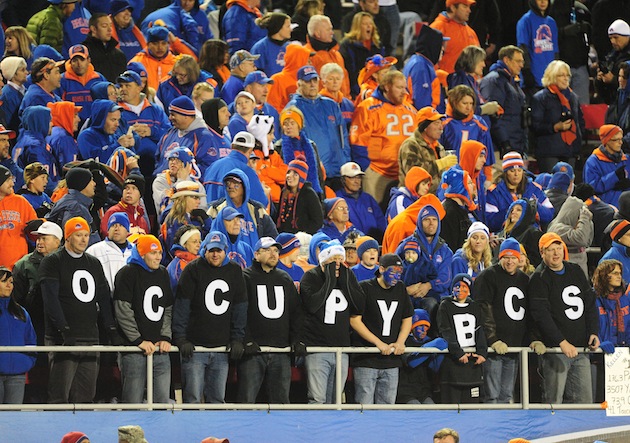 Boise State's official withdrawal from the Mountain West Conference on Saturday sealed their fate as a football-only Big East member beginning in 2013.

The Broncos will join San Diego State as the western representatives in the new nationwide Big East. Many critics of the move have pointed out the potential travel costs Boise State will incur with a new slate of league opponents. However, the Idaho Statesman's Brian Murphy crunched the numbers to estimate the financial impact on the travel budget.

The result? An estimated increase of at least $160,000 in travel for an entire season. Check out Murphy's breakdown below.
In 2012, Boise State will pay $494,062 for five regular-season games. The Hawaii game will be contracted separately. The per-game cost has increased approximately 15% from 2011 due to fuel prices, according to the State Board agenda. The contract includes a fuel cost escalator cause.

Here is the breakdown:

Opponent (City flying to): Cost

Michigan State (Lansing): $128,171
New Mexico (Albuquerque): $82,328
Southern Miss (Hattiesburg): $130,851
Wyoming (Laramie): $72,963
Nevada (Reno): $79,749

In future Big East seasons, Boise State will need flights to San Diego, Houston, Dallas (SMU), Tampa (South Florida), Orlando (Central Florida), the New York City area (Rutgers), Louisville, Cincinnati, Memphis, the Baltimore area (Navy), Philadelphia (Temple) and Connecticut.

Let's assume that a flight to any of those destinations and Hawaii cost $130,851 — the same as a flight to Hattiesburg, the most expensive trip on Boise State's schedule this year.

(It will likely to be cheaper to get to major Eastern cities than it is to get to Hattiesburg, but stick with me here.)

If all six flights (four Big East road games plus non-conference games) cost $130,851, Boise State would pay $785,106 for charter flights.

This season — again assuming the Hawaii flight is the same as a flight to Hattiesburg — Boise State will spend $624,913 in charter flights.

The difference: $160,193.
Murphy lays out his calculations and estimations based on the assumption that no travel cost will exceed the cost of Boise State's trip to Southern Miss in 2012. That includes applying that figure to the Hawai'i visit this season, which is contracted separately from the school's charter deal for the team.

The calculations are far from scientific, but the assumptions make sense and prove Murphy's point. For an athletic department operating on a budget of "more than $30 million," a $160,000 difference wasn't large enough to be a deciding factor in the school's departure from the Mountain West.

The Big East is set to open negotiations on a new media deal this fall, one that Boise State hopes will generate more revenue than their current deal with the Mountain West. The Broncos currently receive about $2.5 million in revenue per year from the MWC.

Keep up with the latest college football news from around the country. From the opening kick of the year all the way through the offseason, CBSSports.com has you covered with thisdaily newsletter. View apreview.

Get CBSSports.com College Football updates on Facebook
Show Comments
Hide Comments
Kirk Merritt claims 'jock itch' was the reason he exposed himself to two tutors

The former coach weighed in on the new NCAA recruiting rules

Wiggins has played more than 30 games in the ACC and SEC during his career
Our panel of experts drafted the best sports video games that have ever been created

The players allegedly conspired to steal belongings from another student's dorm room

Harbaugh handed the Pope a Wolverines helmet and special shoes