Report: Cowboys Stadium to host inaugural playoff championship
Cowboys Stadium will be the site of the first College Football Playoff championship game, ESPN has reported.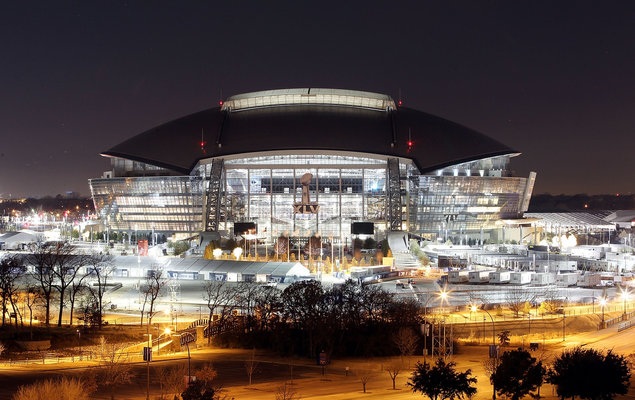 The name of the new college football playoff -- the "College Football Playoff" -- has caught many fans and pundits by many surprise. The reported site of the College Football Playoff's first championship game will not.
ESPN reported Tuesday night that Cowboys Stadium in Arlington, Texas will host the inaugural playoff championship in January 2015. The game will be played Monday, January 12, and host the winners of the playoff's first semifinals, to be played New Year's Day.
"JerryWorld" has been the heavy favorite to host the first playoff championship since the former BCS first announced that it would open bidding on the game to any site that wished to, a la the Super Bowl, regardless of any bowl affiliation or college football history. CBSSports.com reported this week, however, that Tampa had also made a serious charge at winning the bid; a source told ESPN that the decision between the two "was closer than a lot of people thought it would be."
ESPN also reported that -- as widely expected -- the Rose and Sugar bowls will host the playoff's inaugural semifinal games, with the Fiesta, Cotton and Chick-Fil-A bowls joining the Rose, Sugar and Orange in the six-bowl semifinal rotation. All six games are expected to be played each year on New Year's Eve and New Year's Day.
The College Football Playoff may have underwhelmed in its first official day of existence when it came to its name. But the burgeoning reality of a winner-take-all four-team tournament means that come Jan 12. two years from now, no one will much care.
Show Comments
Hide Comments
Ohio State is favored to win the Big Ten, but is it the best bet?

USC enters as the favorite, but are the Trojans the best bet?

Jim Harbaugh's Michigan staff will be at FAU on June 5
These five coaches will be hot names on the market after the 2017 season

The Big 12 could be wide open in 2017 ... we mean it this time

Rhule's stance on sexual violence is much-needed for a program that's been submerged in co...