Report: FSU WR Dent arrested on alleged sexual assault charge
Florida State senior receiver Greg Dent was arrested and charged on Sunday night with sexual assault.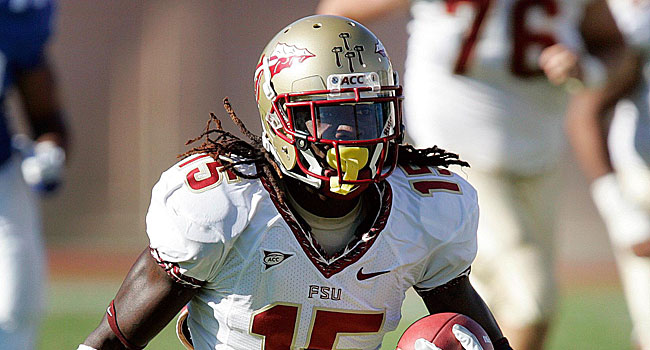 <span data-shortcode=" data-canon="Florida State Seminoles" data-type="SPORTS_OBJECT_TEAM" id="shortcode0"> senior receiver Greg Dent was arrested and charged on Sunday night with sexual assault on a person over the age of 12 years old, according to an Orlando Sentinel report.
UPDATE (1 p.m. ET): The Sentinel is also reporting the judge issued $15,000 bail and requested Dent not have contact with the victim. Dent is being charged with a second-degree felony punishable by up to 15 years in prison.
According to a probable cause affadavit prepared by Tallahassee police and obtained by the Orlando Sentinel:
Dent was taken into custody Sunday after an incident that took place inside the his apartment at 3:30 that morning. Both he and the alleged victim spoke with police.

Earlier that night, Dent and a woman -- a longtime friend who said she has known Dent since his freshman year of high school -- went to a nearby night club after she had made Dent dinner inside her residence.

After the club closed, they went back to Dent's off-campus apartment. According to the report, the woman agreed to spend the night with Dent because she had done so in the past without incident. Both fell asleep, facing opposite directions, the report said. Dent's head was positioned at the bed's headboard. Her's was at the foot of the bed.

At some point after they had fallen asleep, the woman said she woke to find Dent hovering over her, trying to kiss her lips. She told him, "no" twice, the report said.
Following several more forceful advances from Dent, the woman bit his lip, the report said. As Dent jumped out of bed, she thought the bite sent a firm message.

A few minutes later, Dent returned to bed naked and forced himself on the woman, the report said.

She eventually grabbed Dent's dreadlocks and punched him with a free hand, the report said, but he continued. The woman eventually broke away from Dent, picked up her clothes, ran downstairs, left Dent's apartment and reported the incident to police.
Dent, who had 27 receptions for 355 yards last season for the Seminoles, is being held in Leon County Jail.
Show Comments
Hide Comments
The former coach weighed in on the new NCAA recruiting rules

Wiggins has played more than 30 games in the ACC and SEC during his career

Our panel of experts drafted the best sports video games that have ever been created
The players allegedly conspired to steal belongings from another student's dorm room

Harbaugh handed the Pope a Wolverines helmet and special shoes

How Markeeth Taylor has become a last chance for NFL hopefuls like LeBeaux Cooper