Report: Louisville, Kentucky players cited for marijuana possession
Louisville's James Quick and Kentucky's Jason Hatcher were reportedly cited for marijuana possession in May in Quick's campus apartment.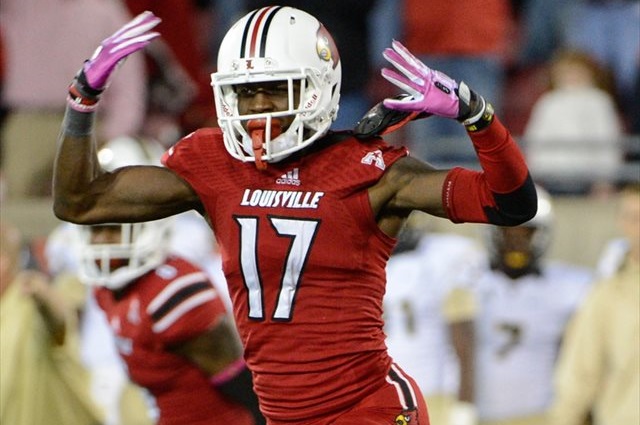 More college football: Jon Solomon | Dennis Dodd | Jeremy Fowler | Latest news
Two high school teammates now on opposite sides of the Kentucky-Louisville rivalry were cited together for marijuana possession on Louisville's campus in May, the Courier-Journal reported Saturday.
According to university police records cited by the Courier-Journal, Cardinal wide receiver James Quick and Wildcat defensive end Jason Hatcher were found in Quick's campus apartment by an officer responding to a report of marijuana odor in the building. The officer reported he found 39.5 grams of pot in Quick's possession along with a digital scale and marijuana grinder in the apartment. 2.5 grams were found in Hatcher's possession, the citation reported.
Both players were give misdemeanor citations for marijuana possession, with Quick also cited for the possession of drug paraphernalia.
"We are aware of the situation involving James Quick and are very disappointed in his actions," Bobby Petrino said in a release, per the Courier-Journal. "We will handle the situation appropriately from within the program."
A Kentucky spokesperson said the Wildcat program was "aware of" the citation.
Quick and Hatcher starred as teammates at state champion Trinity High of Louisville before signing with their respective college teams as blue-chip members of the class of 2013. Quick, a four-star, top-100 recruit, caught six passes for 73 yards as a freshman and scored a special teams touchdown following a fumbled punt snap. Hatcher, a four-star, top-10 weakside defensive end, collected three tackles-for-loss and two sacks in his freshman season in Lexington.
Show Comments
Hide Comments
Hurd left Tennessee during the 2016 season

But it worked, and that's what matters

TV viewing and live stream information for the 2017 Alabama spring game
The Dawgs wrap up spring practice with G-Day on Saturday, April 22

The race with his namesake has sold out again, bringing thousands to support his charities

Auston Robertson's charge stems from an alleged incident on April 9