Report: Manziel gets boost from 'Johnny Football' trademark ruling
The U.S. Patent and Trademark office has rejected an attempt by an investment firm to trademark the phrase 'Johnny Football."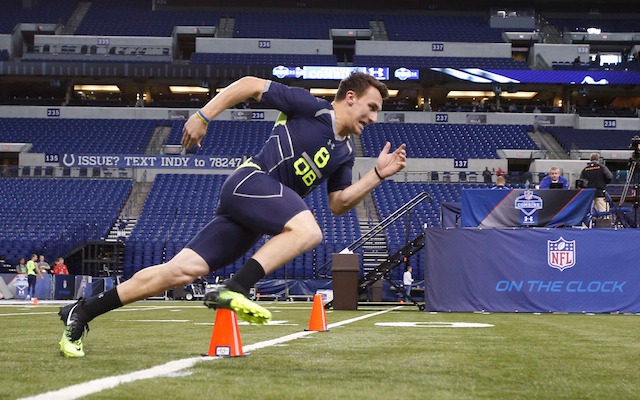 Johnny Manziel won a battle in his effort to trademark the nickname 'Johnny Football,' as the U.S. Patent and Trademark Office reportedly refused to register the same trademark with a College Station investment firm.
ESPN reported that the patent office sent a letter to Kenneth R. Reynolds Family Investments rejecting its argument that the phrase 'Johnny Football' did not refer to any particular individual. 
"Registration is refused because the applied-for mark consists of or includes a name, portrait, or signature identifying a particular living individual whose written consent to register the mark is not of record," the office's attorney wrote -- in other words, that yes, "Johnny Football" does refer to a "particular living individual," and that that individual hasn't "consented" to giving the firm the trademark.
On the contrary, the Manziel family has filed its own claim to the trademark, though its filing came some weeks after the Kenneth R. Reynolds Family Investments claim in late 2012.
The firm, ESPN reports, can appeal this week's ruling.
Show Comments
Hide Comments
Have fun with this, SEC defenders

Making plays on the over/under for all 12 teams in the Pac-12

Mike Gundy and the Cowboys know there's one monster they have to contend with in their own...
The initiative has been put forth to offset the burden of declining freshman enrollment

How will the Big 12 shape up in 2017? Let's take a team-by-team look

Kush went 176-54-1 in 22 seasons at Arizona State