Report: Michigan expels Gibbons over sexual misconduct allegation
Former Michigan placekicker Brendan Gibbons has been 'permanently separated' from the university after violating the school's Student Sexual Misconduct Policy.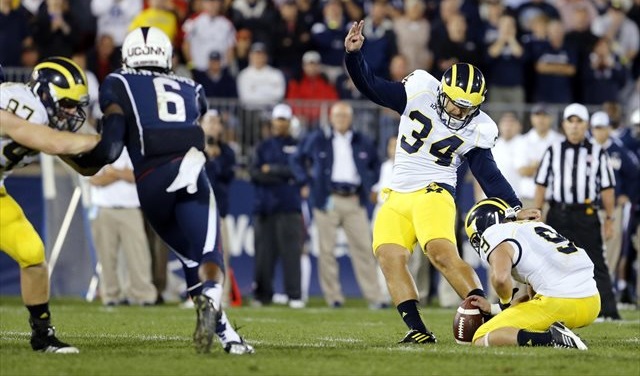 Documents reviewed by the Michigan Daily show that former Wolverine placekicker Brendan Gibbons was expelled from the school in December for violating the university's Student Sexual Misconduct Policy.
Per the Daily, Gibbons received a letter from the school's Office of Student conflict Resolution dated Dec. 19, 2013, at his Florida home that read:" You will be permanently separated from the University of Michigan effective December 20, 2013." Gibbons was a graduate student in Michigan's School of Social Work.
Michigan officials declined to comment.
The fifth-year senior had appeared in 11 games in 2013 for Michigan but did not play in either the team's season finale against Ohio State or its Dec. 28 bowl game against Kansas State. Coach Brady Hoke said before the loss to the Wildcats that Gibbons would miss the game due to a "family issue."
The documents reviewed by the Daily date the alleged violation to Nov. 22, 2009. That was the date of an early morning arrest of an unnamed Michigan football player by Ann Arbor police after a complaint of sexual assault. The player was released and no charges were filed as a result of the incident. 
Gibbons was a freshman with the Wolverines in 2009.
The Daily writes that "it's unclear why sanctions were not decided in this matter until recently."
Show Comments
Hide Comments
Our Latest Stories
Blake Barnett took the first snaps of the season

Tennessee heads to Georgia for a key SEC East matchup this Saturday on the SEC on CBS

The Tigers are elite ... for now ... but they weren't always that way
The coin will be used at all seven Big Ten games this weekend

The SEC ruled Powell eligible for Vanderbilt after getting ejected for throwing a punch

How are coaches across college football doing in their first year at new schools?