Report: Michigan expels Gibbons over sexual misconduct allegation
Former Michigan placekicker Brendan Gibbons has been 'permanently separated' from the university after violating the school's Student Sexual Misconduct Policy.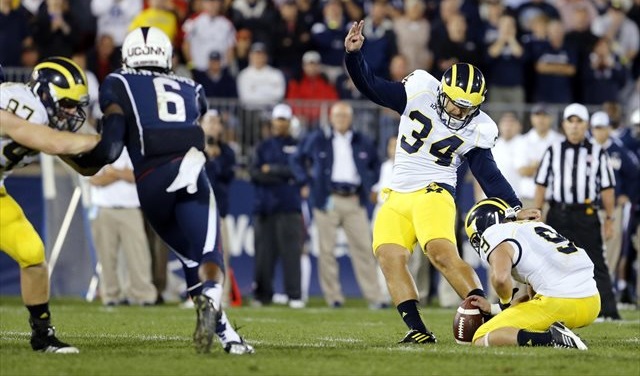 Documents reviewed by the Michigan Daily show that former Wolverine placekicker Brendan Gibbons was expelled from the school in December for violating the university's Student Sexual Misconduct Policy.
Per the Daily, Gibbons received a letter from the school's Office of Student conflict Resolution dated Dec. 19, 2013, at his Florida home that read:" You will be permanently separated from the University of Michigan effective December 20, 2013." Gibbons was a graduate student in Michigan's School of Social Work.
Michigan officials declined to comment.
The fifth-year senior had appeared in 11 games in 2013 for Michigan but did not play in either the team's season finale against Ohio State or its Dec. 28 bowl game against Kansas State. Coach Brady Hoke said before the loss to the Wildcats that Gibbons would miss the game due to a "family issue."
The documents reviewed by the Daily date the alleged violation to Nov. 22, 2009. That was the date of an early morning arrest of an unnamed Michigan football player by Ann Arbor police after a complaint of sexual assault. The player was released and no charges were filed as a result of the incident. 
Gibbons was a freshman with the Wolverines in 2009.
The Daily writes that "it's unclear why sanctions were not decided in this matter until recently."
Show Comments
Hide Comments
There are all sorts of drafts out there and these are my favorites

It's time to say goodbye to so many great players

What colleges and conferences had the most first-round picks in the 2017 NFL Draft?
Myles Garrett and Leonard Fournette were top-rated prospects coming out of high school

Ohio State and Washington will play in Seattle in 2024 and Columbus in 2025

Kirk Merritt claims 'jock itch' was the reason he exposed himself to two tutors