Report: Oregon QB Damion Hobbs is transferring
Oregon Ducks quarterback Damion Hobbs will not be returning to the team this fall.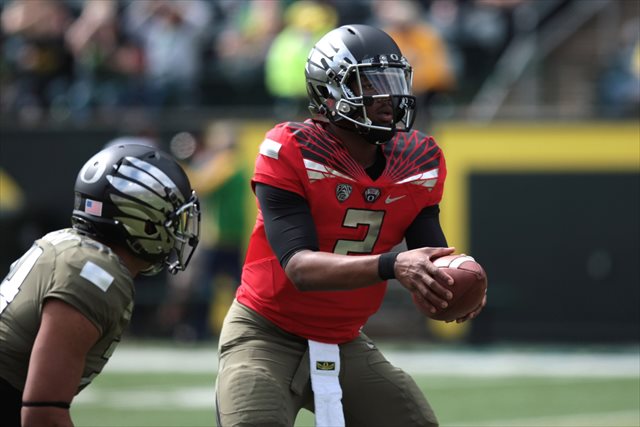 It's a good thing Marcus Mariota decided to return to Oregon for another season, or the Ducks might find themselves without a quarterback this fall.
A report from Duck Territory states that quarterback Damion Hobbs will not return to the team this fall, and will instead transfer. Hobbs was a three-star member of Oregon's 2013 recruiting class, and he redshirted in 2013, but his loss leaves Oregon thin at its most important position on offense.
After all, Hobbs isn't the first Ducks quarterback to transfer this offseason. Earlier this week it was backup quarterback Jake Rodrigues announcing his intent to transfer after competing with Jeff Lockie this spring to be Mariota's backup. While Oregon didn't announce who was winning that competition, it's fairly obvious how Rodrigues felt things had gone.
So with the loss of both Rodrigues and Hobbs it leaves the Ducks with Mariota as starter and the redshirt sophomore Lockie as his backup. Behind them are redshirt freshman walk-on Taylor Alie and incoming freshman Morgan Mahalak.
Show Comments
Hide Comments
Our Latest Stories
UNLV has been looking to upgrade its facilities

The time for South Carolina's spring game was changed for the Final Four

Sometimes, spring practice is about avoiding the negatives as much as building momentum
Paul Tyson grew up an Alabama fan but that doesn't mean he plans to play quarterback there

USF senior Hassan Childs was injured in a shooting on Saturday night

Harris chose the Tar Heels over Texas and other options