Report: Star Baylor safety Dixon charged with misdemeanor assault
Bears star safety Ahmad Dixon has reportedly been arrested on a misdemeanor assault charge after a Sept. 16 incident.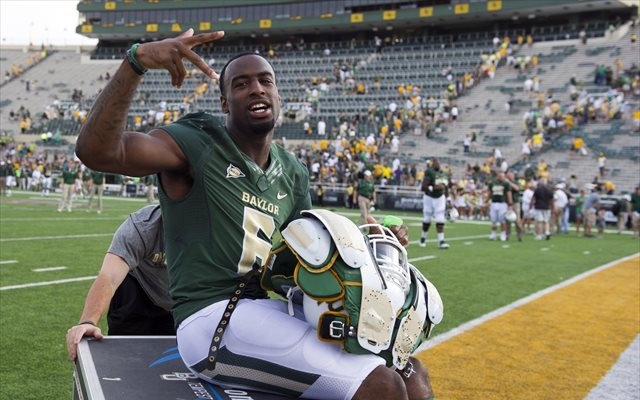 What's been a borderline-perfect 2013 season so far for the Baylor Bears might have hit its first hiccup.
KWTX TV reported Friday that star safety Ahmad Dixon was arrested Thursday on a misdemeanor assault charge stemming from a Sept. 16 incident. KWTX reported the arrest warrant accuses Dixon of assaulting a 21-year-old man who Dixon believed had broken into his home.
The man told police he was attempting to visit a relative in the same apartment complex and mistakenly walked into Dixon's apartment, where after a brief argument Dixon allegeldy began punching him in the face.
Dixon was released Thursday afternoon after posting a $1,500 bond. The victim was not hospitalized but according to police did suffer facial injuries.
A Baylor athletics official said in a statement that "we're aware of the situation and it will be handled internally, as is our practice."
Dixon is a key member of a Baylor defense that to this point of the season has dramatically improved over last season, ranking second in the FBS in scoring defense after finishing 113th in 2012. (Admittedly, the Bears' three opponents to date have been Wofford, Buffalo and ULM, all at home.) A two-time honorable mention All-Big 12 honoree who's started the past 26 games for the Bears, Dixon currently ranks third on the team in tackles. 
Shedrick Jackson is a three-star wide receiver

Nigerians are making waves in the U.S. due to their intensity, intelligence and athleticis...

Have fun with this, SEC defenders
Making plays on the over/under for all 12 teams in the Pac-12

Mike Gundy and the Cowboys know there's one monster they have to contend with in their own...

The initiative has been put forth to offset the burden of declining freshman enrollment