Report: UCLA tried to hire Alabama offensive coordinator Lane Kiffin
UCLA reportedly offered its offensive coordinator job to Alabama's Lane Kiffin, but he turned it down, seemingly to remain with the Crimson Tide.
UCLA apparently had some big plans for its open offensive coordinator position.
While the Bruins eventually promoted running backs coach Kennedy Polamalu to the position on Wednesday, according to ESPN.com's Brett McMurphy, Polamalu was not UCLA's first choice. McMurphy reports that UCLA actually offered the position to Alabama offensive coordinator (and former USC coach) Lane Kiffin before the 2016 College Football Playoff National Championship.
As you've no doubt deduced for yourself since Kiffin is still at Alabama, and Polamalu was promoted, Kiffin turned the Bruins down.
There's no word on what kind of offer UCLA made Kiffin, but considering he just won a national title at Alabama and has had two successful seasons with the Tide, you have to think Kiffin will remain there until a head coaching job becomes available -- or at least an offensive coordinator job in the NFL if he wants to make that jump. Barring an enormous raise -- according to USA Today's database, Kiffin made $680,000 at Alabama this year --  it's hard to imagine Kiffin making a lateral move.
And honestly, going from being the offensive coordinator at Alabama to having the same title at UCLA probably isn't a lateral move as much as it's a slight step backward. No offense to UCLA, but, you know, Alabama is Alabama. It just won another national title. You have to think that if Kiffin has another successful season in Tuscaloosa in 2016, he'll get another shot at a head coaching gig.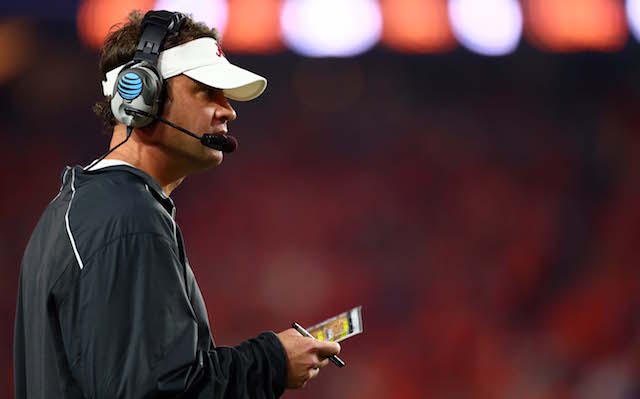 Show Comments
Hide Comments
Our Latest Stories
The former LSU coach is looking for his next gig, but it could be tougher than it seems

TCU will have a new look for its blackout game against Oklahoma

Two of the favorites within their respective Big Ten divisions square off Saturday
The Cardinals and Tigers play what could be the game of the year on Saturday night

One of Alabama's best defenders was arrested on gun charges Thursday

Putting it all -- or just your hard-earned cash -- on the line with some confident calls for...