Report: UGA's Justin Scott-Wesley cited for marijuana possession
Bulldog wideout Justin Scott-Wesley was cited late Wednesday night by campus police for marijuana possession in his dorm room.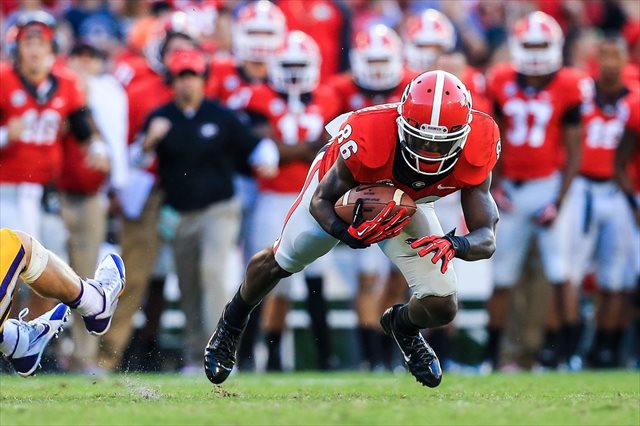 After tearing his ACL in early October, Georgia wide receiver Justin Scott-Wesley won't be playing again for the Bulldogs until 2014 at the earliest. But when he does, he might be facing a suspension after being arrested on a possession of marijuana charge Thursday.
The Atlanta Journal-Constitution and other outlets reported Friday that a campus police officer found a glass pipe and a marijuana "grinder" with residue of the drug during a search of Scott-Wesley's dorm room late Wednesday night. A warrant for Scott-Wesley's arrest was issued Thursday, and the sophomore from Camilla, Ga. turned himself in Thursday afternoon. 
Scott-Wesley was charged with possession of less than an ounce of marijuana and possession of a "drug object," both misdemeanors. 
Per the Macon Telegraph, a female was present with Scott-Wesley when an officer traced the smell of marijuana to his dorm room, but was cleared of any wrongdoing. Scott-Wesley initially declined to allow the officer to search the room, but eventually relented. In addition to the paraphernalia, the Telegraph reported the officer recovered "two small red Ziplog baggies containing what proved to be pot."
Scott-Wesley was the Bulldogs' second-leading receiver at the time of his injury (and still is), with 16 catches for 311 yards on the season. 
Violations of the Georgia athletic department's policy on marijuana usage (as in the case of defender Josh Harvey-Clemons) require a mandatory suspension.
Show Comments
Hide Comments
Our Latest Stories
The former LSU coach is looking for his next gig, but it could be tougher than it seems

TCU will have a new look for its blackout game against Oklahoma

Two of the favorites within their respective Big Ten divisions square off Saturday
The Cardinals and Tigers play what could be the game of the year on Saturday night

One of Alabama's best defenders was arrested on gun charges Thursday

Putting it all -- or just your hard-earned cash -- on the line with some confident calls for...