Report: WVU RB to be charged with witness intimidation in murder case
Mountaineer running back Wendell Smallwood was arrested Monday, the Wilmington News Journal reported, and charged with intimidating a witness in a 2012 murder case.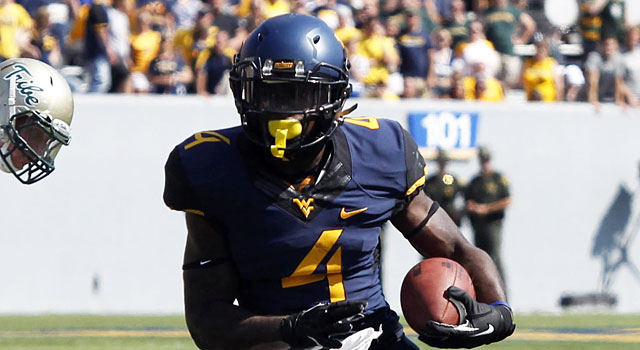 The Wilmington (Del.) News Journal reported Tuesday that West Virginia sophomore running back Wendell Smallwood was arrested in Morgantown late Monday and will be charged with intimidating a witness in a 2012 murder case.
A Wilmington police official told the News Journal that Smallwood stands accused of telling a witness to recant testimony that implicates then-19-year-old Zakee Lloyd, arrested in January 2013 and charged with first-degree murder in a case dating to April of the previous year. Smallwood allegedly spoke to the witness on "multiple occasions" early in 2013.
WV Metronews reported that Smallwood, a former star at Red Lion Christian Academy in Delaware, was arrested by West Virginia University police Monday night and is facing extradition to Delaware.
Smallwood enjoyed a promising freshman season in 2013, rushing for an average of 5.67 yards on his 39 attempts and catching 11 passes for 132 yards. Though not yet expected to start, Smallwood has been widely projected as a major part of the Mountaineers' 2014 running back and kick returning rotation.
HT: NFL.com
Show Comments
Hide Comments
Our Latest Stories
Mike Gundy's strained relationship with Oklahoma State's booster is back in the headlines

This Tuscaloosa real estate agent created a pretty savage billboard

Nebraska's Michael Rose-Ivey has received criticism for kneeling during the national anthe...
Florida State got right after defeating USF but the Seminoles still expect better from the...

These are the trends to watch as the 2016 season enters its second month

Ranking the best teams in the country based on nothing but their performances in 2016