Report: WVU RB to be charged with witness intimidation in murder case
Mountaineer running back Wendell Smallwood was arrested Monday, the Wilmington News Journal reported, and charged with intimidating a witness in a 2012 murder case.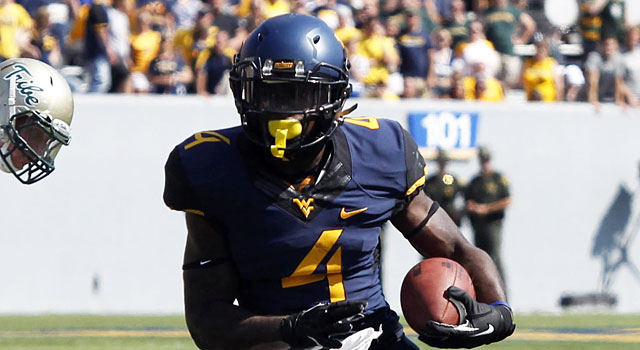 The Wilmington (Del.) News Journal reported Tuesday that West Virginia sophomore running back Wendell Smallwood was arrested in Morgantown late Monday and will be charged with intimidating a witness in a 2012 murder case.
A Wilmington police official told the News Journal that Smallwood stands accused of telling a witness to recant testimony that implicates then-19-year-old Zakee Lloyd, arrested in January 2013 and charged with first-degree murder in a case dating to April of the previous year. Smallwood allegedly spoke to the witness on "multiple occasions" early in 2013.
WV Metronews reported that Smallwood, a former star at Red Lion Christian Academy in Delaware, was arrested by West Virginia University police Monday night and is facing extradition to Delaware.
Smallwood enjoyed a promising freshman season in 2013, rushing for an average of 5.67 yards on his 39 attempts and catching 11 passes for 132 yards. Though not yet expected to start, Smallwood has been widely projected as a major part of the Mountaineers' 2014 running back and kick returning rotation.
HT: NFL.com
The Buckeyes are big favorites to win the Big Ten's East division as well as the conference...

A look at the where the Nittany Lions stand five years later through the eyes of four unique...

Freeze resigned as Ole Miss coach, and the insider team at OMSpirit.com breaks down the im...
Freeze left a fastball over the plate and The Oxford Eagle took advantage of it

Tim Tebow joined the show right after a baseball game to chat about football and more

Tebow joined the 247Sports College Football Podcast this week to discuss a variety of topi...