Report: WVU RB to be charged with witness intimidation in murder case
Mountaineer running back Wendell Smallwood was arrested Monday, the Wilmington News Journal reported, and charged with intimidating a witness in a 2012 murder case.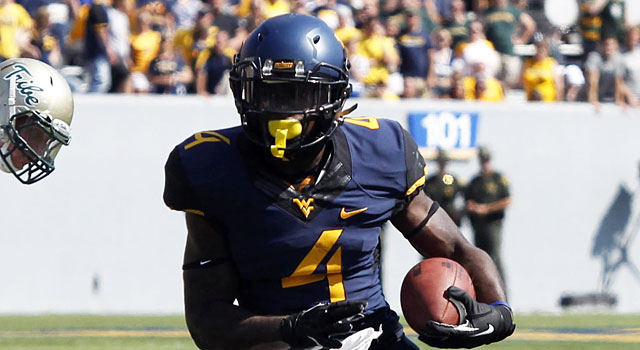 The Wilmington (Del.) News Journal reported Tuesday that West Virginia sophomore running back Wendell Smallwood was arrested in Morgantown late Monday and will be charged with intimidating a witness in a 2012 murder case.
A Wilmington police official told the News Journal that Smallwood stands accused of telling a witness to recant testimony that implicates then-19-year-old Zakee Lloyd, arrested in January 2013 and charged with first-degree murder in a case dating to April of the previous year. Smallwood allegedly spoke to the witness on "multiple occasions" early in 2013.
WV Metronews reported that Smallwood, a former star at Red Lion Christian Academy in Delaware, was arrested by West Virginia University police Monday night and is facing extradition to Delaware.
Smallwood enjoyed a promising freshman season in 2013, rushing for an average of 5.67 yards on his 39 attempts and catching 11 passes for 132 yards. Though not yet expected to start, Smallwood has been widely projected as a major part of the Mountaineers' 2014 running back and kick returning rotation.
HT: NFL.com
Show Comments
Hide Comments
Caleb Joshua Halley, who was the mascot for four years, was fatally stabbed in 2015

Michigan's trip to Italy has been fantastic, if you enjoy that sort of thing

The ex-Notre Dame quarterback would be eligible to play immediately in 2017
Tuberville has been mulling a decision to run in 2018

Ranking the best draft-eligible college football players in the 2017 draft class

Taking a closer look at what went down during one of the biggest weekends of spring football...