Reports: Oklahoma State OL, Tide DL coaches among Strong hires
Texas's staff under Charlie Strong is reportedly coming together with a series of hires.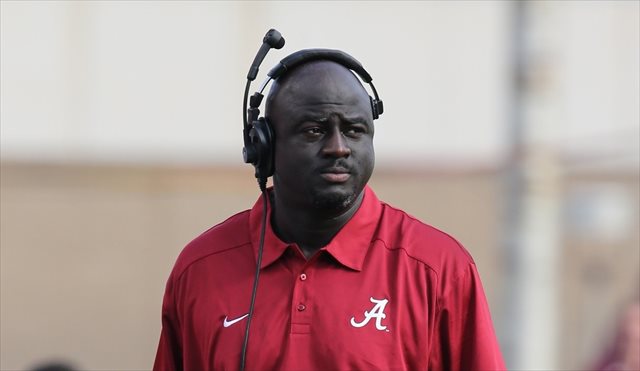 More Texas: McCombs apologizes | Shurburtt: Recruiting will change
Charlie Strong's first staff at Texas is taking shape -- and the hires he's made along the line of scrimmage will raise more than a few eyebrows.
Horns247.com reported that Alabama defensive line coach Chris Rumph will leave Tuscaloosa after three seasons to join Texas in the same position. But many Big 12 observers would say Strong's corresponding offensive line hire may be even more impressive, with widely respected Oklahoma State line coach Joe Wickline agreeing to join the Longhorn staff as well.
"I don't want anybody to think that OSU is not a terrific place to live, to work," Wickline told The Oklahoman, confirming the hire Sunday night. "It was a scenario that I felt it was a good situation for me at the time — for me, right now, because of the dynamics of the way it's set up [at Texas]."
Wickline worked alongside Strong on the Florida staff in 2003 and 2004. Mack Brown had offered Wickline the Texas offensive line position following the 2010 season, only for Wickline to remain in Stillwater.
One position reportedly yet to be filled is the Longhorns' much-discussed new offensive coordinator. Louisville quarterbacks coach and play-caller Shawn Watson was reportedly introduced as the team's new quarterbacks coach at a Sunday night team meeting, but has apparently not been named Texas's coordinator.
Watson's tutelage has been pivotal in the development of Teddy Bridgewater and it's no surprise Strong has made an effort to retain him to his staff in Austin. Also reportedly following Strong from Louisville are defensive coordinator Vance Bedford -- as reported last week -- and linebackers coach Brian Jean-Mary, both of whom will take the same positions at Texas.
Also on board, per Horns247.com, are USC running backs coach Tommie Robinson and Memphis defensive backs coach Chris Vaughn, each of whom will stay in the same position on Strong's staff. Vaughn's hire signals the departure of longtime Longhorn secondary coach Duane Akina.
Strong will reportedly keep one current Texas member on staff, retaining tight ends coach Bruce Chambers.
With eight of nine assistant coaching positions filled, the offensive coordinator's hire appears to be the only one left for Strong to finalize, though which staff member coaches receivers may also be to-be-determined.
Show Comments
Hide Comments
Kirk Merritt claims 'jock itch' was the reason he exposed himself to two tutors

The former coach weighed in on the new NCAA recruiting rules

Wiggins has played more than 30 games in the ACC and SEC during his career
Our panel of experts drafted the best sports video games that have ever been created

The players allegedly conspired to steal belongings from another student's dorm room

Harbaugh handed the Pope a Wolverines helmet and special shoes