Richt still 'thinking it through' on arrested player punishments
Mark Richt has not yet decided on disciplinary measures for the four players arrested last week and charged with an alleged check-cashing scheme.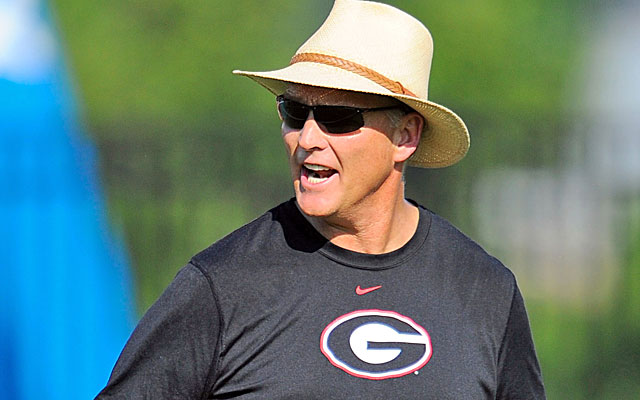 Deciding on disciplinary measures for players who have run afoul of the law (unfortunately for him) isn't anything new for Mark Richt, even if the alleged crime committed by the four Georgia players arrested last week -- who stand charged with "theft by deception," a misdemeanor, after allegedly cashing their Georgia stipend checks twice -- isn't likely one he's encountered before.
But Richt said Tuesday he's not about to hurry his decision regardless.
"I wouldn't put anything out of the realm of possibilities right now," Richt said, per the Associated Press. "Right now we're just allowing them to continue to work."
The players -- including starting safety Tray Matthews, a potential All-SEC candidate -- have been allowed to take part in Georgia's spring drills, though Richt said they have also done some extra early-morning running as a start to their punishment.
"There's more to come," Richt said. "I'm just thinking it through real good."
Though their continued presence in spring drills suggests dismissals are not immiment (which isn't surprising, given the misdemeanor nature of the charges), Richt's comments haven't changed much since the news broke last week.
"I would just say there's always a process that I go through before I make a decision," he said March 18. "Sometimes it happens rapidly, and sometimes it doesn't. I'm not going to say anything other than if there's something I need to report to everybody, I will."
If that something isn't a round of suspensions, it will be a surprise. But whatever his decision, Richt is right that with the season still months away, there's no reason to accelerate the timetable past what he's comfortable with.
Show Comments
Hide Comments
Rawleigh Williams III left the field on a stretcher after a neck injury

Jim Harbaugh wants more college football programs to embrace the international trip

It seems there's a lot of talent in the SEC
There are all sorts of drafts out there and these are my favorites

It's time to say goodbye to so many great players

What colleges and conferences had the most first-round picks in the 2017 NFL Draft?