Ron Zook restarting his career with Green Bay Packers
Former Florida Gators coach Ron Zook is a Packers assistant and admits he had to "reinvent myself" on the job circuit.
• 1 min read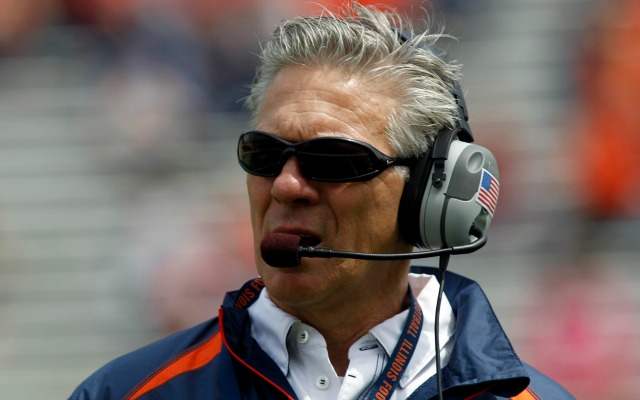 Ron Zook knew he needed at least a year out of the coaching game after his seven-year run as Illinois head coach ended in 2011.
Then he started missing the relationships, the locker room. Once he got back on the job circuit -- there have been a few opportunities recently, Zook said -- Steve Spurrier's successor at Florida knew he didn't have to rush it. He probably wouldn't get another Big Ten or SEC head job immediately.
On Friday, the Green Bay Packers announced Zook would join the staff as assistant special teams coach.
"I knew I had to reinvent myself," Zook said."I went back into it for the reasons you did it in the first place -- for the love of the game."
Zook has loved the game plenty. In a coaching career spanning three-plus decades, Zook has been a head coach of two BCS programs and a coordinator of two NFL teams and in three different conferences.
He coordinated the Pittsburgh Steelers' special teams from 1996-98, so he feels comfortable in his new role coaching with Mike McCarthy, whom he's known for a while.
"I've coached two-thirds of the game at the highest level," Zook said.
Zook recently spoke to Arkansas coach Bret Bielema about job prospects, but it wasn't for Bielema's defensive coordinator position. The two are friends.
Zook, a CBS Sports Network analyst the last two seasons, said he looks upon his three years at Florida and seven years at Illinois fondly. He left both programs in a better place. Say what you will about his 23-14 record at Florida, but that roster was stocked with talent when Urban Meyer took over. Illinois went to a Rose Bowl in 2007, one of three bowl appearances under Zook. 
"I feel good about the job we did at both places," Zook said.
Show Comments
Hide Comments
There are all sorts of drafts out there and these are my favorites

It's time to say goodbye to so many great players

What colleges and conferences had the most first-round picks in the 2017 NFL Draft?
Myles Garrett and Leonard Fournette were top-rated prospects coming out of high school

Ohio State and Washington will play in Seattle in 2024 and Columbus in 2025

Kirk Merritt claims 'jock itch' was the reason he exposed himself to two tutors