Rules chair Troy Calhoun: rule shouldn't proceed if not safety issue
The chair of the NCAA's Football Rules Committee said that if no-huddle offenses aren't a safety threat, the 10-second substitution proposal should not pass.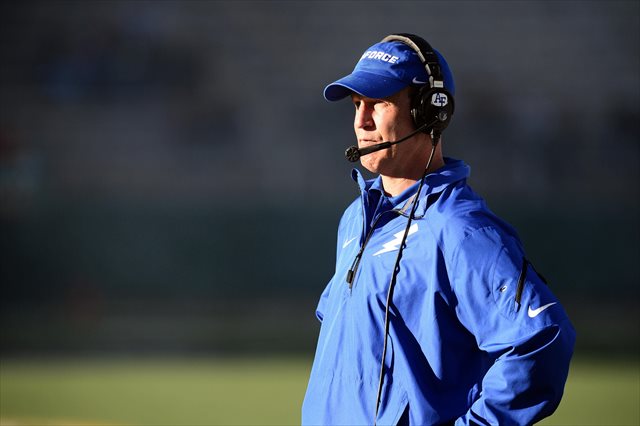 "This rules change is being made to enhance student-athlete safety by guaranteeing a small window for both teams to substitute," Air Force coach and NCAA Football Rules Committee chair Troy Calhoun said in the announcement of the 10-second defensive substitution rule proposed by the committee. "As the average number of plays per game has increased, this issue has been discussed with greater frequency by the committee in recent years and we felt like it was time to act in the interests of protecting our student-athletes."
That was February 12. Six days later, Calhoun spoke to the media about the firestorm of controversy surrounding the proposal -- and sounded much less sure that it was "time to act," saying more "empirical" data was needed before the Playing Rules Oversight Panel approved his committee's recommendation.
"I think the only way it can or it should become a rule is if indeed it is a safety concern," Calhoun said, per Yahoo Sports. "And that can't be something that is a speculation or a possibility. I think there's got to be something empirical there, where you realize, yes, this truly is a health matter in the terms of not being able to get a defensive player off the field."
National coordinator of officiating Rogers Redding told CBSSports.com last week that there was not yet any "hard data" to support the 10-second proposal, and Calhoun acknowledged that neither he nor the committee had yet seen any kind of medical study supporting the slow-down before recommending the rule be put into place. 
"But if there is something that surfaces where there is legitimate concern here," Calhoun said, according to the Associated Press, "now you're talking about some responsibility that's involved."
Any such evidence would need to go before the Playing Rules Oversight Panel, Calhoun said, by the end of the comment period on March 3. The committee will either approve or stike down the proposed changes on March 6.
As noted by the AP, two members of that committee are Pac-12 commissioner Larry Scott and MAC commissioner Jon Steinbrecher -- two leagues whose coaches by-and-large have no desire to have their up-tempo offenses slowed by NCAA rule.
Asked whether Nick Saban -- a public proponent of legislation allowing defenses to substitute who was reportedly present at the comittee's meeting -- had undue influence over its decision, Calhoun said "that's a separate conversation and "moved on to another topic," in the AP's words.
That Calhoun acknowledges that some hard evidence on the relationship between no-huddle offenses and injuries is necessary for the rules change -- particularly in a year in which only safety-related changes can be considered -- is a positive. But his comments also beg the question: if he felt that hard evidence was necessary for approval from the next level of the NCAA's bureaucracy, then why wasn't it necessary for his?
Show Comments
Hide Comments
The ex-Notre Dame quarterback would be eligible to play immediately in 2017

Tuberville has been mulling a decision to run in 2018

Ranking the best draft-eligible college football players in the 2017 draft class
Taking a closer look at what went down during one of the biggest weekends of spring football...

The Wolverines will get a unique education in Italy, and maybe that's all that matters

Fitzerald is already the program's leader with 77 wins