Russell Athletic Bowl: Virginia Tech 13, Rutgers 10 (Overtime)
Instant analysis of the Hokies' comeback win over the Scarlet Knights.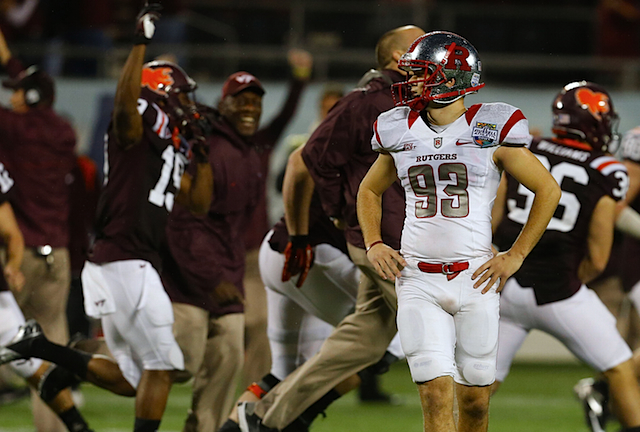 Rutgers' Nick Borgese watches a decisive field goal attempt sail wide in overtime. (US Presswire)
VIRGINIA TECH WON. It wasn't a night for the highlight reels, but after three disastrous quarters offensively, Tech rallied from a 10-0 deficit in the fourth and held on in overtime to clinch its twenty-first consecutive winning season under coach Frank Beamer. It was only appropriate that a game this ugly ended on a missed field goal: Between them, the Hokies and Scarlet Knights combined for 21 punts, 16 three-and-outs, five turnovers, three missed field goals and a single offensive touchdown – the direct result of a turnover, of course. Even by the standards of "Beamer Ball," this one ain't got no alibi.
HOW VIRGINIA TECH WON. Actually, "ugly" might be putting it mildly. Through three quarters, the Hokies had more yards in penalties (85) than in total offense (79). On the second play of the game, Tech center Caleb Farris snapped the ball past quarterback Logan Thomas and into the end zone, where it eventually wound up in the hands of Rutgers' Khaseem Greene for the Scarlet Knights' first and only touchdown. The offense finished with 196 yards, its worst total in almost four years, and didn't cross midfield until early in the fourth quarter. At least the trip resulted in a field goal.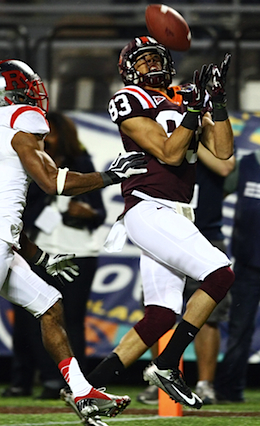 Corey Fuller hauled in the game's only offensive touchdown in the fourth quarter. (US Presswire)
The only reason the game was still within reach at that point was because Rutgers' offense was every bit as bad: The Scarlet Knights managed all of 197 yards, a season low, and went 3-of-21 on third-down conversions. They also committed two critical giveaways in the fourth quarter, the first of which – an interception by Antone Exum from the arm of Rutgers QB Gary Nova – set up a short field for Virginia Tech's only touchdown, a 21-yard strike from Thomas to Corey Fuller that tied the game at 10 with 10:56 remaining. The interception was the seventeenth pick Nova has thrown this season, tying him with UNLV's Nick Sherry for most in the nation.
From there, it was just a matter of punting out the rest of regulation without any additional catastrophes, although both sides managed to survive subsequent turnovers in the final ten minutes. Neither of them led to points.
WHEN VIRGINIA TECH WON. In overtime, Tech received the ball first, picked up one first down and let kicker Cody Journell take it from there with a 22-yard, go-ahead field goal that put the Hokies on top for the first time, 13-10. After a three-and-out on Rutgers' possession, Nick Borgese pushed a tying field goal attempt wide right to seal the comeback.
WHAT VIRGINIA TECH WON. At 7-6, the Hokies will narrowly avoid their first losing season in 20 years, a fate they've been narrowly avoiding all season long: Of those seven wins, four have now come on the final play of the game, three of them in overtime. In the last ten years, the only other teams with three OT triumphs in the same season are South Florida (2003), Northwestern (2004), Buffalo (2008) and Louisiana-Monroe (2012).
WHAT RUTGERS LOST. The Scarlet Knights exceeded expectations in Kyle Flood's first season as head coach, but the blown lead only drives home the opportunities missed. After a 9-1 start, the Knights will hit the offseason with three consecutive losses to close the season, and will come up short in their bid to finish as a ranked team for only the third time in school history.
Show Comments
Hide Comments
Kush went 176-54-1 in 22 seasons at Arizona State

That's a lotta rock chalk

How will the AAC shape up in 2017? Let's take a team-by-team look
Doing well at an AAC school can lead to a big job, but it's easier to win at some than oth...

A script Ohio showed up in a Michigan fan's lawn when he needed some help with lawn care

Johnson Jr. was cited for marijuana possession and possession of drug paraphernalia in Jun...