Saban: Alabama WR DeAndrew White suffers separated shoulder
It's another injury setback for Alabama wide receiver DeAndrew White as Nick Saban said he'd had a minor shoulder separation.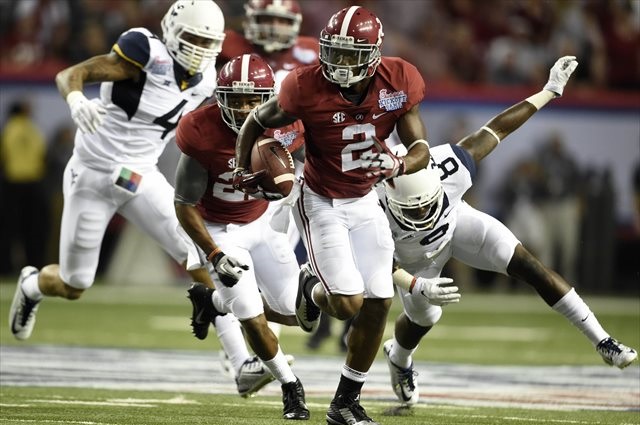 If there's an area of the roster where Alabama can most afford to suffer an injury, it's probably their receiving corps, where the Tide are so deep even a target like preseason All-American tight end O.J. Howard can go the entire West Virginia victory without a reception.
All the same, other than Amari Cooper, it was senior DeAndrew White who made the biggest receiving impression against the Mountaineers, catching 6 passes for 73 electric yards before leaving the game with a shoulder injury. So it's maybe not irrelevant that White is set to miss some time, Nick Saban said after the game.
"DeAndrew White has a little separated shoulder," Saban said, per al.com. "I don't think it's really bad. I haven't talked to the doctor yet, but [he may be out] a week or so, I don't know."
White has struggled previously with knee and toe injuries, but as shown on one first-half reception in which he shook past half-a-dozen Mountaineer defenders on a cross-field cutback, White has proven a legitimate weapon when healthy.
If the Tide don't have that weapon either of the next two weeks -- when they play overmatched FAU and Southern Miss -- it won't matter. But if Saban's immediate assessment is off and White's shoulder knock lingers, it's possible he could be missing or limited vs. Florida on Sept. 20 -- and even at wideout, that might make a difference.
Show Comments
Hide Comments
Ousted by a school despite not being charged with a crime, Faulk is clawing his way to the...

Sometimes spring practice is about avoiding the negatives as much as it is building moment...

Baylor is moving to dismiss the lawsuit, filed in January, on a two-year statute of limita...
USF senior Hassan Childs was injured in a shooting on Saturday night

It looks like LSU is moving towards having a beer garden for its home games

HB1249 would allow Arkansans with a certain permit to carry guns almost anywhere in the st...