SEC, Big 12 talk possible scheduling agreement
SEC spokesman confirms 'limited dialogue' on possible nonconference scheduling arrangement.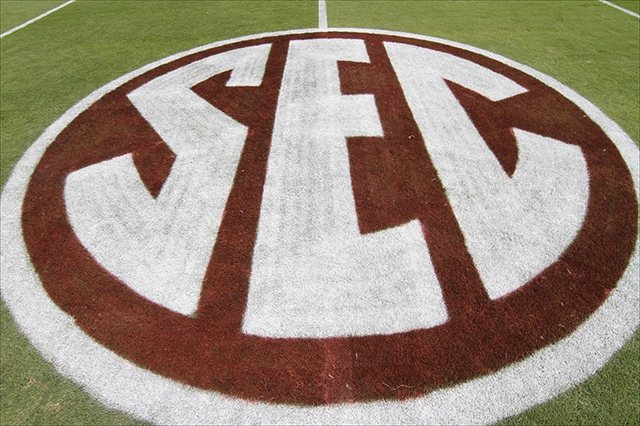 The SEC is already partners with the Big 12 in the new-look Sugar Bowl. (US Presswire)
The Big 12 hasn't made any secret of the fact that it's looking to create a partnership with another conference, hoping to boost its nonconference scheduling, television profile and other interests. But what leagues that it might be in discussions with, other than the ACC, have officially been a secret.
Not anymore: SEC spokesman Mark Womack told al.com on Wednesday that his league and the Big 12 have engaged in "limited dialogue" (in reporter Jon Solomon's words) about the possibility of a closer arrangement between the two "Champions Bowl" partners -- specifically one that would guide the leagues' nonconference schedules.
But Womack was quick to point out that any such agreement was far, far from being finalized.
"That's a situation we would keep an open mind on, but we haven't had a lot of significant discussions at this point," Womack said. "There's a lot of different ways that could work. At this point, we're continuing to move forward with scheduling the conference as we've planned."
He added that any kind of Big 12-SEC series in football -- one similar to the one agreed to by the Big Ten and Pac-12 before it fell apart in the wake of the playoff announcement -- "would [face] a lot of issues on how you would play that out as it relates to the issues you face with your existing schedule."
In short: Womack seemed far more ready to offer reasons why the agreement won't happen than reasons why it would. And with him acknowledging the pressure on the SEC to put together its scheduling rotation for 2014 and beyond (a rotation that could be based on either an eight- or a nine-game league schedule, with that possibly dependent on the league's ongoing TV contract negotiations), it would make sense that the uncertainty of managing a complicated long-term scheduling agreement (and collective bowl inventory, if you ask Bob Bowlsby) is one more uncertainty than the SEC is willing to deal with.
But even if it's an idea whose time has not yet come and might never come, that the dialogue has been opened might still be a step in the right direction for better nonconference schedules and the halt of the realignment carousel. And for any college football fan tired of cupcake matchups or learning another new divisional setup, that's better than nothing.
Show Comments
Hide Comments
Ohio State is favored to win the Big Ten, but is it the best bet?

USC enters as the favorite, but are the Trojans the best bet?

Jim Harbaugh's Michigan staff will be at FAU on June 5
These five coaches will be hot names on the market after the 2017 season

The Big 12 could be wide open in 2017 ... we mean it this time

Rhule's stance on sexual violence is much-needed for a program that's been submerged in co...