SEC commish Mike Slive to return in 2014-15: 'I've got too much going on'
Mike Slive told AL.com on Tuesday that he plans to return as SEC commissioner for the 2014-15 academic year.
• 1 min read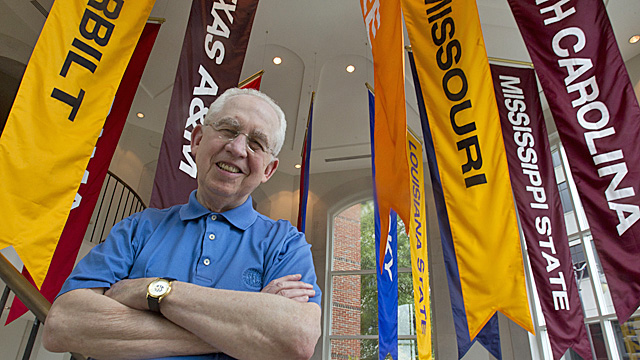 More college football: Bruce Feldman | Dennis Dodd | Jeremy Fowler | Latest news
With the SEC Network months from launch and a new college football playoff era set to begin, Mike Slive says there is too much to do to consider stepping away from his post as SEC commissioner.
Slive told AL.com on Tuesday that he plans to return for the 2014-15 academic year. His contract is set to expire at the end of 2013-14, and last offseason he would not commit to sticking around beyond his contract. 
"I've got too much going on," Slive said via AL.com. "I've got the [SEC] Network to work on. I've got football scheduling to solve. We've got the NCAA restructuring. We've got a lot of important issues to take care of. I wouldn't miss it for the world."
Several SEC presidents have spoken out in favor of Slive remaining the league's commissioner, giving the impression that he will get to determine his own exit plan.
"I'll be here as long as you see me," Slive said. "I'll be working until I'm not working."
Slive, 73, has been the commissioner of the SEC since 2002 after a stint as the Conference USA commissioner from 1995-02. He has overseen conference expansion, the negotiation of media rights deals that have inflated revenue distribution and was one of the first major conference commissioners to support a playoff-style format to determine the college football national champion.
Show Comments
Hide Comments
Sometimes spring practice is about avoiding the negatives as much as it is building moment...

Baylor is moving to dismiss the lawsuit, filed in January, on a two-year statute of limita...

USF senior Hassan Childs was injured in a shooting on Saturday night
It looks like LSU is moving towards having a beer garden for its home games

HB1249 would allow Arkansans with a certain permit to carry guns almost anywhere in the st...

Mark Dantonio answered questions about the suspensions and ongoing sexual assault investig...