SEC officials address 'angst' over proposed NCAA changes
SEC executive Greg Sankey addresses a concern in Division I that Power 5 conferences could increase the number of scholarships schools can provide in different sports.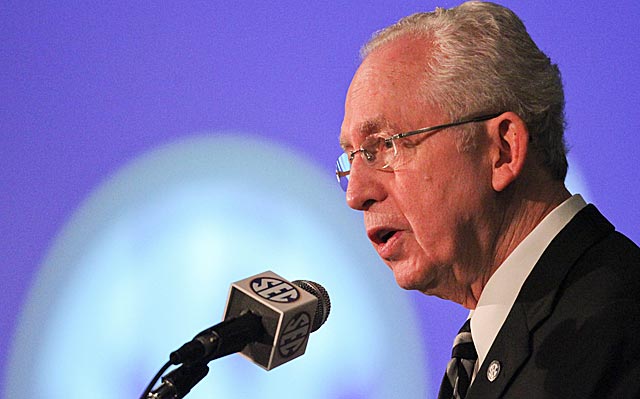 More college football: Dennis Dodd | Jeremy Fowler | Jon Solomon | Latest news
HOOVER, Ala. -- Words matter to SEC commissioner Mike Slive. This is the commissioner, after all, who on Monday quoted Dwight Eisenhower, Winston Churchill and Nelson Mandela in a speech before sportswriters.
At SEC Media Days, Slive again brought out the hammer saying that if the Power 5 conferences don't get the autonomy it wants to provide more benefits to college athletes, a new "venue" would be established for the major schools. At the SEC spring meetings, Slive said there would be a "Division 4" if the NCAA governance structure isn't passed next month.
"I thought about it again and I thought (the term Division 4) might be too limiting, and I wanted to make the point we would consider other venues, whatever they may be," Slive said Monday.
Words matter in the NCAA governance structure, too. These are words that both get spoken and go unspoken.
SEC officials expressed optimism that the Division I Board of Directors will pass a proposal Aug. 7 giving the Power 5 conferences the ability to create some of their own legislation. Still, Slive and SEC Executive Associate Director Greg Sankey acknowledged "angst" by some Division I members during a turbulent period for the NCAA.
"We try to communicate to provide answers where there are answers available, while acknowledging that not every question can be answered today," Sankey said.
For instance, Sankey said he hears from some Division I members that the Power 5 conferences want to increase the 85-scholarship limit in football.
"In football, that's not been a discussion among the five conferences -- period," Sankey said. "In other sports, it's part of (the proposed) shared governance so it forecloses the ability to unilaterally change scholarships without participation of other conferences. ... There will be those who will say we need to change scholarship levels in other sports. That's always been an ongoing dialogue."
Sankey said another concern he hears from some Division I members is transfer eligibility.
"What's suggested by the five conferences is put transfers in a two-year shared governance category," Sankey said. "Let's continue with shared governance and maybe craft some different structures or different transfer policies."
For instance, Sankey said, is the one-year graduate student transfer rule meaningfully focusing on education, or is it simply a way to transfer and play right away? Also, Sankey said, how do schools avoid having too much control on transfers while letting students make decisions they need to make?
When asked if there's a way for athletes in football, basketball, baseball and ice hockey to have a one-one time transfer rule to be eligible immediately, Sankey replied, "At the heart of the transfer issue, this is about education. ... Your chances of graduating diminish when you transfer."
If the NCAA governance structure passes, developing how the Power 5 conferences create their legislation and tackle cost of attendance will be the immediate agenda items from August through January, Slive said.
"If we can get the whole structure in place, implement a full cost of attendance and maybe a couple other things in the first four or five months, we would have accomplished a lot," Slive said.
Slive said he is optimistic the NCAA legislation will pass because many people realize the expectations of college athletes have changed. In this light, Slive also found new words to try to make his case.
"I think student-athlete well-being is synonymous with autonomy," Slive said. "Autonomy to some degree sounds a little selfish. It's not about what we want, it's about what we want to give."
The SEC made its last pitch while kicking off its four-day media event.
Show Comments
Hide Comments
Caleb Joshua Halley, who was the mascot for four years, was fatally stabbed in 2015

Michigan's trip to Italy has been fantastic, if you enjoy that sort of thing

The ex-Notre Dame quarterback would be eligible to play immediately in 2017
Tuberville has been mulling a decision to run in 2018

Ranking the best draft-eligible college football players in the 2017 draft class

Taking a closer look at what went down during one of the biggest weekends of spring football...