Seminoles lead the way on media All-ACC teams
The ACC announced its 2013 media All-ACC selections Monday, and it's no surprise which team got the most nods.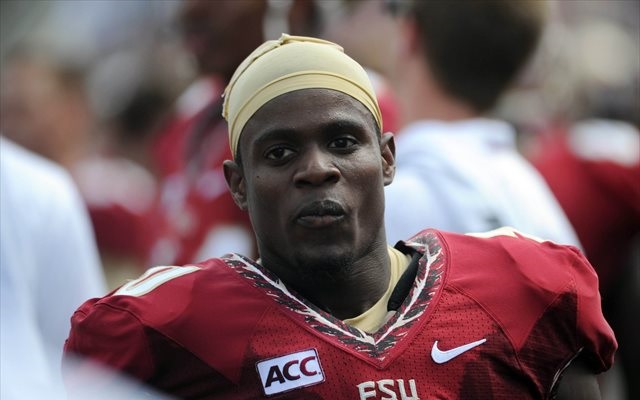 The ACC announced the media's selections for the conference's All-ACC teams Monday, and it was no surprise to see Florida State -- the newly-christened No. 1 team in the nation -- lead the way with seven first-team nods.
Boston College running back and FBS leading rusher Andre Williams was the only player to be named a unanimous first-team choice. Seminoles quarterback Jameis Winston was named first-team QB on "only" 61 of 63 ballots. (Florida State fans might also take issue with the fact that only one Seminole defender -- defensive back Lamarcus Joyner -- was named to the first team, despite FSU leading the league in yards per-play allowed by a healthy margin.) 
All three All-ACC teams, and honorable mentions:
2013 All-ACC Football Team
First Team
Offense
QB – Jameis Winston, Florida State, 6-4, 225, Fr.-R, Bessemer, Ala. (191)
RB – Andre Williams, Boston College, 6-0, 220, Sr., Schnecksville, Pa. (195)
RB – Devonta Freeman, Florida State, 5-9, 203, Jr., Miami, Fla. (126)
WR – Sammy Watkins, Clemson, 6-1, 205, Jr., Fort Myers, Fla. (191)
WR - Jamison Crowder, Duke, 5-9, 175, Jr., Monroe, N.C. (172)
WR – Rashad Greene, Florida State, 6-0, 180, Jr., Albany, Ga. (126)
TE - Eric Ebron, North Carolina, 6-4, 245, Jr., Greensboro, N.C. (178)
T- Cameron Erving, Florida State, 6-6, 320, Jr.-R, Moultrie, Ga. (148)
T- James Hurst, North Carolina, 6-7, 305, Sr., Plainfield, Ind. (118)
G- Tre' Jackson, Florida State, 6-4, 330, Jr., Jesup, Ga., (160)
G-Shaq Mason, Georgia Tech. 6-1. 305, Jr., Columbia, Tenn. (96)
C- Bryan Stork, Florida State, 6-4, 298, Sr.-R, Vero Beach, Fla. (181)

Defense
DE - Vic Beasley, Clemson, 6-3, 225, Jr-R.., Adairsville, Ga. (161)
DE - Kareem Martin, North Carolina, 6-6, 265, Sr., Roanoke Rapids, N.C. (159)
DT - Aaron Donald, Pitt, 6-0, 275, Sr., Pittsburgh, Pa. (171)
DT – Nikita Whitlock, Wake Forest, 5-11, 250, Sr.-R, Wylie, Texas (156)
LB - Kelby Brown, Duke, 6-2, 220, Jr.-R, Matthews, N.C. (146)
LB – Denzel Perryman, Miami, 6-0, 236, Jr., Coral Gables, Fla. (124)
LB – Kevin Pierre-Louis, Boston College, 6-1, 215, Sr., Norwalk, Conn. (123)
CB – Lamarcus Joyner, Florida State, 5-8, 190, Sr., Fort Lauderdale, Fla. (172)
CB – Ross Cockrell, Duke, 6-0, 180, Sr.-R, Waxhaw, N.C. (145)
S – Anthony Harris, Virginia, 6-1, 185, Jr., Chesterfield, Va. (142)
S – Jeremy Cash, Duke, 6-2, 210, So.-R, Plantation, Fla. (129)

Special Teams
PK - Nate Freese, Boston College, 6-0, 185, Sr., Strongsville, Ohio (124)
P - Pat O'Donnell, Miami, 6-5, 222, Gr., Lake Worth, Fla. (135)
SP - Ryan Switzer, North Carolina, 5-10, 175, Fr., Charleston, W.Va. (155)

Second Team
Offense
QB - Tajh Boyd, Clemson, 6-1, 225, Sr.-R, Hampton, Va. (132)
RB – Kevin Parks, Virginia, 5-8, 205, Jr.-R, Salisbury, N.C. (117)
RB - Duke Johnson, Miami, 5-9, 194, So., Miami, Fla. (104)
WR – Michael Campanaro, Wake Forest, 5-11, 190, Sr.-R, Clarksville, Md. (102)
WR - Allen Hurns, Miami, 6-3, 195, Sr., Miami, Fla. (102)
WR – Tyler Boyd, Pitt, 6-2, 185, Fr., Alexandria, Va. (100)
TE - Nick O'Leary, Florida State, 6-3, 246, Jr., Palm Beach, Fla. (126)
T- Brandon Thomas, Clemson, 6-3, 305, Gr.-R, Spartanburg, S.C. (104)
T- Matt Patchan, Boston College, 6-6, 304, Sr., Tampa, Fla. (92)
G- Laken Tomlinson, Duke, 6-3, 320, Jr.-R, Chicago, Ill. (90)
G- Brandon Linder, Miami, 6-6, 317, Sr., Southwest Ranches, Fla. (80)
C- Macky MacPherson, Syracuse, 6-2, 280, Sr., Syracuse, N.Y. (61)

Defense
DE – Jeremiah Attaochu, Georgia Tech, 6-3, 242, Sr., Washington, D.C. (121)
DE – Kenny Anunike, Duke, 6-5, 260, Sr.-R, Galena, Ohio (98)
DT – Timmy Jernigan, Florida State, 6-2, 294, Jr., Lake City, Fla. (124)
DT – Derrick Hopkins, Virginia Tech, 6-0, 306, Sr., Highland Springs, Va. (73)
LB – Telvin Smith, Florida State, 6-3, 218, Sr., Valdosta, Ga. (105)
LB - Jack Tyler, Virginia Tech, 6-1, 236, Sr.-R, Oakton, Va. (93)
LB – Christian Jones, Florida State, 6-4, 232, Sr., Winter Park, Fla. (83)
CB – Kendall Fuller, Virginia Tech, 5-11, 180, Fr., Baltimore, Md. (91)
CB – Bashaud Breeland, Clemson, 6-0, 195, Jr.-R, Allendale, S.C. (69)
S – Terrence Brooks, Florida State, 5-11, 200, Sr., Dunnellon, Fla. (97)
S – Tre Boston, North Carolina, 6-1, 205, Sr., Fort Myers, Fla. (86)


Special Teams
PK - Roberto Aguayo, Florida State, 6-1, 208, Fr.-R, Mascotte, Fla. (123)
P – A.J. Hughes, Virginia Tech, 6-1, 190, So., Terre Haute, Ind. (79)
SP - Jamison Crowder, Duke, 5-9, 175, Jr., Monroe, N.C. (80)

Third Team
Offense
QB – Stephen Morris, Miami, 6-2, 214, Sr., Miami, Fla. (24)
RB – Roderick McDowell, Clemson, 5-9, 195, Gr.-R, Sumter, S.C. (85)
RB –Jerome Smith, Syracuse, 6-0, 217, Sr., Bear, Del. (53)
WR – Devin Street, Pitt, 6-4, 190, Sr.-R, Bethlehem, Pa. (80)
WR – Alex Amidon, Boston College, 5-11, 186, Sr., Greenfield, Mass. (70)
WR - Kelvin Benjamin, Florida State, 6-5, 238. So.-R, Belle Glade, Fla. (68)
TE – Braxton Deaver, Duke, 6-5, 240, Jr.-R, Charlotte, N.C. (51)
T- Perry Simmons, Duke, 6-5, 300, Sr.-R, Raleigh, N.C. (80)
T- Morgan Moses, Virginia, 6-6, 325, Sr., Richmond, Va. (76)
G – Tyler Shatley, Clemson, 6-3, 295, Sr.-R, Icard, S.C. (65)
G- Josue Matias, Florida State, 6-6, 322, Jr. , Union City, N.J. (57)
C- Andy Gallik, Boston College, 6-3, 300, Jr.-R, Evergreen Park, Ill. (52)


Defense
DE – Kasim Edebali, Boston College, 6-2, 258, Sr.-R, Hamburg, Germany (65)
DE – Mario Edwards Jr., Florida State, 6-3, 285, So., Gautier, Miss. (56)
DT – Jay Bromley, Syracuse, 6-4, 293, Sr., Jamaica, N.Y. (68)
DT – Luther Maddy, Virginia Tech, 6-1, 288, Jr., Delray Beach, Fla. (56)
LB - Steele Divitto, Boston College, 6-3, 238, Sr., Ridgefield, Conn. (78)
LB - Stephone Anthony, Clemson, 6-3, 235, Jr., Polkton, N.C. (73)
LB – Spencer Shuey, Clemson, 6-3, 230, Gr.-R, Charlotte, N.C. (57)
CB – Kyle Fuller, Virginia Tech, 6-0, 193, Sr., Baltimore, Md. (58)
CB – Brandon Facyson, Virginia Tech, 6-2, 173, Fr., Newnan, Ga. (53)
S – Durell Eskridge, Syracuse, 6-3, 202, So., Miami, Fla. (53)
S - Nate Andrews, Florida State, 6-0, 208, Fr., Fairhope, Ala. (44)


Special Teams
PK- Chandler Cantnazaro, Clemson 6-2, 195, Gr.-R, Greenville, S.C. (69)
P - Will Monday, Duke, 6-4, 210, So.-R, Flowery Branch, Ga. (73)
SP - DeVon Edwards, Duke, 5-9, 185, Fr.-R, Covington, Ga. (57)

Honorable Mention
(20 or more points)

RB
Robert Godhigh, RB, Georgia Tech (39)
David Sims, RB, Georgia Tech (29)
James Wilder, Jr., RB, Florida State (23)

WR
Kenny Shaw, WR, Florida State (46)
Martavis Bryant, WR, Clemson (34)
Quinshad Davis, WR, North Carolina (33)
Stefon Diggs, WR, Maryland (21)

OT
Seantrel Henderson, OT, Miami (34)
Bobby Hart, OT, Florida State (30)
Sean Hickey, OT, Syracuse (29)
Ian White, OT, Boston College (27)

OG
Andrew Miller, OG, Virginia Tech, (53)
Will Jackson, OG, Georgia Tech, (35)
Matt Rotheram, OG, Pitt (22)
Jon Feliciano, OG, Miami (20)

C
Russell Bodine, C, North Carolina (28)
David Wang, C, Virginia Tech (21)

DE
James Gayle, DE, Virginia Tech (42)

DT
Grady Jarrett, DT, Clemson (39)
Brent Urban, DT, Virginia (21)

LB
Robert Caldwell, LB, NC State (51)
Marcus Whitfield, LB, Maryland (45)
Marquis Spruill, LB, Syracuse (31)
Terrance Smith, LB, Florida State (26)
Norkeithus Otis, LB, North Carolina (22)
Cole Farrand, LB, Maryland (22)

CB
Tracy Howard, CB, Miami (30)
P.J. Williams, CB, Florida State (25)
Kevin Johnson, CB, Wake Forest (22)
Jabari Price, CB, North Carolina (20)

S
Ray Vinopal, S, Pitt (30)
Jason Hendricks, S, Pitt (29)
Ryan Janvion, S, Wake Forest (28)
Kyshoen Jarrett, S, Virginia Tech (23)
Deon Bush, S, Miami (20)

PK
Niklas Sade, PK, NC State (37)
Ross Martin, PK, Duke (26)

P
Tommy Hibbard, P, North Carolina (26)

SP
Stacy Coley, SP, Miami (22)
Show Comments
Hide Comments
Our Latest Stories
Jim Harbaugh is concerned about the funding for the Legal Services Corporation

Jarrett Stidham may be getting most of the reps, but that doesn't mean he'll start this fa...

Spanier was found guilty on one count of child endangerment
These five coaches need to win games in 2017

The Deadman gave a speech to the Texas football team, which listened on one knee

Trent Thompson was spotted at Georgia's spring practice