Sheriff: former Gamecock RB's gunshot wound self-inflicted
Former South Carolina tailback Kenny Miles admitted in a statement that he had lied to police concerning a gunshot wound.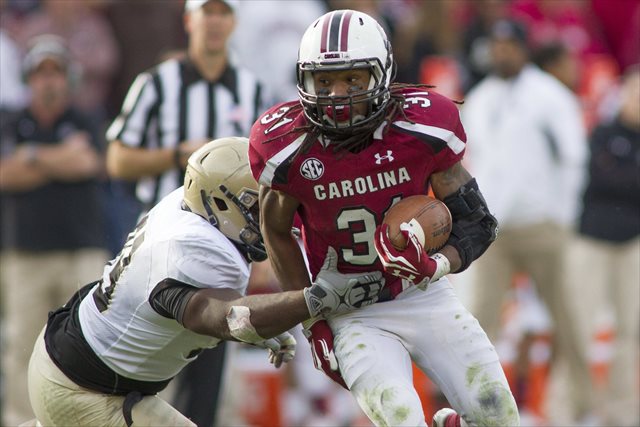 Former South Carolina running back Kenny Miles and Richland County Sheriff Leon Lott announced Tuesday that a gunshot wound Miles initially claimed had been suffered during an armed robbery was in fact self-inflicted.
Miles told police he had been shot during a robbery Nov. 4, but Lott would announce only a day later that no such robbery had taken place. Tuesday, Lott said that Miles would be charged with filing a false police report, per The State, and was under a doctor's care. 
Lott did not offer an explanation for how or why Miles had shot himself.
Immediately following Lott's remarks, Miles released a statement through his attorney:
"Last week I made a big mistake by not being up front about how the shooting occurred. I was not involved in any criminal activity. However, I was scared and worried how my actions would be perceived. I only made matters worse by not telling the truth. I make no excuses for my behavior.

"I would like to apologize to Sheriff Leon Lott and the entire Richland County Sheriff's Department; my employer, The Office of the Attorney General; my teammates and coaches; The University of South Carolina community; friends, family; fans; and anyone else I've disappointed."
Miles graduated from South Carolina in May and has worked in community outreach for the state Attorney General's office since August. His 359 rushing yards as a senior in 2012 gave him 1,341 for his career.
Show Comments
Hide Comments
The three players attempted to rob a fellow student but claimed it was a prank gone wrong

Unique Brissett was pretending to be a WR with scholarship offers from multiple Power Five...

These are the players who college football coaches simply can't live without
Welcome to the world, Flynt Anderson-Foster Pruitt

Baylor should value faith over football and do what's right in the wake of seven Title IX...

The conference will adopt two divisions when it becomes a 10-team league in 2018