Signing Day Checklist: Wrapping up the Big 12
The final word on each of the conference's signing classes, from top to bottom.

Oklahoma
Signees: 24
247 National Rank: 15
- - -
Most years, Oklahoma can afford to be choosy on the recruiting trail, but most years don't involve filling a yawning void in the middle of the defensive line: The departure of last year's top four defensive tackles has created such a demand for viable bodies inside that coaches are reportedly considering a switch to a 3-4 scheme to mitigate the shortage. Out of 20 new signatures on Wednesday, seven of them belonged to defensive linemen.
Needed to Address: The most anticipated of the new arrivals up front is 6-foot-4, 242-pound defensive end D.J. Ward, the No. 1 prep prospect in Oklahoma, who enrolled last month and will be in the rotation during spring practice. Inside, the Sooners will be relying heavily on a JUCO transfer, Quincy Russell, a 300-pounder with two years and roughly 25 pounds on the class' other defensive tackles, three-star signees Kerrick Huggins and Charles Walker.
Headliner: The offense doesn't have nearly the need for immediate depth, but it may get it anyway from Cypress, Texas, tailback Keith Ford, a 5-11, 200-pound All-American who never wavered after committing to Oklahoma last March. 247Sports' composite rankings pegged Ford as the No. 1 prospect in Texas and the No. 3 running back in the nation.
Instant Impact: Aside from the exodus on the line, the defense is also replacing both starting safeties, Tony Jefferson and Javon Harris, leaving an immediate opportunity for four-star signees Hatari Byrd and Ahmad Thomas, an early enrollee from Miami. Byrd's high school teammate, L.J. Moore, was the last piece of the puzzle on signing day and should find himself in the mix in the secondary, as well.
Best-Case Scenario: By Oklahoma standards, this is far from a banner class, ranking well behind the elite efforts nationally. But it is generally regarded as the best in a down year for the Big 12, it didn't suffer from a wave of defections and it delivered quantity where it was most needed on defense. If quality follows suit, the Sooners are still the de facto front-runners in the conference for the foreseeable future.

Texas
Signees: 15
247 National Rank: 18
- - -
Ultimately, Texas' class was defined more by the blue-chip targets who weren't on board Wednesday than those who were, as Longhorn fans watched six former UT commitments sign on with rivals. Of that group, the most deflating defection came courtesy of five-star lineman A'Shawn Robinson, a longtime Texas pledge from Fort Worth who dumped the Horns at the last minute to join another loaded class at Alabama. Contrary to his usual dominance in the state, Mack Brown went 0-for-4 on the top four prospects in Texas, and only landed two of the top dozen.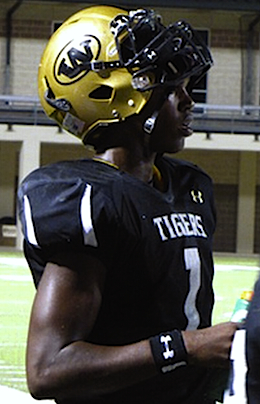 Tyrone Swoopes. (247)
Needed to Address: The priorities for this class begin and end up front. Of the 15 signatures Texas did get, at least four of them belong to offensive linemen with four-star credentials, giving the Horns arguably the best o-line class in the country despite Robinson's change of heart. (That number could go to an even five, depending on where they decide to play center/defensive end Jake Raulerson.) The best of the bunch is 6-6, 320-pound guard Darius James, widely regarded as the top interior line prospect in the nation.
Headliner: Few prospects fell further over the course of the 2012-13 cycle than Whitewright, Texas, quarterback Tyrone Swoopes, who began the year as the can't-miss heir apparent to Vince Young, and ended it as a nondescript four-star with persistent questions about his accuracy. Swoopes is already enrolled, and there are no questions about his potential -- though whether he gets to demonstrate it as a quarterback after reportedly adding 25 pounds over the winter is an open question.
Instant Impact: With essentially the entire starting lineup returning, there aren't many opportunities for newcomers, even the ones getting a head start in spring practice. Barring an injury that allows one of the young offensive linemen to step in early, the best bet to see the field right away is probably four-star wide receiver Jake Oliver, but he'll be biding his time behind starters Jordan Shipley and Mike Davis, too.
Best-Case Scenario: By any prevailing standard at Texas, this class looks like a disappointment. Between the de-commitments and Swoopes' free-fall, there is no real star, and there is no solace in numbers with only 15 signees. But there is some solace in the strength of the offensive line, and in Swoopes' raw talent, which stands to make or break the class if he ever finds himself at the top of the depth chart.

Baylor
Signees: 23
247 National Rank: 24
- - -
Now, for a team that's sincerely happy with its class. As expected, the Bears scored an early signature from the No. 1 player in the state of Texas, five-star Fort Worth wide receiver Robbie Rhodes, who has been a firm Baylor commitment since last summer. But they also scored big with signatures from a pair of four-star linemen whose decisions came down to the wire. Hometown defensive tackle Andrew Billings spurned overtures from Texas and TCU in favor of Staying in Waco on Tuesday night, one day after the Bears managed to flip Texas Tech commitment Maurice Porter from the Red Raiders. Billings and Porter both followed through on their changes of heart on Wednesday morning, guaranteeing Baylor arguably the best signing class in school history.
Needed to Address: Nick Florence's graduation left Baylor with just three quarterbacks on the roster, none of them with the potential of Chris Johnson, a 6-5, 220-pound "dual threat" from Bryan, Texas, who will be in for spring practice. Despite the obvious parallels, Johnson never earned the attention from scouts heaped on Swoopes, but given Art Briles' near-flawless track record with quarterbacks, he will have every bit as much opportunity to thrive.
Headliner: On paper, anyway, no receiving corps in college football has been more productive over the last two years than Baylor's, which has produced back-to-back All-Americans at the position (Kendall Wright in 2011, Terrance Williams in 2012) in an offense that didn't miss a beat last year in the absence of Robert Griffin III. Given that emerging reputation, it was only a matter of time before the once-lowly Bears caught the attention of an elite target like Rhodes, Baylor's first five-star signee in the Internet era.
Instant Impact: While Johnson is considered something of a project, fellow early enrollee Brian Nance is a sure thing, a 6-3, 245-pound linebacker who almost certainly would have broken into the lineup in 2012 had he not been forced to take an academic detour through prep school. Nance is already in school for the spring semester and shouldn't take long to find a place on a notoriously porous front seven.
Best-Case Scenario: If 2012 hinted at Baylor's staying power post-RG3, this class can solidify it. Rhodes was a player everyone wanted and stuck with the Briles throughout; Billings, Porter and Nance look like critical upgrades between the tackles. If a quarterback comes through, the Bears are not far from making a run at the conference title.

West Virginia
Signees: 28
247 National Rank: 30
- - -
To the surprise of no one who actually watched West Virginia's defense in 2012, the Mountaineers cast the widest possible net in pursuit of quality defenders, reeling in signatures from all corners of the country: Newcomers are en route from Florida (safety Malik Greaves), Mississippi (JUCO defensive end Dontrill Hyman), Arizona (JUCO linebacker D'Vante Henry), Georgia (linebacker Brandon Golson, safety Jeremy Tyler) and New Jersey (linebacker Al-Rasheed Benton), in addition to local forays into Maryland (defensive end Marvin Gross), Ohio (linebacker Darrien Howard) and Pennsylvania (linebacker Hodari Christian, safety Daryl Worley). Obviously, any team that allows 43 point per game in conference play, as West Virginia did last year, needs all the help it can get.
Needed to Address: The one position you won't find on that list is defensive tackle, a legitimate concern for a team that only boasts four d-linemen on the returning roster who weigh upwards of 260 pounds. Hyman is the biggest newcomer at 6-4/265. After watching Syracuse trash WVU for 369 yards rushing in the Pinstripe Bowl, that doesn't sound like adequate reinforcement.
Headliner: The Mountaineers outmaneuvered Arizona for the services of Mario Alford, a 5-10, 180-pound "athlete" from Georgia who invites inevitable comparisons to versatile, NFL-bound All-American Tavon Austin. Alford is another obvious talent who spent last year getting his grades in order in prep school, and gives coach Dana Holgorsen the perfect excuse to keep the creative devices he used to exploit Austin's talents in the playbook.
Instant Impact: Holgorsen found a doppelganger for his other All-American wide receiver in Shelton Gibson, a four-star target from Cleveland with Stedman Bailey's uninspiring size (5-11, 180 pounds) and, ideally, his fluid knack for making tough catches in traffic. Between Gibson and Alford, there is less immediate concern about replacing the most prolific receiving duo in the nation than there is about who's going to be throwing to them.
Best-Case Scenario: Like several teams in this league, West Virginia's chances of breaking out of the middle class hinge on its ability to improve a woeful defense, a reality this class at least acknowledges. Even on defense, though, there's still more flash than muscle.

TCU
Signees: 23
247 National Rank: 36
- - -
Coming off a relatively down year defensively by TCU standards, the Frogs were most aggressive in pursuit of the "tweener" types who thrive in the hybrid safety/outside linebacker role that distinguishes their 3-3-5 defensive scheme, boasting commitments from no fewer than seven players who fit that mold. Of that group, the most touted are a pair of slightly undersized Texans straddling the three-star/four-star border, Dac Shaw and Ty Slanina, who look exactly like the kind of guys Gary Patterson has been developing into solid starters for more than a decade.
Needed to Address: Once a strength at TCU, tailback depth was a persistent issue throughout 2012, and threatened to loom over another season with the departure of seniors Matthew Tucker and Aundre Dean. Enter Kyle Hicks, a four-star prospect from Arlington who immediately fills the most glaring need on the roster. Both Hicks and Trevorris Johnson should find plenty of carries waiting for them.
Headliner: Hicks is another one that got away from the Longhorns, only dropping Texas in December after 10 months in the fold. At TCU, he gets to stay closer to home, and also gets to be the only consensus four-star recruit in the class.
Instant Impact: Besides tailback, one of the few immediate openings this faill may be at wide receiver, where Cameron Echols-Luper can help fill some of the production leaving with Josh Boyce and Skye Dawson. At one point, Echols-Luper spent months as a verbal commitment to Texas A&M before dropping the Aggies in January, and reportedly spurned a subsequent offer from Texas in favor of the Horned Frogs.
Best-Case Scenario: TCU will boast one of the most veteran lineups in the Big 12 this fall -- a welcome development after a snake-bitten debut -- and will be an intriguing darkhorse in a league with no obvious powerhouse. This class may not be up to being the one that delivers a breakthrough, but it could be the one that sustains it.

Oklahoma State
Signees: 21
247 National Rank: 37
- - -
This is a salt-of-the-earth class for the Mike Gundy, making up what it lacks in blue-chip firepower with a strong emphasis on both sides of the line of scrimmage. Eleven linemen in all signed with the Cowboys -- five on offense, six on defense -- a direct response to the departures of three starters on both sides. If Gundy can't have his quarterback (this is the first Oklahoma State class since 2008 that doesn't feature a QB), he might as well stock up on guys who can protect him, and/or bury the other guy's.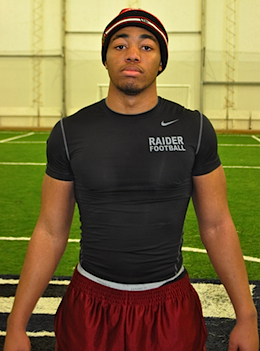 Naim Mustafaa. (247)
Needed to Address: After a dramatic decrease in turnovers in 2012, another area of emphasis was the secondary, where the arrival of Deric Robertson, Taylor Lewis, Tre Flowers, Jordan Sterns and Darius Curry may carry more immediate weight than their relatively uninspiring rankings suggest. Someone in that group will get a shot at the vacant cornerback slot opposite senior Justin Gilbert, and in the nickel.
Headliner: The resident playmaker in the group is Jerel Morrow, a four-star "athlete" from Emporia, Kansas, who stuck with the Cowboys while also being pursued by Nebraska, Kansas State and Missouri, among others. Morrow projects as a wide receiver, where his size (5-11, 180) is less than ideal, but his documented leaping ability should serve him well.
Instant Impact: Natural attrition on the defensive line opens the door for new blood, especially at defensive end, where Naim Mustafaa and juco transfer Sam Wren are the most likely candidates to break into the rotation. Mustafaa, a borderline three/four-star prospect from Alpharetta, Ga., was a longstanding Georgia commit with a long offer sheet that featured overtures from from Florida, Florida State, Auburn, Ole Miss, Nebraska, Tennessee and Virginia Tech, just for starters. But at 6-4/235, he may also be 25 pounds away from being able to hold down the strong side.
Best-Case Scenario: The Cowboys aren't exactly taking the next step here after a disappointing step back last year in the standings. But they are solidifying depth in vulnerable areas that could undermine the next big break when it comes.

Texas Tech
Signees: 24
247 National Rank: 49
- - -
No Big 12 team faced a bigger obstacle ahead of Signing Day than Texas Tech in the wake of Tommy Tuberville's overnight departure for Cincinnati, which threatened to wreak havoc on the class Tuberville had assembled. Within a week of Tubs' exit, all six of Tech's junior college commitments had withdrawn their pledges, four of whom -- including the gem of the class, four-star tailback Rodriguez Moore -- went on to sign with Cincinnati instead. Still, new coach Kliff Kingsbury managed to staunch some of the damage by bringing another de-commit, four-star wide receiver Devon Lauderdale, back into the fold, and added another four-star receiver in Gary Moore; he also replaced Rodriguez Moore with another juco tailback in the same mold, Tyler Middleton.
Needed to Address: Maurice Porter's late defection to Baylor was a blow, but the new staff did deliver much-needed help on the offensive line by keeping Tuberville commitments Cody Hayes and Baylen Brown in the fold and landing Lithonia, Ga., guard Joshua Outlaw at the eleventh hour. Defensively, though, a late reach for a two-star tackle out of Michigan, Poet Thomas, doesn't do anything to alleviate the lack of viable bodies in the middle of the line.
Headliner: Opinions vary on Gary Moore, a towering, 6-5 target whose frame may make him more suited to tight end -- or at least, to the nearest equivalent of a tight end in Texas Tech's spread offense. Along with the diminutive Devin Lauderdale, though, the Raiders should have all of their receiving bases covered.
Instant Impact: Tech's secondary was a pleasant surprise over the first half of 2012, and a flaming disaster over the second half. With three departing starters, cornerback Jalen Barnes will get a long look, as will junior college transfers Dorian Crawford and Martin Hill.
Best-Case Scenario: This class has everything it needs to continue the high-flying Tech tradition Kingsbury helped usher in more than a decade ago as the starting quarterback, including a tall, Texas-bred slinger in the Kingsbury mold, Davis Webb, who is already on campus. Barring a few surprises, though, the tradition of defensive generosity appears every bit as durable.

Kansas
Signees: 25
247 National Rank: 50
- - -
Kansas has not won a Big 12 conference game since October 2010, and only then under bizarre circumstances. When you're riding that kind of losing streak -- now at 21 games and counting -- "building for the future" takes on a slightly different context: For second-year coach Charlie Weis, another winless campaign with an outmanned roster means there won't be a future. To that end, Weis went for the classic quick fix, assembling a class made up overwhelmingly of junior college players with only two years to make good instead of four. Of the 25 signatures in this class, 17 came from the juco ranks, a staggering number that could have long-term consequences for the depth chart even if pays immediate dividends.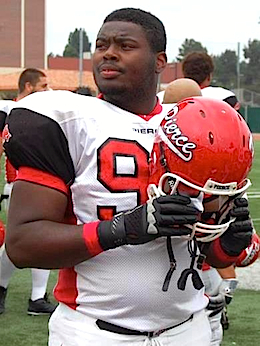 Marquel Combs. (247)
Needed to Address: It would be easier to ask what didn't need to be addressed: Aside from the running backs, the talent level in Weis' first season was embarrassingly below par across the board. But this class made a clear priority out of the line of scrimmage, hitting the juco ranks hard for five Big 12-ready bodies on the defensive line (Marquel Combs, Ty McKinney, Andrew Bolton, Chris Martin and Tedarian Johnson) and three more on the offensive side in Ahongalu Fusimalohi, Zach Fondal and Mike Smithburg. No word on whether an additional scholarship was required for Smithburg's beard.
Headliner: The highest-rated player in the class, by far, is Combs, a 6-3, 305-pound defensive tackle from Pierce College in California who fielded offers from across the country. But recruitniks will also be familiar with Chris Martin, a former five-star prospect who originally signed with California in 2010; from there, Martin transferred to Florida before his freshman season, washed out of Gainesville following a marijuana arrest in 2011 and finally landed at the City College of San Francisco, where he's spent the last two years. This time around, scouts were wary enough of that track record to limit their enthusiasm over Martin to three stars, but in terms of pure potential, he may have the highest ceiling on the team.
Instant Impact: Every position is up for grabs, and there's a very good chance that a majority of the starting defense will be manned by first-year players. Conceivably, that could include the entire defensive line and at least three-fourths of the secondary, where JUCO signees Cassius Sendish, Kevin Short and Dexter McDonald are expected to make immediate inroads at cornerback, and Isaiah Johnson will get a crack at safety.
Best-Case Scenario: Kansas was a young team in 2012, and showed some promise despite landing on the wrong side of every close score. With this group, though, Weis is banking everything on an immediate, dramatic improvement that will buy time and credibility to mount a more sustainable approach in the future. Otherwise, he may be reducing his own eligibility to two years, too.

Kansas State
Signees: 18
247 National Rank: 53
- - -
Of course, no one has demonstrated the viability of the junior college model more successfully than Weis' counterpart in the Sunflower State, Bill Snyder, who has sworn by the invigorating powers of JUCO juice for so long he wouldn't give it up even if he could. But even Snyder is willing to show some moderation: The defending Big 12 champs signed just five transfers in December, leaving the rest of the class open to actual freshmen -- a couple of whom may even have an opportunity to play right away. What a concept.
Needed to Address: With last year's entire starting defensive line on its way out, K-State zeroed in on the front four, landing signatures from JUCO All-American Devon Nash and four-star end Tanner Wood, the most sought-after prep prospect in the state of Kansas. Another glaring need, cornerback, was addressed with Cre Moore and JUCO transfer Nate Jackson.
Headliner: Linebacker Nick Ramirez grew up just across state lines in Lee's Summit, Mo., and spent most of 2012 firmly committed to Missouri. By December, however, he'd changed his mind about the Tigers, and by the end of the year, he was in the fold as the only consensus four-star in K-State's class.
Instant Impact: The Wildcats' other December triumph came courtesy of 6-2, 215-pound quarterback Jake Waters, a primary target for Penn State and others after leading Iowa Western Community College to the NJCAA national championship. (The majority of the Iowa Western starting lineup in 2012 will be on an FBS roster in 2013.) Waters is one of five players already on campus ahead of spring practice, and will begin those drills with at least a 50-50 chance of replacing Heisman finalist Collin Klein as the starting quarterback.
Best-Case Scenario: Rankings aside, this is exactly the kind of overlooked, JUCO-infused class that has served as the foundation of K-State's success throughout Snyder's tenure (both of them). Much depends on Waters' development at quarterback and an immediate payoff along the front seven defensively, which was was decimated by graduation. But certainly Snyder has earned the benefit of the doubt.

Iowa State
Signees: 25
247 National Rank: 61
- - -
When Paul Rhoads was hired at Iowa State, his selling points included the fact that he knew his home state and knew how to recruit there. Maybe that explains why, for his fifth class in Ames, he spent most of his time in Florida: In all, nine incoming Cyclones hail from the Sunshine State, more than any other state, giving the new class three times as many native Floridians as native Iowans. (Not to mention twice as many Texans as Iowans, in slightly less of an upset.) As you might predict for an outfit replacing three All-Big 12 starters from a defense that finished 94th nationally in yards allowed, most of them are bound for that side of the ball.
Needed to Address: To counter the attrition along the defensive line, Rhoads hit the local junior college ranks for a 6-3, 275-pound defensive end, Rodney Coe, and made a successful foray into Florida for a couple more with three star ratings, Justin Madison and Vernell Trent. Another end, J.D. Waggoner, signed on out of Dallas.
Headliner: At 6-7, 245 pounds, Des Moines native Jake Campos has plenty of room to grow into a full-fledged Big 12 offensive lineman, and plenty of time. Once he adds the weight, he'll have the opportunity to prove why he was regarded as the No. 1 prep prospect in the state.
Instant Impact: The Cyclones return their top four tailbacks from 2012, but none of them were dynamic enough to deny an opportunity to yet another Iowa Western product, Aaron Wimberly, who accounted for more than 1,500 all-purpose yards on an offense that averaged nearly 63 points per game. Iowa State has not had anyone remotely resembling a reliable big-play threat the past two seasons.
Best-Case Scenario: Iowa State is used to bringing up the bottom in these rankings, and this group looks a little bit better on paper than the typical ISU class. If nothing else, improved speed on defense might offer some semblance of progress while the offense gropes for a spark.
Show Comments
Hide Comments
Ohio State is favored to win the Big Ten, but is it the best bet?

USC enters as the favorite, but are the Trojans the best bet?

Jim Harbaugh's Michigan staff will be at FAU on June 5
These five coaches will be hot names on the market after the 2017 season

The Big 12 could be wide open in 2017 ... we mean it this time

Rhule's stance on sexual violence is much-needed for a program that's been submerged in co...