Signing Day in the Big 12: News, analysis and updates (6 p.m. wrapup)
Few surprises, but the big winner is ... uh, Baylor?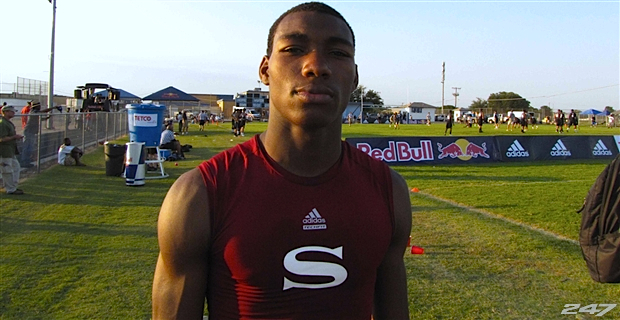 signee Robbie Rhodes is the highest-ranked 2013 prospect in Texas. (247Sports)
6 p.m. ET. No alarms and no surprises in the Big 12 as signing day comes to a quiet, predictable close. With many of the conference's top incoming players already on campus -- the Big 12 as a whole continues to rely more heavily than any other league on junior college transfers, the majority of whom signed in December and enrolled for the spring semester -- the day arrived without much of a sense of drama on the horizon, and delivered even less.
As expected, the only high-profile toss-up of the day, five-star lineman A'Shawn Robinson, spurned Texas to join another banner class at Alabama after de-committing from UT over the weekend; prior to that decision, Robinson had been a verbal commit to Texas for nearly a year. His 11th-hour defection made him the last of six blue-chip prospects who backed out of commitments to the Longhorns at some point in the recruiting process, and given the timing, arguably the most deflating. With just 15 players in the fold, Texas' class is not only small: It also lacks a single prospect with a five-star rating from 247Sports, Rivals or ESPN.
Elsewhere, the dominoes fell in line. Even without Robinson, Texas can take solace in a stellar offensive line class that includes four-star signees Darius James, Kent Perkins, Desmond Harrison and Rami Hammad. Like its rival to the south, Oklahoma didn't move the needle nationally, but the Sooners did keep all of their commitments in the fold, most notably Cypress, Texas, tailback Keith Ford; more importantly, they locked in a pair of four-star defensive tackles, Kenric Huggins and JUCO transfer Quincy Russell, who will be counted on to contribute immediately on a depleted defensive line. The same goes for Fresno, Calif., product Hatari Byrd at safety.
As noted earlier, Baylor solidified its up-and-coming status with the only five-star signature in the conference, from Fort Worth wide receiver Robbie Rhodes, as well as 11th-hour victories over Texas and Texas Tech, respectively, for four-star linemen Andrew Billings and Maurice Porter. True to form, the headliners at Oklahoma State (Jerel Morrow, Marcell Ateman), Texas Tech (Gary Moore, Devin Lauderdale) and West Virginia (Mario Alford, Shelton Gibson) are all wide receivers -- though at least the Mountaineers were able to add a pair of four-star defenders (Dontrill Hyman, Al-Rasheed Benton) in the name of balance.
Just as predictably, the conference as a whole drew heavily from the state of Texas, which (excluding the eastern outlier, West Virginia) made up 56 percent of the 196 signees by the other nine schools; for the four Texas schools, the number was higher, with in-state players accounting for 65 of 84 signees, or more than 77 percent. Between them, Baylor and Texas went out of state for a total of four players, all four coming from a junior college or prep school. Still, of the top 25 players in the state, 17 of them signed with schools outside of the Big 12, the vast majority of them landing at Alabama, Ohio State or Texas A&M. When the Crimson Tide and Buckeyes can compete with Texas in its own backyard, the Longhorns have some catching up to do.
11 a.m. ET. Few surprises so far, but the undisputed a.m. winner early is … uh, Baylor? Believe it: As expected, the Bears scored an early signature from the No. 1 player in the state of Texas, five-star Fort Worth wide receiver Robbie Rhodes, who has been a firm Baylor commitment since last summer. But they also scored big with signatures from a pair of four-star linemen whose decisions came down to the wire. Hometown defensive tackle Andrew Billings spurned overtures from Texas and TCU in favor of staying in Waco on Tuesday night, one day after the Bears managed to flip Texas Tech commitment Maurice Porter from the Red Raiders. Billings and Porter both followed through on their changes of heart on Wednesday morning, guaranteeing Baylor arguably the best signing class in school history.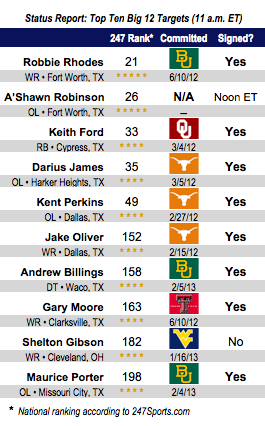 Elsewhere, events are proceeding as expected. Besides Rhodes, the biggest name to come through early is Keith Ford, a 5-foot-11, 200-pound tailback from Cypress, Texas, who made good on his longstanding commitment to Oklahoma; he's the undisputed headliner of a class that, despite its lack of big names overall, is likely to finish as the highest-rated crop in the conference. Meanwhile, Texas picked up the expected signatures from its most coveted commitments coming into the day, in-state offensive linemen Darius James and Kent Perkins, anchors of a stellar offensive line crop that also includes four-star signees Desmond Harrison, Rami Hammond and Jake Raulerson, an early enrollee who could wind up on either side of the line of scrimmage.
While the rest of the league zeroes in on the Lone Star state, West Virginia stayed closer to home with its top signee, Mario Alford, a four-star "athlete" out of Georgia Military College who's projected to fill the all-purpose void left by NFL-bound Tavon Austin. With a signature from their top commitment, four-star wide receiver Shelton Gibson out of Cleveland, the Mountaineers will have the pieces to remain on solid footing in the passing game for the foreseeable future.
Still awaiting: The only major Big 12 drama of the day was to be settled at noon ET, when five-star lineman A'Shawn Robinson, a longtime Longhorn commit from Fort Worth, was scheduled to decide between Texas and Alabama after de-committing from UT over the weekend. As usual, the smart money was on the Crimson Tide.
Show Comments
Hide Comments
The Wolverines will get a unique education in Italy, and maybe that's all that matters

Fitzerald is already the program's leader with 77 wins

Darryl Rudolph was just 55 years old
The Michigan coach nearly caused an international incident throwing a football

Using college stats and math to determine which FBS quarterbacks will be the most successf...

The LSU quarterback has been dealing with back issues for some time