Six current players join O'Bannon lawsuit against NCAA
Six current NCAA football players have joined the Ed O'Bannon lawsuit against the NCAA.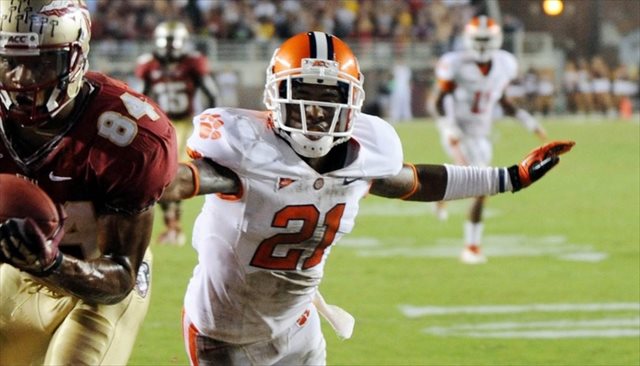 Judge Claudia Wilken recently told the plaintiffs in the Ed O'Bannon lawsuit that if they wanted to proceed with their class-action lawsuit against the NCAA -- one that could force the NCAA and its member conferences to split revenues with their athletes -- they would have to add at least one current athlete to the plaintiffs' roster.
The O'Bannon attorneys added six Thursday, all of whom are seniors at BCS schools: Vanderbilt linebacker Chase Garnham; Clemson cornerback Darius Robinson; linebacker Jake Fischer and kicker Jake Smith from Arizona; and tight end Moses Alipate and wide receiver Victor Keise of Minnesota. They join a roster of 16 former NCAA athletes, including UCLA basketball player O'Bannon, already listed as plaintiffs. 
"These athletes are incredibly brave. They are well-aware of the risks of standing up to the NCAA, and yet they felt that this was the right thing to do," the lead attorney for the plaintiffs, Michael Hausfeld, said in a statement.
"This is definitely something that I would love to get involved in," Robinson told Sports Illustrated's Andy Staples, "because I really do believe in it."
Robinson has started six games each of the past two seasons for the Tigers and told SI he had zero doubt the Clemson cornerback labeled "No. 21" in the EA Sports NCAA Football video game franchise represented him.
"That's me all the way," he said. "It's as close as it gets. Size, ratings. I don't have the best hands as a corner, so I always drop interceptions on the video game." 
EA Sports is also named in the lawsuit, which began as O'Bannon's attempt to claim a share of the revenues from a video game, which featured his likeness and has since expanded into a potential class-action suit that could cause major change across college athletics. EA Sports alleged use of real players as models for their virtual counterparts -- with the NCAA's supposed blessing -- is a critical issue for the lawsuit.
The NCAA announced this week it was declining to renew its licensing contract with EA Sports, though the company plans to continue the series under a different name.
"It's admission of a practice that goes to the heart of the contention that the NCAA believes it is above the law," Hausfeld said.
An NCAA spokeswoman told the Associated Press it would not comment on the additions of the new plaintiffs until it has time to read the amended complaint.
Like Robinson, Fischer (who led Arizona in tackles in 2012) and Garnham are expected to be major contributors for their teams; Smith is expected to compete for the Wildcats' starting kicking job. SBNation writes that all four of those players appear to have been models for players in the current NCAA Football game, noting that "Smith and Garnham are identical in height, weight, and uniform number, while Fischer's avatar is a few pounds lighter than the real thing."
While the two Minnesota players appear to be absent from the game, Staples notes that their additions to the suit could be related to a release form Big Ten athletes are required to sign.
Show Comments
Hide Comments
Fitzerald is already the program's leader with 77 wins

Darryl Rudolph was just 55 years old

The Michigan coach nearly caused an international incident throwing a football
Using college stats and math to determine which FBS quarterbacks will be the most successf...

The LSU quarterback has been dealing with back issues for some time

Moss, a tight end, announced his decision to transfer from NC State this spring