Slive: schools could discuss NCAA 'division' over stipends
According to SEC commissioner Mike Slive, the NCAA's FBS powers could look into an 'alternative' or an NCAA 'division' if the cost-of-attendance proposal is blocked again.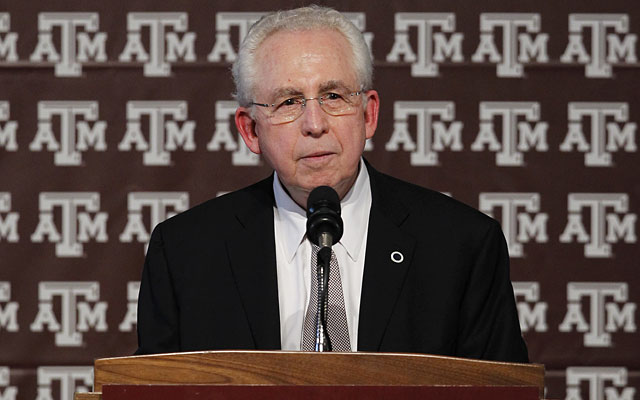 It's never been a secret that the $2,000 cost-of-attendance scholarship stipends backed by the NCAA's wealthier D-I athletic programs -- and blocked, by and large, by its less-wealthy members -- have made the possibility of split between those two sides loom expoentially larger.
But, despite the saber rattling from the likes of Jim Delany, it's impossible to see the haves taking the extraordinary step of separating from the have-nots without the help of the have-iest league of them all, the Southeastern Conference. SEC commissioner Mike Slive has been circumspect about such a possibility, by and large, but, via al.com reporter Jon Solomon, this is not circumspect at all (emphasis added):
"When there are certain things that many of us would like to come into play, it's our hope that those things can all occur in the current system," Slive said today during an Associated Press Sports Editors meeting at the Alabama Sports Hall of Fame. "Obviously, if things like that don't get accomplished, then it may be appropriate to talk about some alternative or division or something like that. But that's not our desire. That's not our goal and that's not something we're trying to get to."
The gauntlet was already lying around, but this might well be enough to consider it thrown. If the cost-of-attendance proposal is overridden again (not only in the face of the wealthy schools, but the support of NCAA president Mark Emmert), the threat of a Division I split -- whether in FBS football alone or along lines that could destroy the NCAA as we currently know it -- will be more serious than ever.
That doesn't mean such a split is a foregone conclusion, of course, especially considering how colossal a headache starting an entirely new athletic organization like the NCAA from scratch would be; we don't doubt at all that that path truly isn't Slive's (or even Delany's) "desire." Bu,t as a possibility, it seems more distinct than ever.
Show Comments
Hide Comments
Ousted by a school despite not being charged with a crime, Faulk is clawing his way to the...

Sometimes spring practice is about avoiding the negatives as much as it is building moment...

Baylor is moving to dismiss the lawsuit, filed in January, on a two-year statute of limita...
USF senior Hassan Childs was injured in a shooting on Saturday night

It looks like LSU is moving towards having a beer garden for its home games

HB1249 would allow Arkansans with a certain permit to carry guns almost anywhere in the st...