Slive: SEC champ has 'compelling argument' to play for BCS title
Mike Slive has gotten his stump on for the SEC in its efforts to preserve its seven-year national championship streak.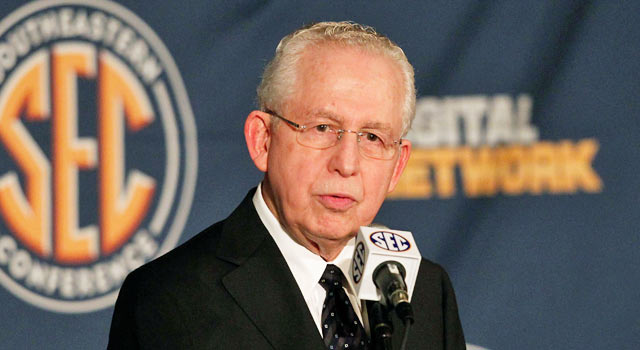 No, unlike Auburn athletic director Jay Jacobs, SEC commissioner Mike Slive isn't framing his league champion's hopes for a BCS Championship Game as an issue of national importance. But that doesn't mean Slive isn't just as convinced that whichever of Auburn or Missouri claims the SEC title in Atlanta Saturday shouldn't leapfrog Ohio State (or Florida State) and play for a national title.
"I think on the facts the SEC has a compelling argument that our team ought to be in the game," Slive told al.com, citing Auburn's and Missouri's greater number of wins over top 25 and bowl-eligible teams than the Buckeyes' and Seminoles'.
"The words are his," Slive said in reference to Jacobs' earlier politicking, "but the points he made are ones I really appreciate because in a sense he celebrates the conference. The SEC champion with one loss ought to play for a national championship."
Slive's stumping isn't likely to have any effect, unfortunately for his league; after Ohio State maintained an advantage over Auburn in both the Coaches and Harris polls and in the BCS computer rankings, the odds of the SEC champion earning a BCS championship berth without an Ohio State or Florida State loss have severely dwindled. It's no surprise that Slive has said multiple times this week he's wearing green ties in support of Michigan State.
But that doesn't mean a leap is impossible, and until everything is official on Sunday night, expect Slive to continue lobbying for both sets of Tigers.
The shooting took place during an apparent meeting over a cell phone

A decision in either direction would help the NCAA move forward in Sin City

White is the No. 1 running back recruit and No. 6 overall recruit for next year's class
Dennis Dodd goes inside college football to explain why realignment is still an agenda ite...

Shedrick Jackson is a three-star wide receiver

Nigerians are making waves in the U.S. due to their intensity, intelligence and athleticis...